Photo: Altered Sheet Music - 200

9
BIRTHDAYS
1905
Moses Asch label founder (Folkways)
b. Warsaw, Poland.
Moses ("Moe") Asch (December 2, 1905, Warsaw – October 19, 1986, New York City) was the founder of Folkways Records. Asch ran the label from 1948 until his death. Folkways was instrumental in bringing folk music into the American cultural mainstream.
Life and work
Moses Asch was the son of Yiddish language novelist and dramatist Sholem Asch, and the younger brother of novelist Nathan Asch.
Asch recorded and published LP records by such famous folk and blues singers as Woody Guthrie, Leadbelly, Pete Seeger. Cisco Houston and Ella Jenkins. In 1952, Asch's label issued the Anthology of American Folk Music, compiled by Harry Smith, which brought a wider awareness of traditional American folk and blues to a new generation.
Asch had a significant recording relationship with James P. Johnson, the so-called Father of Stride Piano. Johnson made a significant series of recordings for several labels controlled by Asch, including Asch, Stinson, Disc, and Folkways. On the Stinson album, New York Jazz, Johnson recorded 5 numbers which he stated could be heard in New York in the 1910s, in addition to the first recorded piano solo of Scott Joplin's, Euphonic Sounds. This established the link between the stride piano of Johnson, and the ragtime of Joplin, from which stride is descended.
One principle behind Asch's direction of the Folkways label was that he never deleted a single title from the Folkways catalogue. As he said, "Just because the letter J is less popular than the letter S, you don't take it out of the dictionary." After his death, the Folkways recordings were acquired by the Smithsonian Institution, and Asch stipulated in his will that no titles were to be deleted, and that the unexplored master tapes in the Folkways archive should also be explored.
Moses Asch Speaks Out!
MORE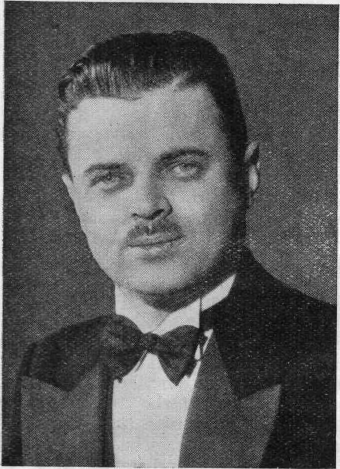 1895
Jesse Crawford, organ
b. Woodland, CA, IA, USA.
Biography Jesse Crawford (b. December 2, 1895, Woodland, CA; May 28, 1962, Sherman Oaks, CA) was one of the most popular organists of the first half of the 20th century. Originally, he was a pianist in a dance band, but he changed his instrument in 1911, choosing to play organ instead. That year, he played a concert at the Spokane Gem Theater, which set him on a circuit of concerts in theaters.
In 1918, he became the first organist to play Los Angeles' Grauman's Theater.
Crawford continued to perform throughout the '20s, landing a regular job at New York's Paramount Theater in 1926, where he would occasionally perform organ duets with his wife Helen. In 1925, Jesse Crawford signed a contract RCA/Victor, which resulted in several hit records -- including "Rose Marie," "Russian Lullaby," "At Dawning," "Valencia," and "Roses of Picardy" -- between 1925-27. For the rest of the '20s, he peformed a series of popular concerts and played background music for radio plays. During the '30s, he led a dance orchestra, in addition to playing his regular concerts. Crawford continued to record and perform throughout the '40s and '50s.
~ Stephen Thomas Erlewine
BIO
MORE
1906
Peter Carl Goldmark, Inventor of the LP record
b. Budapest, Hungary.
d. Dec. 7, 1977, Westchester county, NY, USA.
Peter is remembered today as an engineer who developed the first commercial color television, and the Long Playing record. However, he was also an accomplished Cellist and Pianist who loved music and hated the short playing time of 78rpm records. By slowing down the speed to 33-1/3rpm and using vinyl instead of shellac to press the disc, Goldmark was able to add grooves and quintuple the playing time. LP (Long Play) records energized the entire music industry. Not only could Classical music now be played in their entirety, but in time, even 'Iron Butterfly' had an excuse to record "In-A-Gadda-Da-Vida."
INFO Please Bio
MORE
Betty Comden & Adolph Green
1915
Adolph Green, composer/lyricist
d. Oct. 23, 2002.
Age 87. (some sources show b. 1914).
In 1960, Adolph married Phyllis Newman and the marriage resulted in two children (his son, Adam Green, daughter, Amanda Green). Over a period of more than six decades, the professional partnership of Comden and Green lasted longer than any other Broadway composing team, The pair penned more than a dozen witty and successful Broadway musicals including 'Bells Are Ringing', 'On the Town', 'On the Twentieth Century', 'Peter Pan', 'Hallelujah', 'Baby', 'Will Rogers Follies' and others. They also co-wrote the Academy Award-nominated screenplays for 'It's Always Fair Weather', 'The Band Wagon and Singin' in the Rain', as well as 'Good News', 'The Barkleys of Broadway', 'Auntie Mame', 'What a Way to Go', 'On the Town', 'Bells Are Ringing' and others. The team also worked with other composers including Cy Coleman, Leonard Bernstein, Jule Styne, Morton Gould and Andre Previn. Among their best-known songs are "The Party's Over," "Make Someone Happy," "Just in Time," "Never Never Land," "New York, New York (It's a Helluva Town)," and "I Never Met a Man I Didn't Like."
PBS Bio
1890
Fate Marable, Piano/Leader
One of the Original New Orleans Black Bands. Often worked on the old Sternwheeler Mississippi Riverboats. ~Biography A legendary name in early jazz, Fate Marable led jazz bands on riverboats for decades. He first played in public when he was nine and as early as 1907, Marable was playing piano and calliope aboard a Mississippi steamship. He formed the Kentucky Jazz Band in 1917 and among his many sidemen during the next 20 years were Louis Armstrong, Johnny Dodds, Baby Dodds, Pops Foster, Zutty Singleton, Henry "Red" Allen, Gene Sedric, Jimmy Blanton and Earl Bostic.
In the 1930s, Marable sometimes co-led bands with Charlie Creath and, although based in St. Louis, he constantly recruited some of the best New Orleans jazzmen for his groups. In 1940, a badly infected finger caused him to retire for a long period. Marable was active again by the mid-'40s, playing piano in St. Louis-area clubs before dying from pneumonia. Unfortunately, the only recordings of Marable's band, Frankie and Johnny and Pianoflage from 1924, are quite poor musically and technically, so the power and beauty of his bands are lost to history. ~ Scott Yanow
WIKI BIO
Mike Mosiello, Trumpet/cornet/leader
b. Frasso Telesino, Italy
d. June, 3, 1953, Asbury Park, NJ, USA.
né: Michael Angelo Mosiello.
Mike Mosiello (full name Michele Alphonso Mosiello) (December 2, 1896-June 3, 1953) was an Italian-born American trumpet player.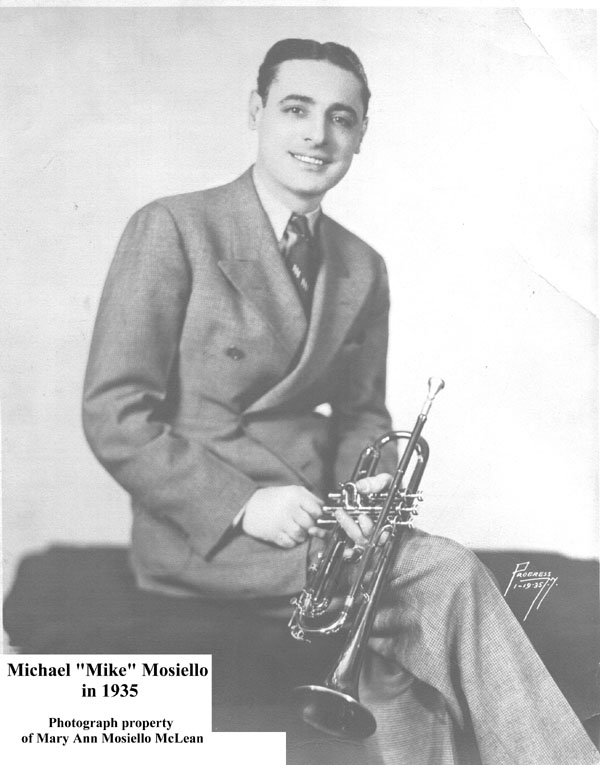 ~Biography
Mosiello was born in Frasso Telesino in Italy into a musical family. His father, Tobia Mosiello, played the clarinet and his godfather was a trumpet player and bandleader. At the age of two Mike and his family migrated to the USA, settling in New York. Here young Mike took up trumpet playing around the age of six.
Mike Mosiello (full name Michele Alphonso Mosiello) (December 2, 1896-June 3, 1953) was an Italian-born American trumpet player.
During World War I Mosiello enlisted as a military musician in the United States Marine Corps and was stationed in Europe. Back in New York after the war he seriously began a career as a professional musician.
Among his most frequent co-musicians on these recordings (and on many made for other labels and bandleaders as well) were reedman and guitarist Andy Sannella and accordionist Charles Magnante. Sannella, in an interview shortly before his death, spoke very highly of Mosiello's skills as a musician.
Mosiello played with the orchestras of several famous bandleaders, among them Vincent Lopez. He was however not least one of the most prolific studio musicians of the 1920s, appearing on hundreds of records, often adding to the jazz flavour to many contemporary Tin Pan Alley hits. His most important recordings as a "hot" soloist were probably those made for Victor under the direction of Nathaniel Shilkret, and his countless sides made for the obscure Grey Gull company. Mosiello seems to have been something of the leader of the latter company's studio band and recorded several compositions of his own with this group (see below).
From the 1930s onwards, Mosiello was mainly active in radio and in the pit orchestras of various theatres. During the 1940s he toured with pianist and comedian Victor Borge but also lead a band of his own at the "Top Hat" Club in New Jersey.
Since 1922 Mosiello was married to Antointette Greco, to whom he dedicated his composition Antoinette, I Love You. They had a son and a daughter.
Mike Mosiello died of pancreatic cancer in Asbury Park, New Jersey at the age of merely 56.
Mike Mosiello - Wikipedia
The Virtual Victrola: Mike Mosiello
Mike Mosiello | AllMusic
Photographs of Mike Mosiello and Angelo Mosiello
1907
Paul Pendarvis, Leader
d. 1987 [ Paul Pendarvis Orch ]
Theme: "My Sweetheart".
Pendarvis was born in Oklahoma and moved to California for his under-graduate college (UCLA) years. During his stay in California, he had some minor roles in motion pictures. He moved to Kansas City, KS, and it was here, in the early thirties, that Paul started his band. In addition to club and hotel dates, Paul also had his own radio show. Pendarvis was a violinist. He always started his radio program with the announcement: "When you here the violin, - it's Paul Pendarvis", followed by the theme song. Paul found some success in Kansas City, and subsequently the band was booked into The Congress Hotel in Chicago. During these years, the band recorded for Columbia Records. Paul gave up the band in the early forties to become musical director of a radio station.
Paul Pendarvis – Wikipedia
1914
Edward Ernest "Eddie" Sauter
Arranger/Composer/Leader (Sauter/Finegan Band)
b. New York, NY (Brooklyn), USA.
d. April 21, 1981, Nyack, NY, USA.
Studied Trumpet and drums. Matriculated Columbia Univ.(NY) playing on Cruise ships during Summers vacations. Studied theory at Juilliard. Played with Archie Bleyer orch 1932. 1935-39 arranging for Red Norvo band. 1939 wrote for Benny Goodman ("Benny Rides Again") and in 1940 wrote for Artie Shaw band ('The Maid With The Flaccid Air'). These were his best 'Jazz' years with his writing showing good techical innovation while still 'swinging'. Also wrote for Tommy Dorsey, Ray McKinley and Woody Herman bands. In 1952, he and Bill Finegan formed a recording only orch., which later was used for Club/TV dates too. They gave up Jazz improv. and turned to novel instrumental effects. Disbanded May 1957. Sauter took job at Sudwestfunk radio in Baden Baden, Germany. Back to USA in 1959, where he and Bill Finegan writing Radio Commercials.
Eddie Sauter: Facts, Discussion Forum, and Encyclopedia Article
1916
Charlie Ventura, Tenor Sax
b. Philadelphia, PA, USA.
Started on C-Melody sax in 1931, but in later years also played Soprano, Alto, Baritone and Bass sax, with the Tenor Sax as his main instrument. Worked in Father's hat factory. In 1940-2 while working in Navy shipyard during the day, he frequently 'jammed at night with such men as Gillespie, DeFranco, Bill Harris and Roy 'Little Jazz' Eldridge.Between '42-3 and again '44-6 tenor sax with Krupa; '43-4 with Teddy Powell's band; '46-7 led his own big band; and from '47-9 led his own small 'Bop' combos. Led own big band '50, then form 'Dec '50 to '54 run his own nightclub, The Open House' (in Philadelphia). Worked with Krupa trio Jan-June 1952, and toured Japan in late '50s with Krupa, after which he led small groups in various Las Vegas NV clubs. Won 1946 Esquire New Star Award; 1945 Down Beat Poll Award for best Tenor Sax and in '49 Down Beat Poll award for best small combo.
1937.
Joe Smith, trumpet
died in New York, NY, USA.
Played with Bessie Smith.
Boogie Woogie pianist Albert Ammons

died in Chicago, IL, USA.
Albert Ammons: Information from Answers.com
1955.
Charles "Cow Cow" Davenport, piano
died in Cleveland, OH, USA.
Age: 61.
Cow Cow Davenport
Songs Recorded/Released
On This Date Include:
The Southland Six -
"Ivy (Cling To Me)" -
(Jones / Johnson / Rogers)
The Southland Six -
"Runnin' Wild" -
(Joe Grey / A. Harrington Gibbs)
Esther Bigeou -
"That Twa-Twa Tune"
, (Aaron C. Thompson)
1925
Bailey's Lucky Seven
I Love My Baby (My Baby Loves Me),

Vocal Chorus Arthur Fields, (Green / Warren)
Pinkie's Birmingham Five
"Carolina Stomp"

, (Bloom)

"Headin' For Louisville"

, (De Sylva / Meyer)
1926
Paul Ash and his Orchestra - I'm Tellin' The Birds, Tellin' The Bees
Cook and his Dreamland Orchestra -
"Sidewalk Blues"
, (Walter Melrose / Jelly Roll Morton)
1929
Wilton Crawley and his Orchestra - "Keep Your Business To Yourself " - (Wilton Crawley )
"Futuristic Blues"

, (Wilton Crawley ) - Wilton Crawley and his Orchestra
Wilton Crawley and his Orchestra -
She's Got What I Need
Ted Weems and his Orchestra
1930
Fletcher Henderson Orchestra - Keep A Song In Your Soul
1932
Annette Hanshaw -
"Fit As A Fiddle"
(Freed / Hoffman / Goodheart)
Paul Whiteman and his Orchestra
1936
Benny Goodman Orch.
1943
Bing Crosby
"Fit as a Fiddle"
music by Al Goodhart and Al Hoffman; lyrics by Arthur Freed
Fit as a fiddle, ready for love.
I could jump over the moon up above.
Fit as a fiddle and ready for love.
Haven't a worry, haven't a care.
Feel like a feather that's floating on air.
Fit as a fiddle and ready for love.

Soon the church bells will be ringin'
And we'll march with Ma and Pa.
How the church bells will be ringin'
With a hey nonny nonny and a hot-cha-cha.

Hi diddle diddle, my baby's okay.
Ask me a riddle, I'm happy to say,
Fit as a fiddle and ready for love.
brought to you by...
~confetta