HAPPY BIRTHDAY CAB CALLOWAY!
BIRTHDAYS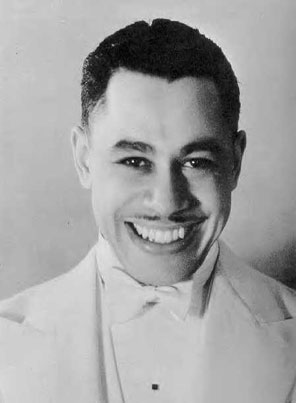 1907
Cabell "Cab" Calloway, III, Leader/singer
d. Nov. 18 , 1994, Hockessin, DE, USA.
Often presented as "Cab Calloway". The King of "Heigh De Ho", presents a bit of Heated Harlem Rhythm." Always dressed in an all-white "Fish and Tails" - even a White Top Hat. Cab Calloway (December 25, 1907–November 18, 1994) was a famous American jazz singer and bandleader. Calloway was a master of energetic scat singing and led one of the United States' most popular African American big bands from the start of the 1930s through the late 1940s. Calloway's Orchestra featured performers that included trumpeters Dizzy Gillespie and Adolphus "Doc" Cheatham, saxophonists Ben Webster and Leon "Chu" Berry and bassist Milt Hinton. Calloway continued to perform right up until his death in 1994 at the age of 86.
Cab Calloway was born Cabell Calloway III in a middle-class family in Rochester, New York, and raised primarily in Baltimore, Maryland. His father, Cabell Calloway II, was a lawyer, and his mother Martha Eulalia Reed was a teacher and church organist. His parents recognized their son's musical talent, and he began private voice lessons in 1922. He continued to study music and voice throughout his formal schooling. Despite his parents' and vocal teachers' disapproval of jazz, Calloway began frequenting and eventually performing in many of Baltimore's jazz clubs, where he was mentored by drummer Chick Webb and pianist Johnny Jones.
After graduating from high school Cab joined his older sister, Blanche, in a touring production of the popular black musical revue Plantation Days (Blanche Calloway herself would become an accomplished bandleader before her brother did, and Cab would often credit his inspiration to enter show business to her). When the tour ended in Chicago in the fall, Cab decided to remain in Chicago with his sister, who had an established career as a jazz singer in that city. His parents had hopes of their son becoming a lawyer like his father, so Calloway enrolled in Crane College. His main interest, however, was in singing and entertaining, and he spent most of his nights at the Dreamland Cafe and the Sunset Cafe, performing as a drummer, singer and emcee. At the Sunset Cafe he met and performed with Louis Armstrong who taught him to sing in the "scat" style.
*Success -
The premier jazz venue in the country, and Cab Calloway and his Orchestra was hired as a replacement for the Duke Ellington Orchestra while they were touring. (There is some speculation that Mafia pressure was responsible for Cab's hiring.) Calloway quickly proved so popular that his band became the "co-house" band with Ellington's, and Cab and his group began touring nationwide when not playing the Cotton Club. Their popularity was greatly enhanced by the twice-weekly live national radio broadcasts on NBC at the Cotton Club. Calloway also appeared on Walter Winchell's radio program and with Bing Crosby in his show at the Paramount Theatre. As a result of these appearances, Calloway, together with Ellington, broke the major broadcast network color barrier.
In 1931, he recorded his most famous song, "Minnie the Moocher". That song, "St. James Infirmary Blues" and "The Old Man Of The Mountain" were performed for the Betty Boop animated shorts Minnie the Moocher, Snow White and The Old Man of the Mountain, respectively. Through the magic of rotoscoping, Cab not only gave his voice to these cartoons but his dance steps as well. Cab took advantage of this and timed his concerts in some communities with the release of the films in order to make the most of the attention. As a result of the success of "Minnie the Moocher" he became identified with its chorus, gaining the nickname "The Hi De Ho Man." In 1943 he appeared in the high-profile 20th Century Fox musical film, Stormy Weather.
In 1941 Cab Calloway fired Dizzy Gillespie from his Orchestra after an onstage fracas erupted when Calloway was hit with spitballs. He wrongly accused Gillespie, who stabbed Calloway with a surreptitious knife. In 1944, The New Cab Calloway's Hepsters Dictionary: Language of Jive was published, an update of an earlier book in which Cab set about translating jive for fans who might not know, for example, that "kicking the gong around" was a reference to smoking opium.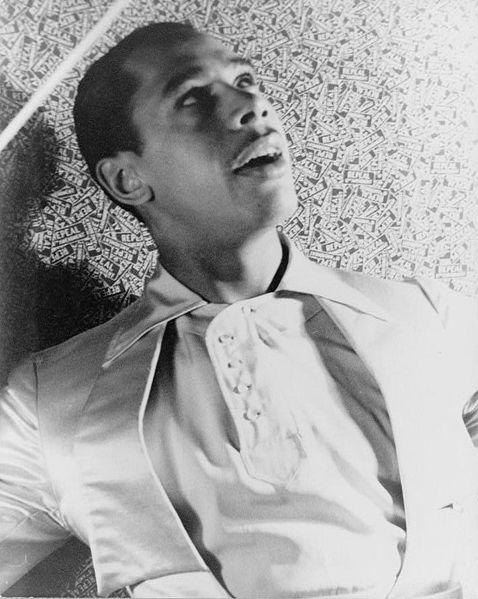 Calloway attracted renewed interest in 1980 when he appeared as a supporting character in the film The Blues Brothers, performing "Minnie The Moocher", and again when he sang "The Jumpin' Jive" with the Two-Headed Monster on Sesame Street.
Calloway helped establish the Cab Calloway Museum at Coppin State College (Baltimore, Maryland) in the 1980s and Bill Cosby helped establish a scholarship in Cab Calloway's name at the New School of Social Research New York City.
In 1994, a creative and performing arts school Cab Calloway School of the Arts was dedicated in his name in Wilmington, Delaware. In 1986, Calloway appeared at World Wrestling Entertainment (WWE)'s WrestleMania 2 as a guest judge for a boxing match between Rowdy Roddy Piper and Mr. T that took place Nassau Coliseum and in 1990 made a cameo in Janet Jackson's video for "Alright". In the United Kingdom he also appeard in several commericals for the Hula Hoops snack, both as himself and as a voice for a cartoon (in one of these commericals he sang his hit "Minnie The Moocher").
*Later years -
In the 1950s, Calloway moved his family from Long Island, NY, to Greenburgh, NY to raise the three youngest of his five daughters. In his later career, Calloway became a popular personality, appearing in a number of films and stage productions that utilized both his acting and singing talents. In 1952, he played the prominent role of "Sportin' Life" in a production of the Gershwin opera Porgy and Bess with William Warfield and Leontyne Price as the title characters. Another notable role was "Yeller" in The Cincinnati Kid (1965), with Steve McQueen, Ann-Margret and Edward G. Robinson. In 1967 Calloway co-starred as Horace Vandergelder in an all-black revival of Hello, Dolly! (even though the original production was still running!) starring Pearl Bailey. This was a major success and led to a cast recording released by RCA.
In 1973-1974 he was featured in an unsuccessful Broadway revival of The Pajama Game alongside Hal Linden and Barbara McNair. 1976 saw the release of his autobiography, Of Minnie The Moocher And Me (Crowell). It included his complete Hepsters Dictionary as an appendix.
*Death -
On November 18, 1994, Calloway died after having suffered a major stroke six months previously.
In 1998, The Cab Calloway Orchestra (directed by Cab's grandson C. Calloway Brooks) was formed to honor Cab Calloway's legacy on the national and international levels.
Cab's Offical Site
Photo Archive
Complete Discography
Jazz Profile at NPR
Cab at IMDB
French Fansite on Cab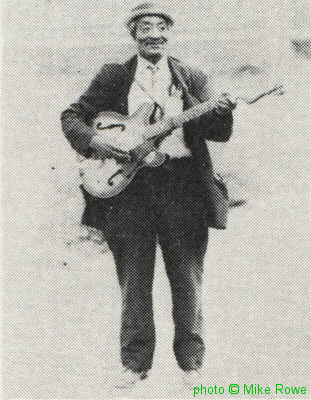 1905
Willie "61" Blackwell, guitar
Merritt Brunies and his Friars Inn Orchestra
Left to Right: Gordon Pouliot, Bill Paley, Henry Brunies, Maurie Friedman, Merritt Brunies, Bill Creger, Norman Van Hook, Clarence Piper, Rip Logan.
1895
Merritt Brunies, Cornet/trombone
d. 1973 Cornet, trombone.
Member of legendary New Orleans musical family. Merritt Brunies was a traditional jazz bandleader in New Orleans and Chicago from 1916 - 1918, and headed a grroup called The Original New Orleans Jazz Band. This group did not record, but it predated Jimmy Durante's New Orleans Jazz Band which was formed in New York in 1918, and The Original Dixieland Jazz Band, which played in Chicago in 1916 and became the first group to record in 1917.
After his first group disbanded, Brunies played cornet and led the ensemble that replaced The New Orleans Rhythm Kings at Friar's Inn in Chicago. He returned to New Orleans in 1930 and played in various clubs. Brunies relocated to Mississippi in 1946, and played in The Brunies Brothers Dixieland Jazz Band for the rest of his career.
~ Ron Wynn
1907
Joe Butler, Bass
b. New Orleans, LA, USA.
d. June 19, 1982.
Louis Cottrell, Senior with the Piron's New Orleans Orchestra circa 1923.
1878
Louis Cottrell Sr., Drums
b. New Orleans, LA, USA.
d. Oct. 17, 1927.
Louis Cottrell (December 25, 1878, New Orleans - October 17, 1927, New Orleans) was an influential American jazz drummer. "Old Man" Cottrell was the father of Louis Cottrell, Jr. and great-grandfather of New Orleans jazz drummer Louis Cottrell.
Cottrell played with John Robichaux's orchestra in 1909 and with the Olympia Orchestra in New Orleans from 1900 to 1915. From 1916 to 1918 he played in Chicago with Manuel Perez, then played with A.J. Piron up until the time of his death.
"Old Man" Cottrell has been credited as the innovator of the press roll in jazz drumming, and was a significant influence on most New Orleans drummers, having taught Baby Dodds, Paul Barbarin, Louis Barbarin, Freddie Kohlman, Cie Frazier and Alfred Williams.
Bio
Louis Cottrell, Sr. and Early Jazz
Alton Delmore C&W vocals
b. Elkmont, AL, USA
d. June 8, 1964.
Member: "The Delmore Brothers" and "The Brown's Ferry Four" vocal groups.
Alton Delmore (December 25, 1908 - June 8, 1964) and Rabon Delmore (December 3, 1916 - December 4, 1952), billed as The Delmore Brothers, were country music pioneers and stars of the Grand Ole Opry in the 1930s. The Delmore Brothers, together with other brother duets such as the Louvin Brothers, the Blue Sky Boys, the Monroe Brothers (Birch, Charlie and Bill Monroe), the McGee Brothers, and The Stanley Brothers, had a profound impact on the history of country music and American popular music.
The Delmore Brothers
1898
Irving "Izzy" Friedman, Clarinet/saxophones
b. Linton, IN, USA.
d. November 21, 1981 (age 82) in California, USA.
"Izzy" began his music career in Terra Haute, IN, USA.
As it turned out, the aforementioned stint in Chicago was short, involving some study with a clarinetist from the Chicago Symphony as well as a house musician job at the Moulin Rouge club.
In answer to the age-old question "Hoosier clarinetist?" there is Irving Friedman, who also shows up on plenty of album jackets as Izzy Friedman. He was set on the path of finding the perfect reed, as well as a bandleader to provide him with meals and a bed, by a local music teacher in the town of Linton, Indiana. He made it all the way to Chicago by 1923, stopping along the way in Terre Haute to work in a theater orchestra. Thus began the career of a reed player whose lyrical phrases show up on many classic jazz and vocal recordings from the '30s and '40s. Friedman went on to become a leading figure in the development of studio recording orchestras. His involvement with television in the '50s was nothing short of intense; both themes and sound effects on a given program might very likely have originated with Friedman or his company, Primrose.
Irving "Izzy" Friedman, a Linton native, earned national success as a clarinetist. He's pictured above second from the left and below in the second row on the right.
Friedman moved on to New York City by the end of 1924. In this period he kept busy with a combination of composition and conducting studies and gigs. His position in the reed section of the Vincent Lopez orchestra was steady through the hottest days of 1926, then he was freelancing and doing recording sessions until joining Paul Whiteman in 1928. Listeners investigating jazz icons from this period such as Bix Beiderbecke or Frankie Trumbauer will eventually stumble across Friedman in one band or the other. He has a part in the Whiteman film entitled King of Jazz, a job that gave him a taste for Hollywood. Friedman wound up hanging around, eventually organizing one of the very first permanent studio orchestras to be assembled by Warner Brothers.
Beginning in 1934, Friedman was the assistant head of the music department of that studio, picking and choosing his own playing and conducting assignments. He kept that job until 1943, then simply began working in the same capacity for another studio, falling under the spell of the MGM lion. Three years later he moved over to Eagle-Lion studios, continuing the infatuation not only with manes but with the obvious main source of income for musicians in the Los Angeles area. Friedman began his own company in 1950, providing both music and sound effects for many films and television programs. One of his best-known compositions from this era is the theme to the series Father Knows Best. He retired in Beverly Hills after selling the Primrose business in 1963. ~ Eugene Chadbourne, Rovi
Historical Perspective: Hoosier big band musician Izzy Friedman made major impact on films
http://www.answers.com/topic/irving-friedman
Eddie Gibbs, Guitar/banjo/bass
Eddie was a student of banjoist/bandleader Elmer Snowden. In the late 1920s, was already working with such players as Wilbur Sweatman, Eubie Blake and Billy Fowler. In 1937 he began playing quite regularly with Edgar Hayes, and in 1938 toured Europe with Hayes. During this period, Gibbs switched to playing a guitar. In 1940, after a brief stint with Teddy Wilson, Gibbs joined Eddie South for two years. Subsequently, Eddie played with pianist Dave Martin, Luis Russell, and Claude Hopkins.
In the early 1950s, he was part of a Wilbur De Paris combo (playing mostly banjo). In the mid '50s, he left De Paris, and began to study the Bass with Ernest Hill. Before the decade ended, Gibbs was playing the Bass full time. However, in the 1960s, there was a revival of interest in Dixieland Jazz, and Gibbs was soon back playing his banjo full timne with various groups, as well as at the 1965 New York World's Fair. During the late 1960s, Gibbs worked with a combo called 'The Happy Family' playing both banjo and bass. In the 1970s, Gibbs 'hung up' his banjo and retired.
Harry "Big Jim" Lawson, Trumpet
b. Round Rock, TX, USA.
Harry Lawson, whose nickname in the big band heydays of the '30s and '40s was "Big Jim," celebrated his 99th birthday in 2003. Perhaps his longevity can be attributed to giving up playing trumpet, which he was forced to do in the late '50s due to problems with his teeth. He had already put in nearly four decades of professional music activity by the time his chops literally gave out, beginning as both a trombonist and trumpeter at the age of 15 and within a few years joining up with different circus and carnival ensembles. Lawson's initial jazz contact was bandleader Terrence Holder in the early '20s. This association was followed quickly by an extended involvement with the music of innovative bandleader Andy Kirk. The trumpeter, sometimes assuming chores as a musical director, worked steadily with Kirk through the early '40s. At that point he backed off playing full-time music, yet still made himself available to Kirk on an occasional basis through 1956. "Big Jim" was a presence in Kirk's works not only as a player but in the repertoire of the group itself. "Big Jim Blues," a subtle, relaxed theme from the Kirk set list, was co-written by Lawson and Kirk's regular pianist, the great Mary Lou Williams. This trumpeter should not be confused with the Harry Lawson who played saxophone on recordings by vocalists such as Frank Sinatra and Peggy Lee.
~ Eugene Chadbourne
1912
Tony Martin,
American actor and singer.
A popular crooner of the 1940s and '50s, Tony Martin's deliberate delivery and romantic ballads were more in keeping with vintage movie musicals than the currents that would shape the pop music of the last half of the 20th century. Taking his inspiration from singers like Russ Columbo, he had already been in some Hollywood musicals by the time he made his first hit record in 1938, "Now It Can Be Told" (with the Ray Noble Orchestra). Drafted into the Navy during World War II, rumors that he'd bribed his way into an officer's commission made work tougher to find after his discharge from the forces. A brief but fairly successful stint on Mercury in 1946-47 helped get things going again, after which he moved to RCA and enjoyed many pop hits over the next decade. He also got a lot of work in radio and television, and performed with considerable success on the cabaret circuit with his wife, dancer-actress Cyd Charisse. ~ Richie Unterberger, Rovi
Leighton Noble, Leader/vocal/piano
This California-based bandleader and singer was part of the same '30s Los Angeles jazz and dance band scene that spawned musicians as famous as the madcap bandleader Spike Jones and big band jazz innovator Stan Kenton. Noble actually employed Jones as a drummer in his dance band in the early days, although he never noticed anything too unusual about him one way or another.
1886
Edward "Kid" Ory, Trombone
b. La Place, LA, USA.
d. Jan. 23, 1973, Honolulu, Hawaii.
Probably the most famous of all the original "Tailgate" trombonists. Played with all the legendary New Orleans bands, and later renowned for his work on the 'Louis Armstrong Hot Five' Chicago recordings.
Kid Ory was the greatest trombone player in the early years of Jazz. He originally played banjo, but then switched to trombone. Perhaps his banjo playing helped shape the "tailgate" style of playing he later developed on the trombone. In the "tailgate" style, the trombone plays a rhythmic line underneath the trumpets and cornets. From 1912 to 1919 he led one of the most popular bands in New Orleans. Ory's Band featured many of the great musicians who would go on to define the Hot Jazz style. At various times King Oliver, a young Louis Armstrong, Johnny Dodds, Sidney Bechet and Jimmie Noone all played in Ory's band.
In 1919 Ory relocated to California for health reasons. He assembled a new group of New Orleans musicians on the West Coast and played regularly under the name of Kid Ory's Creole Orchestra. In 1922 they became the first African-American jazz band from New Orleans to record. They used the name of "Spike's Seven Pods of Pepper Orchestra" and recorded the songs "Ory's Creole Trombone" and "Society Blues".
In 1925 he moved to Chicago, and played regularly with King Oliver, Louis Armstrong and his Hot Five and Hot Seven and with Jelly Roll Morton and several other Chicago groups. During the Depression Ory played very little and ran a chicken ranch with his brother. When the Dixieland revival occurred in the 1940's, Ory found his style of music back in vogue. He revived Kid Ory's Creole Orchestra in 1943 and was able to continue to play, tour and record Jazz until he retired in 1966.
1917
Frank Pappalardi, piano/songwriter
Worked with Louis Jordan.
"Big Jim" Robinson, Trombone
d. May 4, 1976, New Orleans, LA, USA.
Jim Robinson was a very reliable New Orleans trombonist who was much more consistent than most of the musicians he performed with, never seeming to have an off day. A jazz pioneer, Robinson played guitar as a child and started playing trombone in 1917, while stationed in France during World War I; he was already 24. He started working in New Orleans in 1919 with Kid Rena, the Golden Leaf Band, and the Tuxedo Band.
In 1923, Robinson became part of the Morgan band which, under Sam Morgan's leadership, had a recording session in 1927. He was a fixture in New Orleans for decades, playing with many local groups while working days in the 1930s as a longshoreman. Robinson was part of Kid Rena's 1940 recording session and joined Bunk Johnson's band in 1942, meeting up with George Lewis. He returned to New Orleans with Lewis in 1946, and was a part of Lewis' popular band during the 1950s and '60s, touring the world and recording extensively. He was the top musician in the Preservation Hall Jazz Band in the 1970s, staying active until his death at age 83. Jim Robinson recorded as a leader for AM (1944), Riverside (1961), Atlantic, Pearl, Jazz Crusade, and finally Smoky Mary (January 1976).
1918
Eddie Safranski, Bass, leader
b. Pittsburgh, PA, USA.
d. January 10, 1974 in Los Angeles, California, USA.
Perhaps best known for his work with Stan Kenton, but he had also worked with Charlie Barnet and Benny Goodman From 1946 to 1953, he won the "Down Beat Readers Poll" for best bassist. As a leader, his band recorded two songs with singer Ginny Gibson, --."Doodle Bug" and "Scutter-Botch", (Gibson is little recalled today, but she did also record backed by the Hugo Winterhalter, Bobby Sherwood, Lenny Herman, and Joe Lipman orchestras.)
1899
Nat Shilkret, leader, piano, cornet, clarinet, violin
b. New York (Queens) NY, USA.
d: Feb., 18, 1982, Long Island, NY, USA.
Bandleader and clarinetist, Nat Shilkret was born Nathaniel Schuldkraut in Queens, New York in 1895. He began studying the violin and clarinet at the age of five and later the piano, studying under Charles Hambitzer, also the instructor to George Gershwin. After graduating from college with a civil engineering degree, Shilkret began playing as a classical clarinetist with the New York Philharmonic and the Metropolitan Opera Orchestra.
He began his recording career on the RCA Victor label in 1924. He became one of the top bandleaders of the late 20's and early 30's with over 50 chart hits including "Tell Me You'll Forgive Me" (#7, 1924), "June Brought the Roses" (#7, 1925), "Rio Rita" (#8, 1926), "On the Riviera" (#6, 1926), "All Alone Monday" (#2, 1927), "One Alone" (#4, 1927), "I Know That You Know" (#5, 1927), "Hallelujah!" (#3, 1927), "Me and My Shadow" (#5, 1927), "Diane (I'm in Heaven When I See You Smile)" (#2, 1928), "The Sidewalks of New York" (#2, 1928), "You Were Meant for Me" (#2, 1929), "Pagan Love Song" (#3, 1929), "Chant of the Jungle" (#3, 1930) and "Dancing With Tears in My Eyes" (#1, 1930).
In the mid 1930's, Shilkret began working in various radio programs and later in Hollywood as a studio composer for films including Swiss Miss. He was also the Director of Light Music or Victor Records until 1945. Nat Shilkret died in 1982.
1909
Rabon Tarrant, drums/vocals
b. Ennis, TX, USA.
A "y" in this drummer and bandleader's first name seems to be optional as far as credits are concerned, not something that could be said for the magical backbeat Rabon Tarrant glued onto the rhythmic pages of many a Jack McVea side. Tarrant also wrote songs, staying so solidly in the jump blues genre that the song titles themselves even seem to have the blues, be it the "Lonesome Blues," the "Naggin' Woman Blues," or even just the plain old "Slowly Going Crazy Blues."
Tarrant began playing drums for an uncle who ran a brass band in Wichita Falls, KS. His professional drumming career began with a bandleader who played the banjo, Otis Stafford. That was in the mid-'20s, and by 1927 he had shifted his rhythm section allegiance to the sometimes stormy, sometimes breezy Roy McCloud. Lafayette Thompson's Golden Dragon Orchestra may sound like a group that would stay put inside a Chinese restaurant, but actually provided Tarrant with work in both Colorado and Texas in the late '20s and early '30s.
During the latter decade this drummer continued popping up in various parts of the country. In 1936 he worked with Edith Turnham's Orchestra, based out of San Diego, following a period roaming on the other side of the Rockies with Bert Johnson's Sharps and Flats -- an ensemble that can certainly be said to have been named accidentally. The California presence continued in 1940 as the drummer ascended onto the throne of a Hollywood big-band attraction, Cee Pee Johnson's Orchestra.
A long tenure with the hipster McVea was next, ending only when Tarrant cooked up his own combo in the early '50s, a group that remained active performing for nearly two decades. Tarrant's discography largely documents his relationship with McVea, the importance extending well beyond the accepted supremacy of a drummer in a blues group. Tarrant not only brought in his original songs but was allowed to sing them as well, a distinct and powerful feature of the McVea presentation. There are about 100 songs recorded by McVea; Tarrant is the singer on about a third of these. ~ Eugene Chadbourne, Rovi
Notable Events Occurring
On This Date Include:
1958.
Charles L. Cooke (ragtime) piano died in Wurtsboro, NY, USA.
1972.
Lawrence Brown, piano died in New York, NY, USA.
Played with Paul Robeson.
1973.
Richard "Hacksaw" Harney piano tuner/guitarist/pianist died in Jackson, MS, USA.
Sadly, "Hacksaw" is not too well remembered today. "Hacksaw" was an excellent guitarist (recorded by Adelphi label -1969). During the early 1920s, he worked in a local band, and then had an ongoing exposure to a variety of musicians in his travels as a piano tuner and rebuilder. His peers regarded him as one of the greatest musicians in the Mississippi Delta.
1995.
Dean Martin died at age 78 in Beverly Hills, CA, USA.
On the singer/crooner, actor, comedian's tombstone is engraved; Everybody Loves Somebody Sometime.



Coon Sanders Nighthawks Orchestra
brought to you by...
~confetta