1894
Vincent Lopez, Piano/Leader

b. Brooklyn, NY
d.Sept., 20, 1975, Miami, FL, USA.
Vincent Lopez was born of Portuguese immigrant parents in Brooklyn, New York and was leading his own dance band in New York City by 1917. On November 27, 1921 his band began broadcasting on the new medium of entertainment radio; the band's weekly 90-minute show on Newark, NJ station WJZ boosted the popularity of both himself and of radio.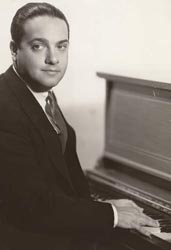 He became one
of America's most popular bandleaders, and would retain that status through the 1940s.
He began his radio programs by announcing "Lopez speaking!".His theme song was "Nola," Felix Arndt's novelty ragtime piece of 1915, and Lopez became so identified with it that he occasionally satirized it. (His 1939 movie short for Vitaphone, Vincent Lopez and his Orchestra, features the entire band singing "Down with Nola.") Lopez worked occasionally in feature films, notably The Big Broadcast (1932).
He was also one of the very first bandleaders to work in Soundies movie musicals, in 1940. He made additional Soundies in 1944.
Noted musicians who played in his band included Artie Shaw, Xavier Cugat, Jimmy Dorsey, Tommy Dorsey, Mike Mosiello and Glenn Miller. He also featured singers Keller Sisters and Lynch, Betty Hutton and Marion Hutton. Lopez's longtime drummer was the irreverent Mike Riley, who popularized the novelty hit "The Music Goes Round and Round."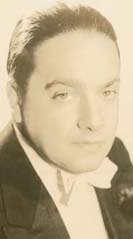 Lopez's flamboyant style of piano playing influenced such later musicians as Eddy Duchin and Liberace.
In 1941 Lopez's Orchestra began a residency at the Taft Hotel in Manhattan that would last 20 years.
In the early 1950s, Lopez along with Gloria Parker hosted a radio program broadcast from the Taft Hotel called Shake the Maracas in which audience members competed for small prizes by playing maracas with the orchestra.
Vincent Lopez died in Miami Beach, Florida.
d. Feb. 5, 1958, New York, NY, USA.
né: Louis Brownstein
-
Team of De Sylva, Brown and Henderson.
Pop and show tunes lyricist Lew Brown is best known for his work in the songwriting team Henderson-De Sylva-Brown, who captured the Roaring '20s spirit and were without equal from 1926 through 1930. Born on December 10, 1893, in Russia, Brown came to the U.S. with his parents when he was five years old. He started writing lyrics and song parodies while in his teens, and his first hit came in 1912 with "I'm the Lonesomest Gal in Town," a song written with veteran composer Albert Von Tilzer. Brown had other hits that year, including "Kentucky Sue," but no standout songs for a few years, until 1916's "If You Were the Only Girl." Brown continued to collaborate with Tilzer, among others, and had several more hits such as "Dapper Dan" (1921), before teaming up with composer and pianist Ray Henderson in 1922.
Three years later, lyricist Buddy De Sylva joined them and the trio successfully established themselves with their second Broadway score, George White's Scandals of 1926. They then scored the 1927 stage productions Good News and Manhattan Mary, followed the next year by Hold Everything, more George White's Scandals in the late '20s, and Flying High in 1930.
Off the stage, the songwriting trio had several hit songs, in addition to their movie credits for songs in early Al Jolson films (including Sonny Boy and It All Depends on You) and the popular 1929 filmSunny Side Up, which they went to Hollywood to score. After De Sylva left in 1931, Lew Brown and Ray Henderson continued scoring Broadway shows, and Brown worked with other composers, too, including Sammy Fain. A movie based on Henderson-De Sylva-Brown entitled Best Things in Life Are Free came out in 1956.
1914
Archie Craig, trumpet

b. Glasgow, Lanarkshire, Scotland, UK
d. Oct. 1988.
Played with
The Squadronaires.
The Squadronaires is a Royal Air Force band
which began and performed in England during
and after World War II. The official title of the
band was 'The Royal Air Force Dance Orchestra',
but it was always known by the more popular
title "The Squadronaires".
1912
Irving Fazola, Clarinet
b. New Orleans, LA, USA, d. 1949
A great clarinetist, particularly skilled at counterpoint and playing the blues. Irving Fazola began to study C-melody sax and clarinet at 13, and performed in New Orleans with Candy Candido, Louis Prima, Sharkey Bonano, and Armand Hug before joining Ben Pollack in 1935. He went north with Pollack's orchestra in 1936. During the late '30s and '40s, Fazola returned periodically to New Orleans, while playing with a number of big bands. These included Augie Schellang, Gus Arnheim, Glenn Miller, Pollack, Bob Crosby, Jimmy McPartland, Tony Almerico, Claude Thornhill, Muggsy Spanier, Teddy Powell, and Horace Heidt. He resettled in New Orleans after 1943 due to poor health, ad played with various small groups as well as reuniting with Almerico and both Leon and Louis Prima.
Morton
Gould
b. Richmond Hill, NY, USA.
d. Feb. 21,1996
An American pianist and composer in various forms, including musicals, whose style includes elements of folk and jazz music.
Dorothy Lamour
d. Sept. 22, 1996
b. New Orleans, LA, USA.
née: Mary Leta Dorothy Slaton.
Matriculated Brooklyn College, NY, USA.
Mostly an actress and a strickly "Pops" singer - no Jazz - but she looked great in a sarong crooning "Tahaitian" music written by a composer who sat in his room in Brooklyn, NY, and gazed wistfully out his window at the Brooklyn Bridge.
In 1931, she was named 'Miss New Orleans' Dorothy first worked as a Chicago elevator operator, She then became the band vocalist for bandleader Herbie Kaye, her first husband.
In 1936 she made her screen debut in Paramount's "The Jungle Princess", wearing what was to become her "trademark" Sarong. During the 1940s, she was a 'staple' in the Bob Hope/Bing Crosby "Road To..." pictures. Of those films, she once said "I was the happiest and highest-paid straight woman in the business."
1909
Stuart MacKay, woodwinds
b. Montreal, Canada
Notable Events Occurring
On This Date Include
: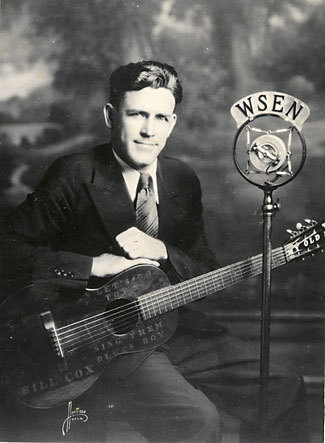 1968.
Bill Cox, the "Dixie Songbird" died.
The Dixie Songbird - Bill Cox
Bill Cox, the "Dixie Songbird"
Age: 66.
1984.
Charlie Teagarden

died in Las Vegas, NV, USA.
Age: 71.
Charlie Teagarden (July 19, 1913, Vernon, Texas – December 10, 1984, Las Vegas, Nevada) was an American jazz trumpeter. He was the younger brother of Jack Teagarden.
Charlie worked locally in Oklahoma before he and Jack joined Ben Pollack's Orchestra in 1929. Pollack's recordings were Charlie's first. He then worked with Red Nichols (1931) and Roger Wolfe Kahn (1932) before doing an extended run in Paul Whiteman's orchestra (1933-40). In 1936 he, Jack, and Frankie Trumbauer played together in the ensemble The Three T's.
Charlie played in his brother's big band in 1940, but soon branched off to lead his own ensembles. He played with Jimmy Dorsey in 1948-50 and Bob Crosby from 1954-58, as well as working with Pete Fountain in the 1960s. He worked steadily in Las Vegas after 1959. His only release as a leader was issued in 1962 on Coral Records. At the 1963 Monterey Jazz Festival, he performed with Jack, sister Norma, and mother Helen. By the 1970s, Charlie went into semi-retirement.
Charlie Teagarden: Information from Answers.com
1987.
Leroy Elliott "Slam" Stewart, bass
died in Binghampton, NY, USA.
Member duo: 'Slim & Slam' (Slim was "Slim" Gaillard, né: Bulee Gaillard, guitar/piano
b. (most likely) January 4, 1916, Detroit, MI, USA. (Slim claimed b. in Santa Clara, Cuba, instead of Detroit. His father worked as a steward on a cruise liner), d. Feb. 26, 1991, (cancer).
Slam Stewart - Wikipedia
1909
Casey Bill Weldon
William "Casey Bill" Weldon (December 10, 1909 – c. 1970) was an American country blues musician.
Weldon was born in Pine Bluff, Arkansas, and later lived and worked in Chicago, Illinois. He was one of the early musicians who recorded playing slide guitar. He played upbeat, hokum and country blues tunes. Playing a National steel guitar flat on his lap Hawaiian style, he was known as the "Hawaiian Guitar Wizard".
Weldon was married to the singer and guitarist Memphis Minnie in the 1920s.
Only recently it has been widely accepted that he is not the musician Will Weldon, who recorded between 1927 and 1928 as a member of the Memphis Jug Band.
Weldon cut over 60 sides for Bluebird and Vocalion. He was also an active session guitarist, performing on records by Teddy Darby, Bumble Bee Slim, Peetie Wheatstraw, and Memphis Minnie. On Memphis Minnie's last recording for Bluebird Records, in October 1935, Weldon accompanied her for the first time. He played on two sides, "When the Sun Goes Down, Part 2" and "Hustlin' Woman Blues". He had solo hits with his two best-known songs, "Somebody Done Changed the Lock on That Door" and "We Gonna Move to the Outskirts of Town".
After his divorce from Memphis Minnie, he married the blues singer Geeshie Wiley. They disappeared from the public eye soon after, and he had stopped recording by 1938.
His date of death is unknown but is presumed to be sometime around 1970.
Style
He played a National steel guitar flat on his lap Hawaiian style. His slide guitar solos were emotional and unique. His style of playing was highly influential on the emerging Chicago Blues style.
Songs Recorded/Released
On This Date Include:
Earl Fuller's Rector Novelty Orchestra
Out Of The East

Singapore (Introducing: While Your Away)
1924
Faye Barnes / Maggie Jones
Anybody Here Wanna Try My Cabbage?

Thunderstorm Blues
Red Mckenzie and his Mound City Blue Blowers - Deep Second Street Blues
Waring's Pennsylvanians -
Keep Smiling At Trouble
Dixieland Jug Blowers -
Banjoreno
Dixieland Jug Blowers
-
Boodle-Am Shake
Devonshire Resturant Dance Band -
Jig Walk
Irving Aaronson and his Commanders -
Ev'rything's Peaches (For Peaches And Me)
- Vocal refrain by Franklyn Baur
Give Me A Ukulele And A Ukulele Baby And Leave The Rest To Me
- Vocal refrain by Phil Saxe, Irving Aaronson and Harold Sallers
Clarence Williams' Blue Seven
Louis Armstrong and his Hot Five -
I'm Not Rough
Louis Armstrong and his Hot Five
-
Once In A While
E.C. Cobb And His Corn Eaters
E.C. Cobb And His Corn Eaters -
Transatlantic Stomp

Lee Morse and her Bluegrass Boys - Just You And I
Cincinnati Daddy

Sweet Mama
The Jungle Band -
Wall Street Wail
Marion Harris -
Funny, Dear, What Love Can Do
Marion Harris -
Nobody's Sweetheart
Louis Armstrong and his Orchestra -
Dallas Blues
Louis Armstrong and his Orchestra -
I Ain't Got Nobody
Duke Ellington and his Cotton Club Orchestra
Duke Ellington and his Cotton Club Orchestra -
What Good Am I Without You
Birmingham Jug Band -
Bill Wilson
Londonderry Aire

Melody in F
LYRICS:
"Nobody's Sweetheart"
Music by Billy Meyers and Elmer Schoebel
Lyrics by Gus Kahn and Ernie Erdman
Verse:
You were ev -'ry -bod -y's sweet -heart,
Not so long a -go,
And in our home town, each boy a -round,
Longed to be your beau.
But things are dif -f'rent to -day,
I'm might -y sor -ry to say:
Chorus:
You're No -bod -y's Sweet -heart now.
They don't bab -y you some -how,
Fan -cy hose, sil -ken gown
You'd be out of place in your own home town,
When you walk down the ave -e -nue,
I just can't be -lieve that it's you.
Paint -ed lips, Paint -ed eyes,
Wear -ing a Bird of Par -a -dise.
It all seems wrong some -how,
That you're No -bod -y's Sweet -heart now.
brought to you by...
~confetta