HAPPY BIRTHDAY PHIL SPITALNY!
BIRTHDAYS
b: Odessa, Russia d. 1970
Phil Spitalny is one of those popular bandleaders of the 1920's and 1930's whose fame didn't survive him. Born in Russia, he was brought to the United States as a boy, and by the 1920's was fronting his own band. Among his other successful records from the 1920's were "Jackass Blues" and "I Want To Meander In the Meadow," credited to Phil Spitalny's Music.
Spitalny later distinguished himself from virtually all of the competition with a gimmick that worked, leading orchestras made up entirely of women, billed as Phil Spitalny and His All-Girl Orchestra. They were a good outfit, able to play "jazzed" classics and light classical with equal aplomb, and were definitely easy to look at-although curiously enough, they broke through initially in radio, where there was no visual impact, on a program called "The Hour of Charm." (There was one other all-woman orchestra, truly all woman including its leader, that had major national exposure on radio, Ina Ray Hutton & Her Melodears).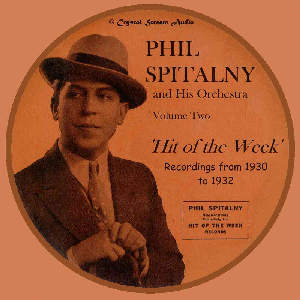 Later on, they were signed to Universal Pictures and appeared in features and short subjects that exploited the orchestra's visual appeal. Spitalny found women who were good at their instruments-Mary McClanahan was a top-flight drummer in her time-but who were also very good to look at. In all of its incarnations, the featured member of the orchestra was Evelyn & Her Magic Violin. The virtuoso Evelyn, who was a very flashy and charismatic player, later became Mrs. Spitalny. The rest of the orchestra membership was fairly fluid-there was no shortage of women with musical training, (although McLanahan distinguished herself among all drummers), especially during the war years, and presumably they came and went as better gigs or, even more likely, marriage beckoned.
Alas, the only extant video on which Spitalny and his orchestra can be seen is the Abbott & Costello film Here Come The Coeds (1945), where the orchestra gets a couple of great featured spots. Unfortunately, expecting to be noticed in any movie in which Lou Costello gets knocked on the head and wakes up thinking he's a woman basketball player is a sucker bet, because if the notion of Lou Costello as a basketball player is funny enough, Lou Costello as a female basketball player is downright hysterical, and overshadows a lot else including Spitalny and company, who play some very attractive light Romantic classics.
Spitalny continued to work in music into the 1950's, and retired to Miami, where he died in 1970. The University of Miami offers two academic awards, The Evelyn and Phil Spitnalny Music Achievement Award and The Evelyn and Phil Spitnalny Scholarship, and former members of the orchestra continue to play in the 1990's, most notably in the Venice Symphony Orchestra of Venice, Florida, a semi-professional ensemble.
1916