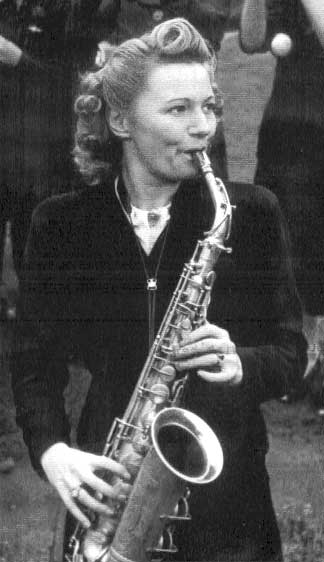 HAPPY BIRTHDAY IVY BENSON!


BIRTHDAYS


1913
Leeds, Yorkshire, England, UK
d. May 6, 1993,
Clacton-on-Sea, UK.
Alto Sax/Piano/Vocals/Leader
Piano, Clarinet, Alto Sax
Ivy Benson was born in 1913, in Holbeck, a suburb of Leeds, West Yorkshire. She was a very accomplished musician on electric organ, piano, saxophone and clarinet, and led a renowned all girls band for over 40 years. The interest in music came from her father, who played various instruments in the Leeds Symphony Orchestra and other smaller ensembles as diverse as theatre pit bands and a musical comedy group "The Ten Loonies".
Under his careful tuition Ivy learnt to play the piano from the age of five; by the time she was nine she was performing on the BBC's "Children's Hour", and in local working men's clubs under the name of "Baby Benson". Her father had greater ambitions for his daughter, wanting her to become a concert pianist; however preferred the more popular music and progressed to the clarinet and alto saxophone.In her early teens she won a scholarship to the Leeds College of Art, but then moved on to work in the Montague Burton tailoring factory, continuing to play at social and dance events in her spare time.After spending 3 years with Edna Croudson's Rythmn Girls she toured with Teddy Joyce and the Girlfriends, and in the late 1930's moved to London where she soon formed her own small groups. In 1940 the nine piece "Ivy Benson and her Rhythm Girls was formed for an all girl revue "Meet the Girls" starring the comedienne Hylda Baker.
During the second world war she fronted a number of various sized bands, from 12 to 23 piece, sometimes with a string section. She recruited most of her brass players with the help of Harry Mortimer, a leading of the existing male band personnel were then involved in the war leaving many opportunities for Ivy and her girls to become establish; she played leading ballrooms and theatres all over the country, a high point being a 22 week stint at the London Palladium with top acts such as comedian Max Miller and Jimmy James, and piano duo Rawicz and Landauer.In 1943 the band was appointed the BBC Resident Dance Band, which created stood by her throughout her career.The war created another difficulty for Ivy which became a major problem to her during the war years - the influx of American GI's. Ivy was to lose many of her girls to romance and marriage, and on some occasions had been known to lose a complete section overnight.
Over 250 girls played with the band during it's 40 year life, some starting from the age of 15 years of age, with Ivy being employer, musical trainer and, as one of the girls reported "the mother hen looking after her young". She was a strict but fair boss, but with such a large group of young girls to control and take responsibility for, she would sometimes need to use the strict side of her nature, keeping the girls in line with her signature tune - "Lady be good".In 1946 Ivy Benson and her Ladies Dance Orchestra were booked for the first post war broadcasts on BBC Television, but was forced to withdraw after the Stoll Theater group, fearful of the repercussions of this All Girl phenomenon, threatened to cancel her contracts. Not to be Berlin with ENSA, shortly after the Allied Forces had liberated the city. This was the start of extensive tours of the American bases in Germany. One of the highspots was a concert with Josephine Baker in Bavaria and in 1960, Ivy was playing at the Lido, Hamburg, during the time the Beatles were at the Indra Club, just across the road.
The band survived the radical changes which were to affect all large bands from the 1950's; increasing costs and changes in the publics demand for modern popular music altered the music industry for good. Ivy adapted her style, focusing on the nostalgic sounds of the war years. She began to do summer seasons, and the Isle of Man proved to be one of her most popular locations, with up to 6000 in her outdoor audiences in the Villa Marina Gardens.The Sex Discrimination Act of 1975 caused Ivy to change the name of the band to Ivy Benson and her Showband. She had, on occasions, to field the odd application from male players, but would say they could have the job if they could get into a dress size 10-16!By this time the great days of live big band music was gone. The variety theatres had closed and dance hall were now Discotheques.
During its last years, the band played mainly at private functions; show woman to the last, the final gig was at London's prestigious Savoy Hotel in 1982.Ivy continued with summer seasons for a while but retired to Clacton-on-Sea, where she worked tirelessly for the charity "Age Concern". She had confounded critics who said the girls could not sound as good as a man's band, and outlasted most of them.
Ivy Benson passed away in May 1993.
A trumpeter and vocalist, Louis Bacon can be added to the short list of jazz performers that need to be invited to a banquet, putting him in the company of Floyd R. Bean, Phil Napolean, Benny Waters and Chuck Steak, among others. Listeners most often recognize Bacon as a name amongst the horn section on recordings by the Duke Ellington orchestra and Louis Armstrong in big band mode, material that has been reissued in enough different formats to make the discography of Bacon as fat as a large pork shoulder roast. He was raised by a widow in Chicago, and began playing professionally at the age of 22 with the combo of Zinky Cohn. In 1928, Bacon slid onto the New York City plate, backing up a pair of dancers known by the stagename of Brown and McGraw.
In 1928, following a short stint with the excessive Bingie Madison, the trumpeter joined the band of Lt. J. Tim Brymnn before cutting loose in 1930 with Chick Webb. Following four years racing after this great swing drummer, Bacon spent a year frying in the Ellington sizzle. Next up was
Luis Russell, who became even more interesting to work with in 1938 following the creation of a combined band with Armstrong. Subsequent recordings by this outfit are generally where jazz fans find themselves hearing Bacon for the first time. A bout of tuberculosis took Bacon off the fire just when this new group was really taking off, but it turned out not be as disastrous to his career as this disease could be. By 1939, the trumpeter was back onstage at the Savoy Ballroom, working with the Benny Carter Big Band.
At the end of that year he left for Europe by boat in order to join up with Willie Lewis, an American bandleader who had fled the United States. This turned out to be a ticket to extensive touring for the next two years. Bacon hung with Lewis in Portugal and traipsed back home after him in 1941 when Lewis decided to repatriate. In 1942 Bacon worked with trumpet giant Cootie Williams, a former colleage from the Ellington band. Bacon was subsequently ill again, then back in action with reed player Garvin Bushell in the summer of 1944. Later in that decade Bacon performed in U.S.O. tours of Asia as a member of the Jessie Stone Orchestra, the music strongly reminiscent of the Armstrong and Russell arrangements. By the '50s his medical problems pretty much forced him to abandon trumpet playing, but he was onstage from time to time at New York City clubs such as Ryan's, focused more and more on his vocal work and had considerable success as a vocal coach. In the '60s, Ryan worked more often as an ambulance driver then a musician, the sirens probably reminding him of Cootie Williams.
John "Willie" Cook, Trumpet
b. Tangipahoa, LA, USA
(raised in East Chicago, IL, USA).
d. Sept. 22, 2000, Stockholm, Sweden.
Trumpeter Willie Cook played lead for such jazz luminaries as Duke Ellington, Johnny Hartman, and Count Basie. He also has played with Earl "Fatha" Hinds, Jimmy Lunceford, B.B. King, and Dizzy Gillespie. Born in Tangipahoa, LA, Cook moved with his family to East Chicago,IL, when he was a child. While growing up, he became interested in musical instruments, initially picking up the violin. After switching to trumpet in teens, he joined the King Perry band. In the early '40s, he filled the spot left vacant by Charlie Parker in Jay McShann's band. While a member, Cook made his recording debut on $cShann's "Say Forward I'll March." In 1951, he played with Duke Ellington.
In the late '70s, Cook began sharing the stage with Count Basie. While touring in Sweden in 1982, the trumpet player decided to make the country his home. Cook can be seen in Meet the Bandleaders with Duke Ellington and Lionel Hampton, a 1985 home video from Swingtime Video. At the age of 75, Willie Cook died in Stockholm, Sweden, on September 22, 2000.
Willie Cook - Wikipedia
The Carroll Dickerson Band at Chicago's Sunset Cafe in 1922
1895
d: Oct. 9, 1957, Chicago, IL, USA.
Worked with: Louis Armstrong; Joe "King" Oliver, and the Mills Blue Rhythm Band
The violinist and bandleader Carroll Dickerson was largely associated with the city of Chicago for his whole career. He was also part of the musical world of Louis Armstrong, appearing on a stack of albums large enough to obscure both Dickerson's violin case and Armstrong's trumpet satchel, were they to leave them lying in the same place. Keepers of the status quo should be aware, however, that when the relationship began between the two musicians it was Armstrong that was the sideman and Dickerson who was the leader. Dickerson, in fact, seemed to always want to be the leader.
His career begins with him in charge, fronting perhaps the first of Dickerson's bands at a Chicago bar called the Entertainer's Cafe, circa 1921. He continued forming bands through the '20s, taking one of them on a 48-week tour. He hired Armstrong in 1926 for a typically extended stretch at the Sunset Cafe
--where the music began long after sunset but was sometimes still going at sunrise.
The relationship continued with Armstrong, with some substitutions in lettering on the marquee. By 1929 the band had gone on the road, and once in New York began appearing under the trumpeter's name. A 1930 job at Connie's Inn in New York City was this group's last stand under anybody's name. Dickerson's New York period concludes with some work with the Mills Blue Rhythm Band and the great King Oliver. He then returned to Chicago where he led his own bands during the subsequent two decades. His group was well known at joints such as Swingland and Rhumboogie.
Sang with Benny Goodman, Harry James and Ziggy Elman bands.
Vocalist Louise Tobin sang with both Benny Goodman and Bobby Hackett in 1939. She also appeared with Will Bradley and Jack Jenney. Tobin was the wife of trumpeter and bandleader Harry James until he left her to marry Betty Grable. She reportedly brought his attention to singer Frank Sinatra, whom she heard on the radio. In 1967 Tobin married clarinetist Peanuts Hucko, with whose various groups she sang and recorded up through the 1990s.
Ellerton Oswald "Sonny" White, Piano
b. Panama City, Canal Zone
This pianist was born Ellerton Oswald, a name that surely doesn't sound as jazzy as the one he would later adopt when he began working in the mid-'30s in a combo led by Jesse Stone. He continued playing piano until his death in 1969, sticking religiously to one form of jazz or the other without ever compromising. Although not a big name in jazz, his stylistic range is broader than some other players who are much more famous, spreading from the early hot jazz sounds of master soprano chirper Sidney Bechet to the speeding-down-the-turnpike hard bop of tenor player Dexter Gordon's The Chase! projects. He played and recorded with Willie Bryant, Sidney Bechet, Teddy Hill, and Frankie Newton in the late '30s, but it was his recording sessions with jazz vocalist supreme Billie Holiday that form his most enduring legacy from this period. He can be heard accompanying two of the singer's favorite moods; dark and cynical on her classic "Strange Fruit" and groovy and upbeat on "Fine and Mellow."
The bands on these sessions combine fitting and swinging rhythm sections with tremendous soloists, and being part of one of these groups was the jazz equivalent of having been sprinkled with fairy dust. That seems to have been the case with White, whose employment through the '40s was with major players, including popular bandleader Artie Shaw and brilliant reed man and arranger Benny Carter, the latter gig preempted by World War II and continued immediately thereafter. Listeners exploring the works of several other of the finest singers in jazz and R&B will come across White again even after leaving Holiday heaven. He appears on recordings by blues shouter Big Joe Turner, one of the guys who put the zip into rock & roll, as well as that classy disciple of Lady Day's, the wonderful Lena Horne. Between 1944 and 1946, he got in on Dexter Gordon sessions that helped establish the tenor player as a new Sir Galahad. The pianist needed strong chops in order to feed the horn players chords while they soloed at great length. These popular loose jams were released under titles such as the previously mentioned The Chase! as well as Blowin' the Blues Away, a title that, considering the zesty music it accompanies, ought to come with a money back guarantee. In 1947, he was sucked into the band of Hot Lips Page, a trumpeter whose hot jazz background echoed White's previous employment with Bechet.
Trumpeter Harvey Davis is an obscure character who is no relation to another slightly more famous trumpeter with the same last name, but he did hold down an eight-year residency at the Cinderella Club in New York City, and for many musicians staying in one place is something of a dream. This group moved on to Jimmy Ryan's in 1954. White worked with Wilbur DeParis until the early '60s, then in several groups including a combo led by Eddie Barefield in 1968. His final employer was swing trumpeter Jonah Jones, with whom he was still gigging when he died in the early '70s.
Richard "Dick" Wilson, Tenor Sax
b. Mount Vernon, NY, USA.
Played in Andy Kirk Band for six years before his death.
On This Date Include
:
died in Willingboro, NJ, USA.
died in his sleep
at age 99.
This Ukrainian immigrant began giving violin lessons as a teen-ager, and eventually built Philadelphia's famed 'Granoff School of Music'. Granoff taught Dizzy Gillespie, John Coltrane and others during more than a half-century career. Some of his students became prominent players of classical music, Jazz, Swing, big band and Latin sounds. Granoff sold the school in 1970.
"Any Way The Wind Blows

"

- (James F. Hanley / Henry Creamer)
Harry Reser and his Orchestra
Hociel Thomas accompanied
by Louis Armstrong's Jazz Four
Emil Seidel and his Orchestra
"The Best Things In Life Are Free"
Andy Kirk and his Twelve Clouds Of Joy -
"Froggy Bottom"
- (Mary Lou Williams)
Jimmie's Blue Melody Boys
"Love (Your Spell Is Everywhere)

"

- (From the Motion Picture "The Trespasser")

"Love Me

" - (From the French Success "Deja")
Tiny Parham - "After All I've Done For You"
Goin' down to the bottom,
Where the folks don't hurry,
Goin' down to the bottom,
and all those who have provided content,
images and sound files for this site.