HAPPY BIRTHDAY MILTON AGER!
Milton Ager, composer
b. Chicago, IL, USA.
d. May 6, 1979 Los Angeles, CA, USA.
"Ain't She Sweet?," Sheet Music by Milton Ager
Composer, Songwriter. Wrote hits such as "Ain't She Sweet?," and the ever-popular "Happy Days Are Here Again." He began as a pianist for the silent movie theaters, went on to become a vaudevillian, and finally wound up writing hit songs for the Hollywood studios. He had many hit songs from 1918 to 1938.
~Biography
Milton Ager was one of the top songwriters during the waning days of the Roaring '20s and the early days of the Depression. He composed many popular standards -- "Ain't She Sweet?," "Happy Days Are Here Again," "Happy Feet," and "I'm Nobody's Baby," most with words by Jack Yellen -- as well as quite a few novelty hits of the day like "Lovin' Sam, The Sheik of Alabam'" and "Mama Goes Where Papa Goes (Or Papa Don't Go Out Tonight)."
Ager, born in Chicago in 1893, played piano informally from an early age. He left high school one year before graduation and began working in a variety of short-term jobs during the 1910s: intermission pianist at a movie theater in New York, song plugger in Chicago, accompanist for vaudeville performers on a tour of the Orpheum circuit, work at a publisher back in New York, and a post in the Morale Division for the U.S. Army at Fort Greenleaf in Georgia.
MILTON AGER SHEET MUSIC
(with Sophie Tucker pictured)
By 1921, Ager wrote his first big hit, "I'm Nobody's Baby." One year later, he and Jack Yellen opened their own publishing house. The company gained many hits during the '20s, including "Lovin' Sam," "Hard-Hearted Hannah," "I Wonder What's Become of Sally," and, in 1929, "Ain't She Sweet?" Ager and Yellen moved to Hollywood by the end of the decade, and immediately cashed in with their music to 1930's King of Jazz. Starring Paul Whiteman, the film introduced "Happy Feet," "Happy Days Are Here Again" (a permanent anthem for the Democratic Party), and "A Bench in the Park." Elected to the Songwriters Hall of Fame, Ager died in 1979.
Songwriters Hall of Fame - Milton Ager Exhibit Home
Jack Buck would have to be a rarity among jazz musicians -- one who always has a buck. The name itself is not so rare, in fact there have been several performers out there with this name, ready to have stupid jokes made about it. The trombonist who was such a big part of the San Francisco Dixieland scene during the '50s should not be confused with the Jack who announced sports events in St. Louis. Coincidentally, both of these men could be seen on local television outlets, a medium for which the name Jack Buck seems to fit like spending money in a billfold. Clancy's Corner was the spot in which to pass the trombonist Buck, a regular San Francisco television series hosted by banjoist and vocalist Clancy Hayes, bandmate of Buck's in Bob Scobey's Frisco Band.
It was in the context of various Scobey outfits that Buck made most of his recordings, more than a dozen sides that also feature players such as thumping pianist Jessy Crump and thrilling clarinetists Bill Napier and Pud Brown. Buck also recorded with New Orleans jazz legends Albert Nicholas and Darnell Howard. While jazz buffs in Iowa will want to claim him as one of their own, Buck's long residency in San Francisco began when he was still a child. His professional associations began with bandleader Ellis Kimball, who took the trombonist on his first road trips. Buck was also part of the Oakland dance band scene during this period.
He first recorded in 1946 on a Pacific release featuring the Frisco Jazz Band, leading directly to the relationship with Scobey. Discographer Tom Lord lists Buck as appearing on more than three dozen recording sessions between that year and 1958. In the early '60s, Scobey relocated to Chicago to start his own nightclub, perhaps too much of an effort considering the fact that he dropped dead a few years later. Buck retired from circulation, his interest in performing jazz seemingly spent.
~ Eugene Chadbourne, Rovi
1896
Joe Davis
producer/label owner
(Davis Records/Beacon/JayDee)
Demas Dean was a seasoned trumpeter who studied at Howard University and was an important part of the ensembles of some of the most musically ambitious jazz bandleaders of the '20s including Elmer Snowden and Leon Abbey. The latter bandleader took Demas to South America in 1927 for what was one the genre's great exploratory adventures of that era.
Later, Dean was part of the hit show entitled Blackbirds of 1929, recorded with classic blues empress Bessie Smith, and spent a decade as part of the excellent band of Noble Sissle. Dean is also on the list of players who were forced to work in the post office to survive, and up near the top if it is arranged alphabetically. With a brother and no less than six sisters who played instruments it is no surprise that as a youngster Dean played not only cornet but the violin. He began gigging in high school as part of Mazzeo's Brass Band and spent at least one summer season backing Beatrice Van Houten.
His college years brought him in touch with many great leaders, including collaborations with "Doc" Perry and Russell Wooding. Beginning in 1923 the trumpeter spent two years touring and recording with Lucille Hegamin and Her Dixie Daisies, subsequently moving around the geographical terrain as if he was actually a daisy choosing a spot to pop up next spring. At one point in the late '20s he was located in Florida, working with Ford Dabney's Orchestra.
Then he was back in New York, employed by Blackbirds of 1928 and freelancing on recording sessions and gigs--but not before the South American adventure. 1929 was the year his ship sailed for Europe courtesy of Sissle. While he did work with others such as Joe Jordan and Pike Davis, he was pretty much associated with Sissle from that point on. When the three year run of the show Rhapsody in Black came to an end in 1934, Dean made himself available to Sissle on an exclusive basis.
Ten years later the trumpeter decided to leave music as a full time occupation and headed for the west coast where he wound up working for the Los Angeles Post Office until retiring in 1965. He was still living in that city in the following decade but seems to have passed on without any public attention.
~ Eugene Chadbourne
d. March 31, 1981, Valley Stream, NY, USA.
né: Carmen Mastandrea.
Carmen Mastren (born Carmen Mastandrea, 6 October 1913 – 31 March 1981) was an American jazz guitarist, banjoist and violinist born in Cohoes, New York. Mastren is best remembered for his work from 1936–1941 with the Tommy Dorsey orchestra as a guitarist.
Biography
Mastren went professional as a musician in 1934 when he joined the Wingy Manone and Joe Marsala band. Mastren worked with a variety of musicians during his career, including Raymond Scott, Ray McKinley and Mel Powell. In the 1940s Mastren recorded with the Sidney Bechet and Muggsy Spanier "Big Four". During World War II he played with the Glenn Miller Air Force Band.
During the 1940s Mastren worked as musical director and conductor for Morton Downey, and from 1954–1970 Mastren played for The Today Show, The Tonight Show and Say When!! on NBC. Mastren died at 68 from a heart attack on March 31, 1981 at his home in Valley Stream on Long Island, NY.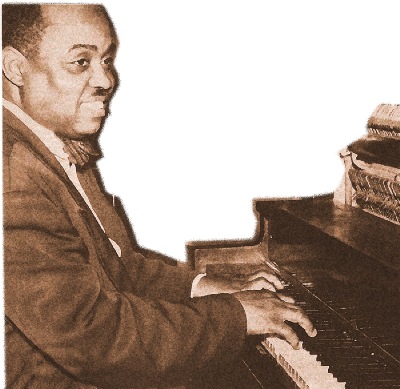 Samuel Blythe "Sammy" Price
Sammy Price (October 6, 1908 – April 14, 1992) was an American jazz, boogie-woogie and jump blues pianist and bandleader. He was born Samuel Blythe Price, in Honey Grove, Texas, United States. Price was most noteworthy for his work with his own band on Decca Records, known as the Texas Bluesicians, that included fellow musicians Don Stovall and Emmett Berry. The artist was equally notable for his decade-long partnership with Henry "Red" Allen.
During his early career, Price was a singer in local venues in the Dallas area. Price lived and played jazz in Kansas City, Chicago and Detroit. In 1938 he was hired by Decca Records as a session sideman on piano, assisting singers such as Trixie Smith and Sister Rosetta Tharpe.
Later in his life, he partnered with the Roosevelt Hotel in New York, and was the headline entertainment at the Crawdaddy Restaurant, a New Orleans themed restaurant in New York in the mid 1970s. Both Benny Goodman and Buddy Rich played with Price at this venue. in the 1980s he switched to playing in the bar of Boston's Copley Plaza.
He died in April 1992, in New York, at the age of 83.
"Pinky" Williams
alto-tenor-bari sax
d. Aug. 17, 1996. His brother "Skippy", played tenor sax.
Pinky Williams and Skippy Williams were brothers from Tuscaloosa, AL, who became professional reed players in jazz and R&B bands. In each case these were long, prolific careers, following a similar arc. Both started playing as teenagers and were already doing gigs by the end of the Roaring Twenties. The Tuscaloosa music scene unfortunately did not benefit from their activity since by then the family had relocated to Cleveland, where Pinky Williams died in 1996. This was just two years after Skippy Williams passed away; coincidentally, the latter was born two years after the former. Viewed consecutively the brothers spent about 120 years in the music business. Listeners interested in meeting up with the pair on a single disc can take the Apollo Jump. This refers to a collection of material by bandleader Lucky Millinder recorded at New York City's Apollo Theater in the early '40s. At that time the Millinder band featured Pinky Williams playing primarily baritone and Skippy Williams on tenor, often credited as either Elmer or Elbert. Pinky Williams went on in the following decade to a tenure in what is possibly the finest band that pianist, singer, and songwriter Ray Charles ever had. The choicest sides from the Charles discography all feature Williams, including the marvelous Blues + Jazz equation. On the subject of musically satisfying addition, the sum total of the reed section from this Charles band is enough to make any R&B listener salivate. Hank Crawford, Freddie Mitchell, Joe Tillman, and Don Wilkerson all blew mightily through this gust of classic soul.
~ Eugene Chadbourne
Notable Events Occurring
On This Date Include:
1927.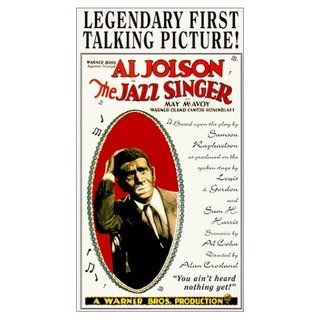 The "Jazz Singer,"
1st Full Length movie
with
a sound track,
premieres in
New York City
.
Frank "Cicero" Weaver of
"The Weaver Brothers & Elviry"
died.
1973.
Bill Williams, guitar, piano
died in Greenup, KY, USA.
Age: 75.
Claude Grant
Age 69 of the
"Tenneva Ramblers" died.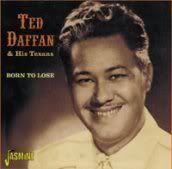 1996.
Theron Eugene "Ted" Daffen
Age 84, songwriter, bandleader, died.
Ted Daffan: Information from Answers.com
Marion Harris -
Never Let No One Man Worry Your Mind
Marion Harris
-
Nobody Lied (When They Said I Cried Over You)
Marion Harris -
Where Is My Daddy Now Blues
Bailey's Lucky Seven
Marion Harris
Lucille Hegamin -
Easy Goin' Mamma
Clarence Williams' Blue Five

Eddie Heywood and his Jazz Six - Let's Start Over Again
Paul Whiteman and his Orchestra - Just a Sweetheart
Edith Wilson - I'll Get Even With You
Don Redman and his Orchestra -
Doin' What I Please
Don Redman and his Orchestra -
Nagasaki
Jack Teagarden Orch.
(recording date) -
"Wolverine Blues"
~(Harry Warren / Mort Dixon)
~Recorded by : Henry "Red" Allen"
That was told to me by Able Seaman Jones.
Far away from night-clubs and from saxophones.
He said, "Yo Ho, I've made a certain port
And when you talk about real he-man sport":
There's nothing but that at night
Where the fellers chew tobaccy
And the women wicky-wacky
The way they can entertain
Where the fellers chew tobaccy
And the women wicky wacky
Then your troubles increase.
Earth-shake milk-shakes, ten cents a piece.
They kissy and huggy nice
Oh, By Jingo! I'ts worth the price.
Where the fellers chew tobaccy
And the women wicky-wacky
With a bowl of rice beneath a parasol.
And they only use suspenders in the fall.
That's where the girls don't think of rings and furs.
Gosh, it's the nicest place that ever weres.
They give you a carriage free
Where the fellers chew tobaccy
And the women wicky-wacky
They sit you upon the floor
No wonder your pants get sore
Where the fellers chew tobaccy
And the women wicky-wacky
I kept it up at high speed.
Halatosisis, that's guarenteed.
You just have to act your age
Where the fellers chew tobaccy
And the women wicky-wacky
With an ice-cream cone and a bottle of tea
You can rest all day by the hickory tree
But when night comes round, oh gosh oh gee,
Mother, mother, mother, pin a rose on me.
They try to give you a kiss
Heaven help a sailor on a night like this!
Not too gentle and not too rough
But you've got to tell them when you've had enough
Where the fellers chew tobaccy
And the women wicky-wacky
and all those who have provided content,
images and sound files for this site.