HAPPY BIRTHDAY ETHEL WATERS!
BIRTHDAY
S
1896
Ethel Waters, Vocals
b. Chester, PA, USA.
d. Sept. 1, 1977, Chatsworth, CA, USA.
"Sweet Mama Stringbean" was one of the greatest vocalists of the 1920s-'30s. In Films, On Records, Clubs and the Stage.
Biography
~by Scott Yanow
Ethel Waters had a long and varied career, and was one of the first true jazz singers to record. Defying racism with her talent and bravery, Waters became a stage and movie star in the 1930s and '40s without leaving the U.S.
She grew up near Philadelphia and, unlike many of her contemporaries, developed a clear and easily understandable diction.
Originally classified as a blues singer (and she could sing the blues almost on the level of a Bessie Smith), Waters' jazz-oriented recordings of 1921-1928 swung before that term was even coined.
A star early on at theaters and nightclubs, Waters introduced such songs as "Dinah," "Am I Blue" (in a 1929 movie), and "Stormy Weather."
She made a smooth transition from jazz singer of the 1920s to a pop music star of the '30s, and she was a strong influence on many vocalists including Mildred Bailey, Lee Wiley, and Connee Boswell.
Waters spent the latter half of the 1930s touring with a group headed by her husband-trumpeter Eddie Mallory, and appeared on Broadway (Mamba's Daughter in 1939) and in the 1943 film Cabin in the Sky; in the latter she introduced "Taking a Chance on Love," "Good for Nothing Joe," and the title cut.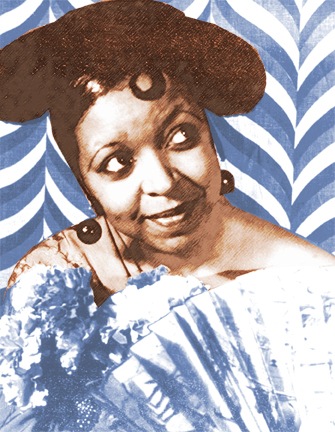 In later years Waters was seen in non musical dramatic roles, and after 1960 she mostly confined her performances to religious work for the evangelist Billy Graham. The European Classics label has reissued all of Ethel Waters' prime recordings and they still sound fresh and lively today.
Dale Evans
b. Uvalde, TX, USA.
née: Lucille Wood Smith but name changed at early age to Frances Octavia Smith.
Little remembered today that a very young Dale did sing with the Anson Weeks and Abe Lyman orchestras. She was raised in Texas and in Arkansas. Married at 14 (to Thomas Frederick Fox '27-'29); a mother at 15; divorced at 17. Moved to Memphis TN, found work in insurance agency and also sang on radio. Her second marriage (August Wayne Johns '29-'35) ended in divorce. Relocated to Louisville, KY, USA, and was popular radio vocalist. Her 3rd marriage (Robert Dale Butts '37-'46) would also end in divorce. She went to Chicago, where Fox Films signed her and she soon appeared in some Roy Rogers films as his leading lady.
In 1946, Roy's wife died, and so did Dale's marriage to Butts. One year later, she and Roy were married. This time the marriage was very successful, but dogged by tragedy which included the loss of 3 children before they reached their adulthood. During the 1950s, they had a successful TV program. Upon retirement, they opened the Roy Rogers and Dale Evans Museum in Victorville, CA. On Oct. 12, 1999, Dale had heart surgery to replace her pacemaker battery. Few folks know that she composed their theme song, "Happy Trails".
Dale Evans Pictures - Dale Evans Photo Gallery - 2009
Harry James, Ziggy Elman and
Chris Griffin
1915
Chris Griffin, Trumpet
né: Gordon Claude Griffin.
b. Binghamton, NY, USA
d. June 18, 2005, Danbury, CT, USA, (Melonoma).
Gordon Claude Griffin. 'Chris' Griffin, was part of the "Biting Brass" trumpet section of the great 1937-'38 Benny Goodman band. During the height of the Goodman years, Chris sat between Harry James and Ziggy Elman in what many considered the best trumpet section ever. Duke Ellington was quoted as saying that it was "the greatest trumpet section that ever was." Glenn Miller called it "the marvel of the age." At age 12 he began to study the trumpet, and six years later, was living in New York City and playing professionally in saxophonist Charlie Barnet's band. After two years with Barnet, he played with singers Rudy Vallee, Joe Haymes and Mildred Bailey. He then became a CBS studio musician and in May 1936 joined the Benny Goodman band. He found studio work with CBS and joined the Goodman band in May 1936, where he stayed for 3 years.
In 1938, when Goodman brought his orchestra into the famed venue for the first performance there by a jazz band, Chris was there. That was the concert that brought a new level of recognition to Jazz and a new legitimacy to the music. Griffin also appeared with the Goodman band in the films "The Big Broadcast of 1937" and "Hollywood Hotel." In 1939, Griffin tired of the touring life and decided to become a sessions musician so that he could spend more time with his wife, former singer Helen O'Brien, then pregnant with his third child.
As lead trumpet in various radio and television orchestras, he accompanied Milton Berle Ed Sullivan, and Jackie Gleason. He is credited with playing the beautiful trumpet obbligato on Gleason's theme song, "Shangri-La." As a session musician, Griffin recorded with Billie Holiday, Ella Fitzgerald, Tony Bennett and Mel Torme. He also worked with Charlie Parker on the "Charlie Parker With Strings" album. In the late 1960s, Griffin ran a trumpet school, and in the 1970s toured Europe before joining Tex Beneke's band. With the passing of Lionel Hampton, Chris was the last living member of the Goodman band which played the famous Carnegie Hall concert in 1939.
Chris Griffin - Wikipedia
1922
Batiste "Illinois" Jacquet, Tenor Sax
b. Broussard, LA, USA.
Played with Cab Calloway, Lionel Hampton, and Count Basie.
One of the great tenors, Illinois Jacquet's 1942 "Flying Home" solo is considered the first R&B sax solo, and spawned a full generation of younger tenors (including Joe Houston and Big Jay McNeely) who built their careers from his style, and practically from that one song.
Jacquet, whose older brother Russell (1917-1990) was a trumpeter who sometimes played in his bands, grew up in Houston, and his tough tone and emotional sound defined the Texas tenor school. After playing locally, he moved to Los Angeles where, in 1941, he played with Floyd Ray. He was the star of Lionel Hampton's 1942 big band ("Flying Home" became a signature song for Jacquet, Hampton, and even Illinois Jacquet' successor Arnett Cobb), and also was with Cab Calloway (1943-1944) and well featured with Count Basie (1945-1946). Jacquet's playing at the first Jazz at the Philharmonic concert (1944) included a screaming solo on "Blues" that found him biting on his reed to achieve high-register effects; the crowd went wild. He repeated the idea during his appearance in the 1944 film short Jammin' the Blues.
In 1945, Jacquet put together his own band, and both his recordings and live performances were quite exciting. He appeared with JATP on several tours in the 1950s, recorded steadily, and never really lost his popularity. In the 1960s, he sometimes doubled on bassoon (usually for a slow number such as "'Round Midnight") and it was an effective contrast to his stomping tenor. In the late '80s, Jacquet started leading an exciting part-time big band that only recorded one album, an Atlantic date from 1988. Through the years, Illinois Jacquet (whose occasional features on alto are quite influenced by Charlie Parker) has recorded as a leader for such labels as Apollo, Savoy, Aladdin, RCA, Verve, Mercury, Roulette, Epic, Argo, Prestige, Black Lion, Black & Blue, JRC, and Atlantic. Illinois Jacquet died on July 22, 2004.
~ Scott Yanow
1915
Jane Nossette Jarvis
Jazz vocals
b. Vincennes, Indiana, USA
1902
Julia Lee, Vocalist/piano
b. Boonville, MO, USA.
d. Dec. 8, 1958, Kansas City, MO, USA.
A popular entertainer who recorded frequently for Capitol during 1944-1950, Julia Lee's double-entendre songs and rocking piano made her a major attraction in Kansas City. She played piano and sang in her brother George E. Lee's Orchestra during 1920-1934, recording with him in 1927 and 1929 (including "If I Could Be With You One Hour Tonight") and cutting two titles of her own in 1929 ("He's Tall, He's Dark and He's Handsome" and "Won't You Come Over to My House").
Lee worked regularly as a single in Kansas City after her brother's band broke up. In 1944, she started recording for Capitol and among her sidemen on some sessions were Jay McShann, Vic Dickenson, Benny Carter, Red Norvo, and Red Nichols, along with many local players. After 1952, Julia Lee only recorded four further songs, but she was active up until her death in 1958.

~ Scott Yanow
b. Oklahoma City, OK, USA.
Worked with Lucky Millinder.

Notable Events Occurring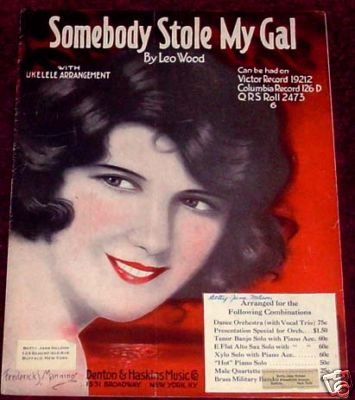 1930.
William "Count" Basie sang "Somebody Stole My Gal",
with Bennie Moten's orch. (a rare Victor recording).
1977.
died in New York (Jamaica), NY, USA.
Worked with Clarence Williams.
Garvin Bushell,
alto sax/clarinet,
died in Las Vegas, NV, USA.
Age: 91.
"Dr. Hepcat" (né: Lavada Durst), piano
1995.
Lou Levy, founder: Leeds Music
died in New York (Manhattan), NY, USA.
The Virginians -
Lovin' Sam
- (The Sheik of Alabam) - Vocal Refrain, Miss Patricola
Chili-Bom-Bom

- Vocal Refrain, Miss Patricola