d. Nov. 16, 1967, New Jersey. USA.
A valuable sideman for decades, Jimmy Archey was a major if underrated trombonist for nearly 40 years. Archey began playing when he was 12 and was landing professional jobs within a year. He studied music at the Hampton Institute (1915-19), played in Atlantic City for a period, and then moved to New York in 1923. He freelanced with minor but musical bands for the next six years, including Edgar Hayes in 1927. Archey joined King Oliver in 1929, making his recording debut with Oliver in 1930. He was in Luis Russell's various orchestras from much of 1931-37 including the 1935-37 period when Russell's ensemble was essentially functioning as Louis Armstrong's backup group. Archey had stints with the orchestras of Willie Bryant, Benny Carter (1939), Ella Fitzgerald, and Coleman Hawkins, subbed with Cab Calloway, and spent 1944-45 with Claude Hopkins. Archey spent two years (1946-48) with Noble Sissle's commercial orchestra but did appear regularly on Rudi Blesh's famed This Is Jazz radio series in 1947.
After touring France with Mezz Mezzrow in 1948, Archey joined Bob Wilber's band in December of that year at the Savoy Cafe in Boston. When Wilber left in April 1950, Archey became the bandleader. During the next few years, he headed the sextet, which in 1952 had trumpeter Henry Goodwin, Benny Waters on clarinet and pianist Dick Wellstood; this was one of the few times in his career when he led his own group. He visited Europe with Mezzrow again (Nov. 1954-Feb. 1955) and then spent most of 1955-62 as a member of Earl Hines' San Francisco-based Dixieland band, also playing occasionally with Muggsy Spanier. Archey freelanced for the remainder of his life with New Orleans-style pickup groups. A Storyville CD features Archey's early-'50s band on some Dr. Jazz broadcasts; otherwise his only sessions as a leader were for Nec Plus Ultra (1952), the French Barclay label (1955) and 77 (1966).
~ Scott Yanow
Jimmy Archey - Wikipedia
Alfred "Tubby" Hall, Drums
The older brother of the fine drummer Minor Hall, Tubby Hall started playing in New Orleans with the Crescent Orchestra in 1914. After performing with the Eagle Band, the Silver Leaf Orchestra and other notable local groups, Hall moved to Chicago where he played briefly with Lawrence Duhe's band in 1918 before being drafted. After his discharge, Hall performed with Carroll Dickerson's Orchestra for several years (recording with it in 1927) and also worked at various times with King Oliver, Tiny Parham and Boyd Atkins. His later associations included Louis Armstrong (recording with his big band in 1931-32), Johnny Dodds and Jimmie Noone (making records with the clarinetist in 1936 and 1940). Otherwise Tubby Hall (who did not head any record sessions of his own) freelanced and occasionally led his own groups.
ON THIS DAY...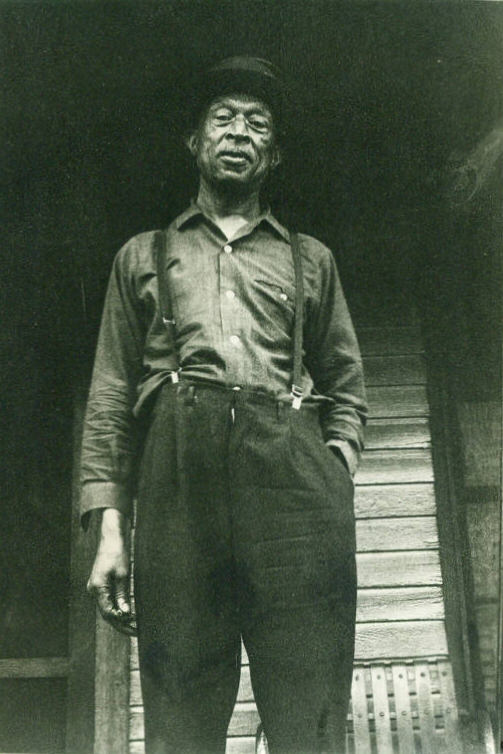 1974.
died in Spartanburg, SC, USA.
A good-natured finger-picking guitarist, Anderson played for about 30 years as part of a medicine show. He did make a couple of sides for Columbia in the late '20s with Simmie Dooley, but otherwise didn't record until a 1950 session, the results of which were issued on a Riverside LP that also included tracks by Gary Davis.
Anderson went on to make some albums on his own after the blues revival commenced in the early '60s, establishing him as a minor but worthy exponent of the Pidemont school, versed in blues, ragtime, and folk songs. Anderson also became an unusual footnote in rock history when Syd Barrett, a young man in Cambridge, England, combined Pink's first name with the first name of another obscure bluesman (Floyd Council) to name his rock group, Pink Floyd, in the mid-'60s.
Bandleader/pianist Carmen Cavallaro died.
Carmen Cavallaro (May 6, 1913 – October 12, 1989) was an American pianist. He established himself as one of the most accomplished and admired light music pianists of his generation.
Mamie Smith

Let's Agree To Disagree

-

Mamie Smith's Jazz Hounds
Nick Lucas -

I'd Love To Call You Sweetheart
Jean Goldkette and his Orchestra -
Hush-a-Bye
(Vocal Refrain by Frank Bessinger)
Idolizing (Vocal Refrain by Frank Bessinger)

Original Wolverines - A Good Man Is Hard To Find
Royal Garden Blues

Shim-Me-Sha-Wabble
The New Twister
Lizzie Miles - Mean Old Bedbug Blues
Red and Miff's Stompers -
Feeling No Pain
Waring's Pennsylvanians
I Want The World To Know - from the Musical comedy "Hello Yourself"

Waring's Pennsylvanians - I'm Sorry, Sally
Red Nichols' Five Pennies -
Corrinne Corrina
LYRICS:
Mean Old Bedbug Blues
Mean old bedbug sho' is evil, he don't mean me no good
Mean old bedbug sho' is evil, he don't mean me no good
He thinks I'm a woodpecker and he takes me for a chunk o' wood
When I lay down at night I wonder how can a poor man sleep
When I lay down at night I wonder how can a poor man sleep
With one hole in your head while the other one in your feet
Bedbug's big as a jackass, he will bite you, stand and grin
Bedbug's big as a jackass, will bite you and stand and grin
Drink a bowl of bedbug poison, come back and bite you again
Saw one morn' in a corner, Lord I tried so hard to see
Saw one morn' in a corner, Lord I tried so hard to see
It was a mother bedbug Lord, prayin' for some oat to eat
I had to sit up all night long, my feet can't touch the floor
I had to sit up all night long, my feet can't touch the floor
Cause the mean old bedbug told me I can't live there no more
and all those who have provided content,
images and sound files for this site.