Ed Kirkeby, Manager
AKA: Ted Wallace
d. June 12, 1978, Mineola, NY, USA.
Managed the California Ramblers and later on managed Fats Waller. Ed Kirkeby, who is probably best-remembered for being Fats Waller's manager, had a multifaceted and productive life. A born leader, Kirkeby was a successful businessman with a knack for organization. In 1916 he became a salesman at Columbia Records, and the following year he was promoted to assistant recording manager. Kirkeby recorded some of the first jazz at Columbia and in 1920 helped organize the California Ramblers.

Within a year, the band was recording regularly and it would be one of the most prolific outfits of the 1920's. Kirkeby started singing on their records in Sep. 1926. A few months later Kirkeby (using the pseudonym of Ted Wallace) became a leader on a series of records usually utilizing personnel from the Ramblers.
After the Ramblers declined due to turnover, Kirkeby put a greater focus on his own recordings, recording under such names as Ted Wallace, Ed Kirkeby Wallace, Eddie Lloyd and Eddie Loyd. During 1930-32, Kirkeby directed a countless number of studio sessions for ARC although he largely stopped after July 1932. He then spent a couple years managing the Pickens Sisters.

In 1935 he became an A&R person at Victor and, on four sessions with a revived version of the California Ramblers, Kirkeby took some vocals. He also sang on some transcriptions by the Joe Haymes Orchestra and appeared on a final date by Ted Wallace in 1936. In 1938, Kirkeby left Victor and joined the band booking department of NBC. Soon afterward he became Fats Waller's manager, staying with the great pianist-composer until his death in 1943.
He spent the remainder of his life as a manager of many groups and personalities including the Deep River Boys, staying active until late 1977. Ed Kirkeby's book Ain't Misbehavin' discusses his years with Fats Waller while the TOM CD Ed Kirkeby Volume One has some of his best recordings from 1927-30.
~ Scott Yanow
Ed Kirkeby and Fats Waller, 1941.
1903
Lee Blair, Banjo/guitar
b. Savannah, GA, USA. d. Oct.15, 1966, USA.
He was a self taught musician that played left handed banjo and guitar. He took a few lessons from Mike Pingitore but his natural ability landed his first professional job in 1926 with Charlie Keets. Some of the greats he worked with included Jelly Roll Morton, Luis Russell and Louis Armstrong. The Luis Russell Orchestra became the back-up band for Louis Armstrong during the depression and jazz experts feel that Luis' band may have been the first swing band with Blair playing guitar. During the 1950's Blair played banjo again performing and recording with Wilbur De Paris.
1918
Robert "Bobby" Byrne
trombone/singer/leader
b: Columbus, OH, USA.
With Dorsey Brothers Orch. and then the Jimmy Dorsey Orch. Worked with Dorothy Claire; Jimmy Palmer.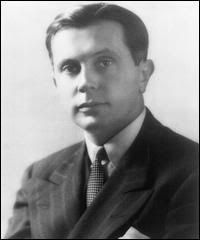 1903
Vernon Duke, composer
b. Pskov, Russia, d. 1969.
né: Vladimir Dukelsky.
Vernon Duke (10 October [O.S. 27 September] 1903 – January 16, 1969) was a Russian-American composer/songwriter, who also wrote under his original name Vladimir Dukelsky. He is best known for "Taking a Chance on Love" with lyrics by Ted Fetter and John Latouche, "I Can't Get Started" with lyrics by Ira Gershwin, "April in Paris" with lyrics by E. Y. ("Yip") Harburg (1932), and "What Is There To Say" for the Ziegfeld Follies of 1934, also with Harburg. He wrote the words and music for "Autumn in New York" (1934). Vernon collaborated with lyricists such as Johnny Mercer, Ira Gershwin, Ogden Nash and Sammy Cahn and his works have been performed and recorded by Tony Bennett, Count Basie, Charlie Parker, Wynton Marsalis, Billie Holiday, Benny Goodman, Frank Sinatra and Thelonious Monk.
Vernon Duke - Wikipedia
Great Performances . Artists . Vernon Duke | PBS
Songwriters Hall of Fame - Vernon Duke Exhibit Home
PBS biography
1915
Harry "Sweets" Edison, Trumpet
b. Columbus, OH, USA. d. July 27, 1999.
Harry got his early experience with Alphonso Trent, - one of the great old New Orleans bands. By 1937, he was playing in the Lucky Millender band in New York City. In Sept '37 he became one of the mainstays of Count Basie's band staying with the Count until the Big Band era ended in the 1950s. He then played briefly with the Buddy Rich band, toured with the wonderful vocalist Josephine Baker, and also played with the JATP. 1957 saw him working with Benny Carter in Hollywood, performing on film sound tracks, and also playing club dates and recording with his own Combo. In Jan. '58, he was briefly with Loius Bellson band, and in Feb '58 he worked with singer Pearl Bailey at New York's prestigious Waldorf Astoria Hotel. In same year he worked with and recorded with Frank Sinatra, and in late '58, he led own quintet in some New York Clubs. Over the years, Harry had played with such men as Dick Hyman, Jimmy Giuffre, Shorty Rogers, Cy Touff, Billie Holiday, Ben Webster, Illinois Jacquet, Red Norvo, Barney Kessel, Woody Herman, and many others.

Bio
Sweets Edison - Wikipedia
NPR's Jazz Profiles: Harry "Sweets" Edison
1908
Johnny Green, composer
Johnny Green (10 October 1908 – 15 May 1989) was an American songwriter, composer, musical arranger, and conductor. He was given the nickname "Beulah" by colleague Conrad Salinger. His most famous song was one of his earliest,

"Body and Soul"

. Green was inducted into the Songwriters Hall of Fame in 1972.
Johnny Green - Wikipedia
Profile at the Songwriters Hall of Fame
1913
Harold Holmes
bass/guitar/tuba/composer
b. Mobile, AL, USA.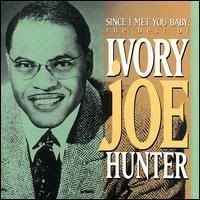 Singer/pianist/songwriter
1906
Freddie "Posey" Jenkins
Trumpet
b. New York, NY, USA. d. 1978
1906
Les Lambert, trumpet
b. London, U.K., d, Dec. 24.
1910
Milton "Tippy" Larkin
Trumpet/valve t'bone/Leader
b. Houston, TX, USA.
d. Aug. 31, 1996.
Age: 85.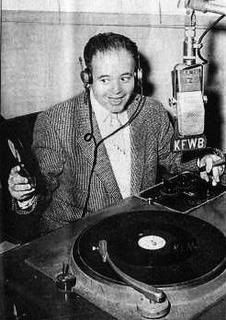 1911
'Zeke' Manners
Leader/vocals/guitar/composer
b. San Francisco, CA, USA
d. Oct. 14, 2000.
aka: The Jewish Hillbilly, and sometimes as 'Zeke Craddock'.
Manners was born in San Francisco but raised in Los Angeles, where he attended Fairfax High School and learned to play fiddle, banjo, and piano. He played in a traveling revue for a time before joining several Western swing groups. In the 1930s he came to lead a group called The Beverly Hillbillies, who were a popular radio attraction long before the TV show of the same name became a hit. Manners's show, featuring himself on accordion and organ, mixed comedy with Western Swing and was broadcast on Los Angeles's KMPC as well as in New York City.
He covered Mr. Ghost Goes to Town which was written in 1936 by Will Hudson, Irving Mills and Mitchell Parish. The Five Jones Boys also performed the song.
The ensemble played for several years together before breaking up, after which Manners put together the group Zeke & the City Fellers. This band played on New York radio and did a tour of Europe shortly before the outbreak of World War II. In the 1940s he hosted his own One Man Variety Show, a comedy/musical routine, and in the 1950s he hosted music programs on Los Angeles's KFWB and New York's WINS.
Later in his career Manners did some stand-up comedy and ran his own mail order business. He did cameo roles in the films Real Life and Lost in America, both of which starred his nephew Albert Brooks; he also appeared in the 1987 film Barfly.
Manners was the author of over 100 songs, including "The Pennsylvania Polka" (best known as a hit by The Andrews Sisters), "Take My Wife, Please" (a hit for Henny Youngman), and "Los Angeles" (best known in its version by Les Paul). He worked frequently with Buddy Ebsen, who went on to become Jed Clampett on the Beverly Hillbillies show.
1906
Leo Mathiesen
leader/arranger/composer/piano/accordion/vocals
b. Copenhagen, Denmark, d. Dec. 16, 1969.
né: Hans Leo Mathisen.
Leo was very strongly influenced by the American pianist Thomas "Fats" Waller. His band had a core of good musicians and their recordings exhibited this excellence. After the band era had passed, Leo worked as a solist. He was an important pioneer in Danish jazz and dance music, and had the best known Danish band after Kai Ewans'.
Leo "The Lion" Mathisen (10 October 1906 – 16 December 1969) was a Danish jazz pianist, composer, arranger, singer and bandleader. He was a leading figure of the thriving Danish scene during the years around World War II—a period which has been labelled the Golden Age of Danish Jazz—and he is considered to be one of most significant and original jazz musicians of his day.
Mathisen's main source of inspiration was Fats Waller, both his piano play and his singing, but the later years of his career saw some Bebop influence. His most famous tracks are Take it Easy and To be or not to be. His nickname is a reference to his first name as well as MGM's mascot Leo the Lion. He is also remembered for his characteristic appearance with his flat, centrally parted hair, his thin moustache and, most notably, his fondness of large cigars.
~Biography
~Early life and career
Leo Mathisen was born in Copenhagen in 1906. He worked in a record shop, listened to records and tried to copy the virtuous piano play that he heard. After completing a merchant education, he started working professionally as a pianist in restaurant Arena and with Kai Ewans' band in Restaurant Adlen. The same year he also recorded his first album, The More We Are Together, in collaboration with Victor Cornelius. From 1927 to 1928 he was also part of a trio with Otto Lington and Anker Skjoldborg.
From 1928 through 1931 he performed with Adrian Rollini's orchestra Germany and Sweden and with Max Lefkos' band in Germany and Sweden.
~With own bands
In 1936 Mathisen formed his own band and until 1952 he led various acclaimed orchestras which performed in restaurants in Copenhagen and toured in Scandinavia after the end of World War II also in Germany. They also served as backup bands for various popular singers.
Among the members of his band were Erik Parker, Henry Hagemann and John Steffensen while the trumpeter Jørgen Ry joined the ensemble in the years after the war. During the was, a time which has been labelled as the Golden Age of Danish Jazz, he reached huge popularity, particularly at the München establishment where he performed regularly for several years during the Occupation of Denmark. When he was forbidden to perform in English, he resorted to Scat singing with a destinctive Copenhagen-English sound.
From 1951 he performed as a solo pianist around Denmark but in spring 1953 he retired from music altogether due to health problems. He died in 1969 and is interred on the Mariebjerg Cemetery in Gentofte in the northern outskirts of Copenhagen.
~Works
Mathisen recorded numerous albums with his band, often with his own compositions. His main source of inspiration was Fats Waller, both in his piano play and in his singing, and particularly his recordings from 1941 to 1943 are considered to be among the swing music's finest. His most famous songs are Take it Easy and To be or not to be. With larger orchestras he recorded tracks like Long Shadows which is a typical example of his original arrangements. In 1952 he retired from music due to health problems.
Mathisen also recorded popular hits of his time such as Lionel Hampton's Hey! Ba-Ba-Re-Bop, Five Minutes More, Near Yo and Makin' Whoopee. With Erik Parkerm he also created Danish lyrics to songs such as De 24 Røvere that Fats Waller recorded in 1941 and Jack McVea's The Key's In The Mailbox.
~In films
Leo Mathisen appears as himself in the films 5 raske piger (1933), 7-9-13 (1934), Mit liv er musik (1944) and Teatertosset (1944).
His music is featured in the films Der var engang en krig (1966), Midt i en jazztid (1969) and in I Tvillingernes tegn (1975).
He is also the subject of the biographical 1986 film Take it Easy where he is played by Eddie Skoller.
Leo Mathisen - Wikipedia
Remembering Leo Mathiesen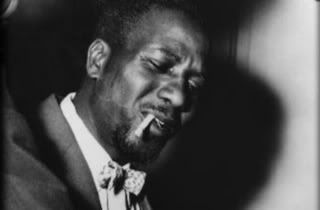 1917
Thelonious Sphere Monk, Piano
b. Rocky Mount, NC, USA.
d. Feb., 17, 1982, Weehauken, NJ, USA.
Composed: "Straight, No Chaser"; "In Walked Bud"; "Well, You Needn't"; "Epistrophy"; "Ruby My Dear"; "Rhythm-a-ning"; "'Round About Midnight"; "Off Minor"; "Stickball (I Mean You)"; "Thelonious"; "Misterioso"; and "Introspection".
PBS Bio
Wikipedia
1921
William Howard "Monk" Montgomery, Electric Bass
b. Indianapolis, IN, USA.
d. May 20, 1982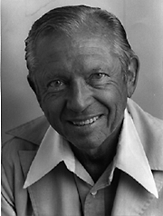 1915
Don Pierce
producer/label owner
b. Ballard, WA, USA.
(Hollywood Records)
Bio
1907
Raymond Pinder
bass vocals
b. Nassau, Bahamas.
Member: 'The Pinder Family', consisting of Raymond, his wife Edith on lead vocals, and their daughter Geneva singing treble. Edith is the sister of another Bahamian singer, Joseph Spence "The Voice from Heaven".
1899
Billy Ternent
Violin/Saxes/Multi-instrumentalist/Arranger/bandleader
b. Whitley Bay, Northumberland, England, UK.
d. March 23. 1977.

The Home Of Billy Ternent
Billy Ternent and his Orchestra
1904
"Lovin'" Sam Theard
(Blues) vocals/songwriter
b. New Orleans, LA, USA.
d. Dec 7, 1982, Los Angeles, CA, USA.
Lovin' Sam Theard served most of his lengthy professional existence as an actor and a comedian in theaters, movies, and television. Those who study and specialize in old-time hokum, dirty blues, and novelty swing records associate his name with delectable ditties like "She Skuffles That Ruff," "You Can't Get That Stuff No More," "Rubbin' on That Darned Old Thing," and "I Wonder Who's Boogiein' My Woogie Now." Here in the glorious information glut of the 21st century, Sam Theard is likely to be remembered and referenced now and then as the man who wrote "(I'll Be Glad When You're Dead) You Rascal You," a rambunctious number made famous by Louis Armstrong. Most importantly, any search engine armed with his name will uncover multiple references to his magnum opus, "Let the Good Times Roll," which was one of Louis Jordan's major hits as well as a primary staple of rhythm & blues and early rock & roll.
Born in New Orleans, LA on October 10, 1904, he began working with a circus in 1923 and spent many years on the road, performing in theaters and nightclubs. Most of his recordings were made in or near Chicago. In 1929 and 1930 he recorded as Lovin' Sam from Down in 'Bam for the Brunswick record company under the supervision of A&R director Mayo Williams. Focusing almost exclusively upon human sexuality, Theard sang bawdily humorous songs backed by guitarist Tampa Red and pianists Cow Cow Davenport and H. Benton Overstreet. After a brief dalliance with the Gennett label in 1930 using the name Sam Tarpley, Theard engaged in a bit of label hopping. He cut records for Decca in 1934 (backed by pianist Albert Ammons), for Vocalion in 1937 and Victor's budget line Bluebird series in 1938. His voice can also be heard on records issued under the names of pianist Tiny Parham and trumpeter Hot Lips Page.
Theard was busy as a comedian in Harlem during the 1930s and '40s, regularly treading the boards at the Apollo Theater alongside Dusty Fletcher, Pigmeat Markham, and Jackie "Moms" Mabley. It was during this period that he began calling himself Spo-Dee-O-Dee. While gigging in Chicago in 1942 he and one Fleecie Moore came up with a ditty called "Let the Good Times Roll" and shared it with singing saxophonist Louis Jordan who scored a massive hit with his Tympany Five recording of it in 1946. Theard, who can also be seen in Jordan's film Caldonia, had a bit of a minor comeback towards the end of his life after landing in Hollywood in 1976, sometimes reverting to his old stage name Spo-Dee-O-Dee. He goofed with Redd Fox on the set of Sanford & Son, teamed up with Foxx and Pearl Bailey in Norman, Is That You?, and appeared in Little House on the Prairie. Theard's face became marginally familiar to audiences who had no idea who he was or what his past accomplishments amounted to. He appeared as Cripple in Richard Pryor's Which Way is Up? and as the Wino in an all-black remake of Cinderella called Cindy; as Old Second with Jackie Gleason and Karl Malden in The Sting II and as the Left Hand of God in Motown's biographical salute to Scott Joplin. Accomplished, versatile, and influential but never accorded the kind of recognition that he deserved, Sam Theard passed away at St. Vincent Medical Center in Los Angeles, CA on December 7, 1982.
~ arwulf arwulf, Rovi
Lovin' Sam Theard: Information from Answers.com
Sam Theard
1921
Julius Watkins
Julius Watkins (October 10, 1921 – April 4, 1977) was an American jazz musician, and one of the first jazz French horn players. He won the Down Beat critics poll in 1960 and 1961 for "miscellaneous instrument" with French horn named as the instrument.
Watkins was born in Detroit, Michigan. He started playing French horn when he was nine years old, having played the trumpet, the recognized jazz instrument, for the Ernie Fields Orchestra in the mid-1940s. By the late 1940s, however, he had played some French horn solos on Kenny Clarke and Babs Gonzales' records. After moving to New York City, Watkins studied for three years at the Manhattan School of Music. He started appearing in small-group jazz sessions, including two led by Thelonious Monk, featuring on "Friday the 13th" on the album Thelonious Monk and Sonny Rollins (1954).
Watkins recorded with numerous jazz greats, including John Coltrane, Freddie Hubbard, Charles Mingus, Miles Davis and Gil Evans, Phil Woods, Clark Terry, Johnny Griffin, Randy Weston, and the Jazz Composer's Orchestra. He co-led, with Charlie Rouse, the group Les Jazz Modes from 1956 to 1959, and he toured with Quincy Jones and his band from 1959 to 1961.
He died in Short Hills, New Jersey at the age of 55. From 1994 to 1998, an annual "Julius Watkins Jazz Horn Festival" was held in New York, beginning at the Knitting Factory, (NY Times, January 27, 1994, "A One-Night French Horn Festival") honoring his legacy. After a ten-year break, another "Julius Watkins Festival" was held on October 3, 2009, in Seattle, Washington, at Cornish College of the Arts.
Julius Watkins - Wikipedia
Julius Watkins: Information from Answers.com
REST IN PEACE CONNEE BOSWELL
Notable Events Occurring
On This Date Include:
1928.
The musical Hold Everything! opened
at the Broadhurst Theatre in NY.
Hold Everything! is a musical comedy with book by John McGowan and B. G. de Sylva, lyrics by Lew Brown and B. G. de Sylva, and music by Ray Henderson.
Produced by Alex A. Aarons and Vinton Freedley, the Broadway production opened on 10 October 1928 at the Broadhurst Theatre for a total run of 409 performances. The cast included Bert Lahr, Jack Whiting, Ona Munson and Victor Moore.
Bert Lahr's career as a star began with this show. This most famous song from the show is "You're the Cream in My Coffee". In 1930, Warner Brothers produced a movie version Hold Everything filmed entirely in Technicolor. This film version is now considered a lost film.
1935.
"Porgy and Bess"
composer George Gershwin's
American opera, opened on
Broadway in New York City.
Porgy and Bess - Wikipedia
The Gershwins' Porgy and Bess
1958.


Wesley "Kid Sox" Wilson, vocals
died in Cape May Court, NJ, USA
Age: 65.

Wesley Wilson: Information from Answers.com


1960.
June Lawrence Cole, bass
died in New York, NY, USA,
Age: 45.
June Lawrence Cole (1903, Springfield, Ohio – October 10, 1960, New York City) was an American jazz bassist, tubist, and singer.
Cole's first major employment in music was with the Synco Jazz Band in Ohio; this group later became McKinney's Cotton Pickers while Cole was still a member. He left the Cotton Pickers in 1926 to play under Fletcher Henderson, with whom he stayed until 1928. While with Henderson he played on recordings behind Bessie Smith. In 1928 he toured Europe with Bennie Peyton. He remained in Europe for over ten years, playing in the bands of Sam Wooding and Willie Lewis, but spent most of the years 1936-1939 out of music while recovering from a prolonged illness in Paris. He returned to the United States in 1941, leading his own bands in New York and playing in a quartet with Willie "The Lion" Smith in 1947. He continued playing locally in New York through the 1950s, and also ran a record store in Harlem.
BIO
1964.
Eddie Cantor
comedian/Vocals, died.
Age: 72.
Eddie Cantor (January 31, 1892 – October 10, 1964) was an American "illustrated song" performer, comedian, dancer, singer, actor and songwriter.[1] Familiar to Broadway, radio, movie and early television audiences, this "Apostle of Pep" was regarded almost as a family member by millions because his top-rated radio shows revealed intimate stories and amusing anecdotes about his wife Ida and five daughters. Some of his hits include "Makin' Whoopee", "Ida", "If You Knew Susie", "Ma! He's Makin' Eyes at Me", "Margie" and "How Ya Gonna Keep 'Em Down on the Farm (After They've Seen Paree?)" He also wrote a few songs, including "Merrily We Roll Along", the Merrie Melodies Warner Bros. cartoon theme.
His eye-rolling song-and-dance routines eventually led to his nickname, "Banjo Eyes". In 1933, the artist Frederick J. Garner caricatured Cantor with large round eyes resembling the drum-like pot of a banjo. Cantor's eyes became his trademark, often exaggerated in illustrations, and leading to his appearance on Broadway in the musical Banjo Eyes (1941).
Eddie Cantor - Wikipedia
Eddie Cantor
Radio Hall of Fame - Eddie Cantor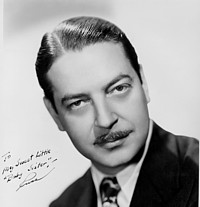 Russ Case
, orchestra, arranger for many
bands including the Jackie Gleason show, died.
Age: 52.
1976.


Connie Boswell, vocals
died in New York, NY, USA
Age: 68.
Member: 'The Boswell Sisters'

Constance Foore "Connee" Boswell (December 3, 1907, Kansas City, Missouri – October 11, 1976, New York) was an American female vocalist born in Kansas City but raised in New Orleans, Louisiana. With her sisters, Martha and Helvetia "Vet" Boswell, she performed in the 1930s as The Boswell Sisters and became a highly influential singing group during this period via recordings and radio. Connee herself is widely considered one of the greatest jazz female vocalists and was a major influence on Ella Fitzgerald who said, "My mother brought home one of her records, and I fell in love with it....I tried so hard to sound just like her."
In 1936, Connee's sisters retired and Connee continued on as a solo artist (having also recorded solos during her years with the group).
Connee Boswell - Wikipedia
Boswell Sisters - Wikipedia
Boswell Sisters website Bozzies.com
The Boswell Sisters Vocal Group Hall of Fame Page
Songs Recorded/Released
On This Date Include:
1927
Lee Morse -
"Did You Mean It?"
1928
Edwin J. McEnelly's Orchestra
"All Of The Time"
"A Siren Dream" (Vocal refrain by Elliot Shaw)
Jimmy Wade and his Dixielanders -
"Gates Blues"
Colonial Club Orchestra -
"You're The Cream In My Coffee"
1929
Noble Sissle and his Orchestra -
"You Want Lovin' And I Want Love"
Frankie Trumbauer and his Orchestra -
"Sunny Side Up"
Frankie Trumbauer and his Orchestra
-
"Turn On The Heat"
Harry Reser and his Orchestra -
"Collegiate Sam"
1930
Paul Whiteman and his Orchestra
Paul Whiteman and his Orchestra -
"Body and Soul"
"In My Heart - It's You"

"Something to Remember You By"
LYRICS:
You're The Cream in My Coffee
~Lyrics and Music by B.G. De Sylva, Lew Brown and Ray Henderson
~Originally published in 1923.
You're the cream in my coffee,
You're the salt in my stew
You will always be my necessity,
I'd be lost without you.
You're the starch in my collar,
You're the lace in my shoe
You will always be my necessity,
I'd be lost without you.
Most men tell love tales,
And each phrase dovetails
You've heard each known way,
This way is my own way:
You're the sail in my loveboat,
You're the captain and crew,
You will always be my necessity
I'd be lost without you.
You're the cream in my coffee,
You're the salt in my stew
You will always be my necessity,
I'd be lost without you.
You're the starch in my collar,
You're the lace in my shoe
You will always be my necessity,
I'd be lost without you.
You give life savor,
Bring out its flavor,
So this is clear, dear,
You're my worcestershire, dear!
You're the sail in my loveboat,
You're the captain and crew,
You will always be my necessity,
I'd be lost without you.
You will always be my necessity
I'd be lost without you.
http://en.wikipedia.org/wiki/Hold_Everything!