HAPPY BIRTHDAY JIMMIE ROGERS!
né: James Charles Rodgers
Alias(es) The Singing Brakeman; The Blue Yodeler
"The Original" James Charles "Jimmie" Rodgers (September 8, 1897 -– May 26, 1933) was the first country music superstar. Rodgers, known as The Singing Brakeman and The Blue Yodeler, was born in Pine Springs, Mississippi, USA but considered his hometown to be Meridian, Mississippi, and spent most of his early life from boyhood accompanying his father on railroad jobs. He eventually became a railroad brakeman, an extremely dangerous and highly skilled job. In the days before air brakes, the brakeman had to stop the train by running on top of the moving train from car to car setting mechanical brakes on each one.
Tuberculosis forced him to leave the railroad, and he undertook all sorts of work, ranging from police detective to blackface performer in minstrels and medicine shows. Before answering an advertisement from Ralph Peer of the Victor Talking Machine Company to audition as a performing artist. This audition in Bristol, Tennessee, on August 4, 1927 (two days after the Carter Family answered the same ad and recorded in the same hall) led to Rodgers' phenomenally successful recording career.
His songs, most of which he wrote himself, were typically either sentimental songs about home, family and sweethearts, or tough takes on the lives of hoboes, "rounders", and his beloved railroads and railroaders, on his own hard life and happy marriage.
Each of his recordings captures the unique vocal quality that singles Rodgers out from the array of early country musicians.
His voice is powerful and haunting. His yodels are second to none in their tone, complexity and ingenuity. His sound is like no other and, once heard, is never forgotten. Hearing Rodgers also serves to instantly place in context much of the country singing of every era since.
Backed by a variety of accompanying ensembles and playing guitar on many
tracks, Rodgers' instrumentation always seems well suited to the song's needs. His music is invaluable for its historical importance and also for its virtuosic vocals and beautiful melodies.
A round dozen of his songs bore the generic title "Blue Yodel" with a number. The first "Blue Yodel" is better known from its refrain, "T for Texas, T for Tennessee". Fundamentally, Rodgers was a white blues singer, singing traditional blues lyrics and accompanying himself on guitar and yodel, which was nothing like classic Swiss yodeling. His yodeling was really vocalized falsetto blues licks, providing obbligatos and choruses that in other blues performances would have been provided by a lead instrument.
Notable Rodgers titles include "Waiting for a Train" (1929), "In the Jailhouse Now" (1928, version 2 1930), "Jimmie the Kid" (1931), "Mule Skinner Blues" (1931), "Miss the Mississippi and You" (1932), "Looking for a New Mama" (1931), "Jimmie's Mean Mama Blues" (1931), and "Train Whistle Blues" (1930). The 113 songs he recorded have hardly ever been out of print. His musical career lasted only six years. He died from tuberculosis in 1933 in the Taft Hotel, New York at age 35.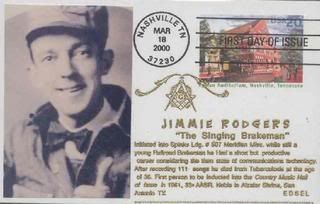 His last recordings were made in Manhattan less than a week before his death. He had been bedridden for several years before this last session and had to rest on a cot between takes.
When the Country Music Hall of Fame was established in 1961, Rodgers was one of the first three to be inducted. He was also elected to the Songwriters Hall of Fame and his song "Blue Yodel No. 9" is ranked No. 23 on The Rock and Roll Hall of Fame's 500 Songs that Shaped Rock and Roll.
1914
David W. "Dave" Bowman, piano
A participant on some important dixieland-oriented recordings although never a major name himself, Dave Bowman was a solid and swinging pianist. He was born to Canadian parents who raised him in Hamilton, Ontario. Bowman started on piano when he was four. After studying at the Pittsburgh Music Institute, he played professionally in Canada with Ken Steele (1933-36) and worked in Europe with Jack Hylton's Orchestra.
Returning to New York, Bowman was with Sharkey Bonano, Bobby Hackett (1937-39), Bud Freeman's Summa Cum Laude Orchestra (1939-40), Jack Teagarden's Big Band, Joe Marsala, Muggsy Spanier (1941-42) and Eddie Condon before worked as a studio musician at ABC and NBC.. Later on Bowman was back with Bud Freeman (1954-55) and then settled permanently in Florida where he freelanced including with Phil Napoleon in 1964. He died in a car accident in 1964 while driving home from a gig. Dave Bowman, who first recorded in 1938 with Bobby Hackett and Sidney Bechet, only cut two selections ("Stars Fell On Alabama" and "Blues") as a leader (in 1946 for Signature) but appeared on many records as a reliable sideman.
Milton Brown, Violin/Guitar/vocals/leader
Milton originally formed a local band with his sons called 'The Aladdin Laddies'. The name was changed to 'The Light Crust Doughboys' (perhaps THE seminal 'Western Swing' band) when they were hired by Burris Mills for a radio show. When Milton left the show, the band became 'Milton Brown and His Brownies'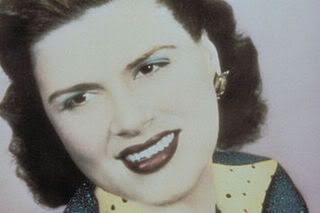 née: Virginia Patterson Hensley
"
Composers shouldn't think too much - it interferes with their plagiarism."
~Howard Dietz
brought to you by...
~confetta