HAPPY BIRTHDAY
THELMA TERRY!!!
BIRTHDAYS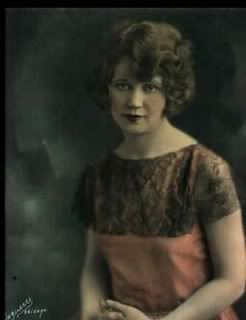 She was a student at Austin High School, and many of the so-called "Austin High Gang" served at one time or another in Thelma Terry's band. The Austin High student most significant to Terry's story was drummer Gene Krupa, whose first gig was with Terry. It was with Terry's Playboys that Krupa made his recording debut on March 29, 1928. Other members of her band included pianist Bob Zurke, reedmen Bud Jacobsen, Bud Freeman, and Charles Dornberger. Thelma Terry played a variety of Chicago nightspots, and was billed as "the Jazz Princess."
Terry was practically alone in her chosen profession at her time and hardly found it easy to conduct the business of playing jazz as she would've liked. The boys in her all-male units sometimes didn't take her very seriously and, as one old-timer put it, "only played in the band because they wanted to get into (Thelma's) pants." Terry eventually wearied of the struggle and in 1929, she married and rang the curtain down on her musical career. Later attempts to make a comeback were rebuffed for various reasons.
Thelma Terry and her Playboys made only six issued recordings and these are regarded as outstanding examples of classic Chicago-style jazz. In 1998, a test recording from these sessions was discovered where Terry sings a vocalese of Bix Beiderbecke's solo in "Singin' the Blues," demonstrating that Terry was already using this technique some 25 years in advance of its "official" introduction. Much of what we know about Terry we owe to the researches of David Apolloni, who maintains a website to her memory at www.2multiples.com/hotdance/thelma.htm.
Thelma Terry and her Playboys discography. A history of Jazz before 1930. This site contains over 1000 songs from this era in Real Audio 3 format, ...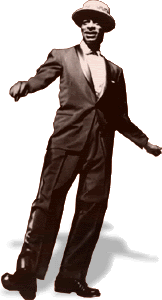 d. April 19, 2003, Age: 89.
In 1923, Cholly won a Charleston dance contest in Buffalo, N.Y., after which he became a singing waiter and dancing bootblack. In the 1930s, he made a name for himself as a tap dancer, As part of the two man Rhythm Pals, he coached the dance group 'Cotton Club Boys' for appearances with Bill Robinson in the Broadway musical 'The Hot Mikado'. He epitomized excellence and class in his appearances with such other stars as tap legend Charles "Honi" Coles, the famed Mills Brothers vocal group, the Earl Hines Band, the Louis Armstrong Band, the Cab Calloway Revue, Count Basie, Lionel Hampton, Charlie Barnet orchestra, and singer Billy Eckstine. After the big band era ended, he found a new career staging and choreographing acts for countless "Motown" artists including the Cadillacs, Shirelles, Smokey Robinson and the Miracles, Marvin Gaye, the Supremes, Gladys Knight and the Pips, the O'Jays, Temptations and Aretha Franklin. The National Endowment for the Arts awarded Mr. Atkins its highest dance award - the three year Choreographer's Fellowship.
1912
Kenny Baker, vocals/actor
d. August 10, 1985, Solvang, CA. USA.
From 1935 - '39 Kenny was the featured singer on the Jack Benny radio program, being replaced in 1939 by another vocalist, Dennis Day. Curiously, Baker eventually became the singer on (Jack Benny's arch "Rival") Fred Allen's radio show.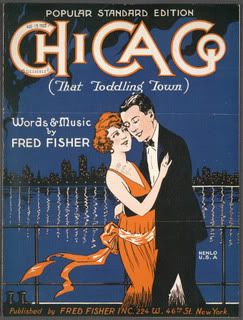 1875
d. Jan. 14, 1942, New York, NY, USA.
Fred Fisher (September 3, 1875 – January 14, 1942) was a German-born American songwriter and Tin Pan Alley music publisher.
Fisher was born as Alfred Breitenbach in Cologne. His parents were Max and Theodora Breitenbach. After visiting the United States in 1892, he immigrated in 1900, where he adopted the name Fred Fischer. He founded the Fred Fischer Music Publishing Company in 1907. During World War I he changed his surname to Fisher to make it seem less Germanic.
In 1914, Fred Fisher married Ana Fisher (née Davidovitch, later anglicized as Davis; born 1896). Their children – Daniel ("Danny"; 1920–2001), Marvin (1916–1993), and Doris (1915–2003) – also wrote songs professionally. Fisher died in Manhattan, New York and was interred at Maimonides Cemetery in Brooklyn.
In 1970, Fred Fisher was inducted into the Songwriters Hall of Fame. The Ripley's "Believe It or Not" column credited him with writing more Irish songs than anyone else.
Songwriters Hall of Fame Bio
1922
Oscar Pettiford, bass/cello
d. Sept 8, 1960, Copenhagen, Denmark.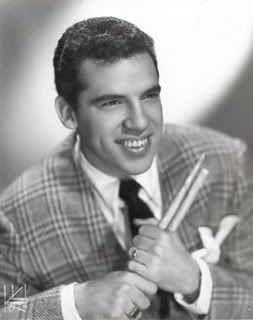 1917
Bernard "Buddy" Rich, Drums
d. April 2, 1987, Los Angeles, CA, USA.
When it came to technique, speed, power, and the ability to put together incredible drum solos, Buddy Rich lived up to the billing of "the world's greatest drummer." Although some other drummers were more innovative, in reality none were in his league even during the early days. A genius, Buddy Rich started playing drums in vaudeville as "Traps, the Drum Wonder" when he was only 18 months old; he was completely self-taught. Rich performed in vaudeville throughout his childhood and developed into a decent singer and a fine tap dancer. But drumming was his purpose in life, and by 1938 he had discovered jazz and was playing with Joe Marsala's combo.
Rich was soon propelling Bunny Berigan's orchestra, he spent most of 1939 with Artie Shaw (at a time when the clarinetist had the most popular band in swing), and then from 1939-1945 (except for a stint in the military) he was making history with Tommy Dorsey. During this era it became obvious that Buddy Rich was the king of drummers, easily dethroning his friend Gene Krupa. Rich had a bop-ish band during 1945-1947 that did not catch on, toured with Jazz at the Philharmonic, recorded with a countless number of all-stars in the 1950s for Verve (including Charlie Parker, Lester Young, Art Tatum, and Lionel Hampton), and worked with Les Brown, Charlie Ventura, Tommy Dorsey (1954-1955), and Harry James (off and on during 1953-1966). A heart attack in 1959 only slowed him down briefly and, although he contemplated becoming a full-time vocalist, Rich never gave up the drums.
In 1966, Buddy Rich beat the odds and put together a successful big band that would be his main outlet for his final 20 years. His heart began giving him trouble starting in 1983, but Rich never gave his music less than 100 percent and was still pushing himself at the end. A perfectionist who expected the same from his sidemen (some of whom he treated cruelly), Buddy Rich is definitively documented in Mel Tormé's book Traps the Drum Wonder. His incredible playing can be viewed on several readily available videotapes, although surprisingly few of his later big band albums have been made available yet on CD.
Ernest Kaai, from The Ukulele: A Hawaiian Guitar and How to Play It,
Revised Edition,1910, Wall, Nichols, Co., Honolulu.
(Collection of John King)
The first Portuguese immigrants arrived in Hawaii, bringing with them an instrument that would later become the Ukulele. : )
1963.
J. Russel Robinson, piano
died in Palmdale, CA, CA, USA.

died in New York, NY, CA, USA.
née: Iris Colleen Summers
singer, and wife of Les Paul, died.
died in Montreal, PQ, Canada.
Member: Lucky Millinder Orch.


Victor Orchestra
I Would Still Love You, -Billy murray and Ada Jones vocs. tune: Murphy
She Forgot to Bring Him Back, -Ada Jones voc. tune: Irwin Kaufman's Kazinotanze
Benson Orchestra of Chicago
International Novelty Orchestra - Let Me Call You Sweetheart
Charles Fulcher and his Orchestra
Harry Archer and his Orchestra
Cole McElroy and his Orchestra - Whose Arms Are You in Tonight?
Cass Hagan Park Central Orchestra - Manhattan Mary




The Radiolites (Ben Selvin Orchestra) - There's a Cradle in Caroline



Cole McElroy Spanish Ballroom Orchestra
Lonely Nights in Hawaii

(voc. Jimmie Davis)


Cole McElroy and his Orchestra
I Need Someone Like You

- tune: Thomas Waller
1930
Joe Venuti and his Orchestra -
I Like a Little Girl Like That
(vfl)
Paul Whiteman and his Orchestra
Jeanette MacDonald - Try To Forget
Bob Wills Texas Playboys - Bring It On Down To My House, Honey
Eddy Duchin and his Orchestra
Vaughn Monroe and his Orchestra
Buster Bennett and his Band
Frank Sinatra - People Will Say We're In Love
LYRICS
I am dreaming Dear of you, day by day
Dreaming when the skies are blue, When they're gray;
When the silv'ry moonlight gleams, Still I wander on in dreams,
In a land of love, it seems, Just with you.
Let me call you "Sweetheart," I'm in love with you.
Let me hear you whisper that you love me too.
Keep the love-light glowing in your eyes so true.
Let me call you "Sweetheart," I'm in love with you.
Longing for you all the while, More and more;
Longing for the sunny smile, I adore;
Birds are singing far and near, Roses blooming ev'rywhere
You, alone, my heart can cheer; You, just you.
Let me call you "Sweetheart," I'm in love with you.
Let me hear you whisper that you love me too.
Keep the love-light glowing in your eyes so true.
Let me call you "Sweetheart," I'm in love with you.
brought to you by...
~confetta
and all those who have provided content,
images and sound files for this site.