HAPPY BIRTHDAY GUS ARNHEIM!
BIRTHDAYS
b. Sept. 11 1897
d. Jan. 1955, Los Angeles, CA, USA.
Birth name: Gustave Aronheim.
The orchestra of Gus Arnheim launched or helped developed many a performer's career, most famous among them Bing Crosby, who got a massive push in the music business when Crosby's sophomore outfit known as the Rhythm Boys cut a handful of sides with the Arnheim Band. Others who began their musical careers with Arnheim include Russ Columbo, Jimmie Grier, Woody Herman, Joe Dixon, Stan Kenton, Art Pepper and Irving Fazola. Actor Fred McMurray even got his start with Arnheim, although back then the likeable thespian was still a saxophone player trying to kick off a musical career.
In the the late 20's and early 30's, Arnheim had the most popular band on the West coast, based out of the trendy Cocoanut Grove nightclub in Los Angeles. The bandleader got his professional start in a combo called the Syncopated Five, with Abe Lyman sitting on the drum throne. From there Arnheim got into theatre jobs, then tinkled the ivories behind singer Sophie Tucker. Lyman and him got back together, forming the group that came to be known as the Cocoanut Grove Orchestra in 1927.
In 1929 this group took off on its first European tour, going over like wildfire in both Paris and London. Arnheim also took the 14-piece band group on extensive domestic tours, hitting all of the then 48 American states.
The group honed a repertoire of original Arnheim compositions while on the road, resulting for the musicians in a continually stimulating, evolving musical partnership.
Arnheim eventually was remembered even more for his career as a songwriter than a bandleader, at least in terms of his discography. Popular songs he wrote included "I Cried for You", "Mandalay", "I'm Gonna Get You" and "Sweet and Lovely", the latter tune evolving into a heavily played jazz standard as well as the background music for Bugs Bunny everyime he dressed up as a female, in itself a rich source of copyright royalties. At the start of the subsequent decade Arnheim hired on the Rhythm Boys, a male singing trio which he had heard working with Paul Whiteman's orchestra.
The move led to the recording of Crosby's first solo hit, "I Surrender Dear". Arnheim cruised through the 30's on the popularity of this and his other hits, then decided to modernize the group near the end of the decade, once again making a big impression at an important club, the Congress Casino in Chicago. At this point a more swinging rhythmic feel was coming into play, and a larger quotient of the sidemen turned out to be up and coming jazz stars or even important bandleaders in their own right such as Kenton. Like Duke Ellington, Arnheim delighted in slowly changing the band's sound to compliment the style of each new musician he hired.
Following the Second World War, Arnheim retired from the big band business, getting out well before developments such as rock and roll took public taste elsewhere. He did briefly reappear in the mid-50's hosting smaller combos on several California television programs. In 1955, he died of a heart attack, supposedly while writing a new song in his Beverly Hills home.
~ Eugene Chadbourne, Rovi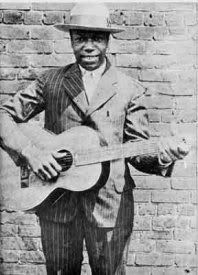 12-string bottleneck-guitar/singer-songwriter
Barbecue Bob was the name given by Columbia Records talent scout Don Hornsby to Atlanta blues singer Robert Hicks. Hicks is widely credited as being the singer who more than any helped to popularize Atlanta blues in its formative period. Born to a family of sharecroppers in
Walnut Grove, GA, Robert Hicks and his brother, Charley "Lincoln" Hicks relocated with them to Newton County. There the Hicks brothers came in contact with Savannah "Dip" Weaver and her son, Curley Weaver. With the Weavers, the Hicks boys learned to play guitar and sing. Another local kid, Eddie Mapp, arrived in the area around 1922 and began to play harmonica with Robert and Charley Hicks and Curley Weaver. For several years in the early to mid-'20s, this group, or some group derived from this nucleus of musicians, would play parties and dances all around Atlanta and the surrounding territory.
Robert Hicks was the first of this group to "break out"; by 1926, Hicks was working at Tidwell's Barbecue Place in the affluent Atlanta suburb of Buckhead. Hicks would cook for, serve, and sing for the patrons. Robert Hicks proved a local sensation, and somehow attracted the notice of Columbia's Don Hornsby. Hornsby made publicity photographs of Hicks in chef's whites and devised the moniker Barbecue Bob to put on Hicks' first Columbia record, "Barbecue Blues, " recorded in Atlanta on March 25, 1927. It proved a strong seller, and Hicks traveled to New York to make its follow-up, "Mississippi Heavy Water Blues, " in addition to seven other titles on June 15 and 16. Lightning struck twice, and Columbia realized they had a hit artist in Barbecue Bob. Over the next three years the Columbia remote truck stopped in Atlanta on numerous occasions primarily to make records with Hicks, and altogether he made 62 sides for Columbia. Only six of these were rejected, one title being remade and three others having since been found and issued.
Robert Hicks was joined by his brother, Charley Lincoln Hicks, on four of these sides; one pair recorded on November 9, 1927 ("It Won't Be Long Now Parts 1 & 2") was issued as by Barbecue Bob and Laughing Charley. This highly influential coupling is regarded as a classic and is one of the most frequently anthologized blues recordings from the 1920s. Robert Hicks also
participated in a pseudonymous session for QRS in December, 1930 issued as by the Georgia Cotton Pickers. This session also resulting in records being issued involving Hicks' longtime
friends Curley Weaver, Eddie Mapp, and possibly a younger friend, Buddy Moss. Hicks had already completed his last session as Barbecue Bob for Columbia on the fifth of that month. Earlier that year his wife had died of pneumonia, and less than a year later Hicks himself succumbed to the same illness, brought on by a bout with influenza. He was only 29.
Robert Hicks played a 12-string Stella guitar on his recordings, but in person he was just as likely to play a 6-string. He also made some use of bottleneck techniques. Hicks was a consummate stylist of older material, and contributed textbook versions of such blues standards as "Poor Boy a Long Ways from Home, " "Fo' day Creep, " and "Goin' Up the Country." Eric Clapton has adopted Hicks' version of "Motherless Chile Blues." Hicks' influence extends to the whole of early Atlanta blues, and he is considered second, if not equal to Blind
Willie McTell in this respect.
Record label owner (STAX)
d. Feb. 24, 2004, age: 85.
Bola de Nieve
Bola de Nieve (literally Snowball) (11 September 1911 – 2 October 1971), born Ignacio Jacinto Villa Fernández, was a Cuban singer-pianist and songwriter. Villa Fernández was born in Guanabacoa, and studied at the Mateu Conservatoire of Havana. He worked as a chauffeur and played piano for silent films until his friend Rita Montaner took him on as an accompanist in the early 1930s. He was a sophisticated cabaret stylist known for ironic patter, subtle musical interpretation, with a repertoire that included songs in French, English, Catalan, Portuguese and Italian. He toured widely in Europe and the Americas, and his friends included Andrés Segovia and Pablo Neruda.
d. Dec. 2, 1959, Pacoima, CA, USA
In Balkan folklore he would be known as "the man who has seen the bear" -- the person whose presence is both historic and shadowy, always there at key moments in all the important places, undeniably a part of landmark events yet leaving behind less personal residue than a
mourning dove. Sidney Desvignes' neighborhood was New Orleans, not the Balkans. He was a cornetist who really did play in the infamous red-light district of the sunken city in the first three decades of the 20th century. Desvignes was a member of the Excelsior Brass Band, the
Maple Leaf Orchestra, and Fate Marable's Society Syncopators, where he played second fiddle, so to speak, to Louis Armstrong.
Desvignes was then promoted up a notch following Armstrong's epic decision to become a part of the King Oliver combo. The final years of the Roaring Twenties represent Desvignes' own musical roar simmering down to a whimper. He continued to play on riverboats and in New Orleans until moving to California in the early '30s, remarkably one of the few players from his background whose decision to go west was not motivated by or did not result in a whole new wave of musical activity. The ex-cornetist instead ran a restaurant and retired in Pacoima. The JSP label's compilation entitled Breaking Out of New Orleans 1922-1929 contains a few feathers, as in some of the very rare recordings of Desvignes playing.
Next to John Lee "Sonny Boy" Williamson, no harmonica player was as popular or as much in demand on recording sessions during the '30s as Jazz Gillum. His high, reedy sound meshed perfectly on dozens of hokum sides on the Bluebird label, both as a sideman and as a leader.
Born in Indianola, Mississippi (B.B. King's birthplace as well) in 1904, Gillum was evidently teaching himself how to play harmonica by the tender age of six. After running away from home in 1911 to live with relatives in Charleston, Mississippi, Jazz spent the next dozen or so years working a day job and spending his weekends playing for tips on local streetcorners. When he visited Chicago in 1923, he found the environment very much to his liking and put down roots there.
There he met guitarist Big Bill Broonzy and the two of them started working club dates around the city as a duo. By 1934, Gillum started popping up on recording dates for ARC and later Bluebird, RCA Victor's budget label. This association would prove to be a lasting as Chicago
producer Lester Melrose frequently called on Gillum as a sideman -- as well as cutting sides on his own -- as part of the "Bluebird beat" house band. His career seemed to screech to a halt when the label folded in the late '40s and aside from a Memphis Slim session in 1961, he seems to have been largely inactive throughout the '50s until his death from a gunshot wound as a result of an argument in 1966.
Charles Harrison (September 11, 1878–February 2, 1965) was an American tenor ballad singer.
Harrison studied singing in New York City with noted voice teacher Frederick Bristol and organist Leo Kofler. In 1911 he began recording for the Columbia Phonograph Company, making a number of recordings that were popular hits of the day: "Peg O' My Heart" (1913), "Ireland Must Be Heaven for My Mother Came from There" (1916), and "I'm Always Chasing Rainbows" (1918). He also recorded an extensive operatic and concert song repertoire in English for Columbia, Victor, Edison (on both cylinder and disc), Emerson and other companies.
At the same time as his solo performances, he performed as a member of several quartets recording for Columbia. Among the quartets he sang with was the Columbia Stellar Quartet and the American Singers, the latter during the early electric era. Also on a few occasions, he sang with the Revelers, most notably on their recordings of "Honolulu Moon" and "Yankee Girl." His distinct and riveting tenor caused Victor Records to advertise him as "a voice in a million." His career slowed with the advent of electrical recording, and his later solo records were almost entirely for Edison.
Charles Harrison was married to Beulah Gaylord Young, another pioneer recording artist. They performed together as members of the Eveready Mixed Quartet on The Eveready Hour.
Beginning in 1930, Harrison performed on the Broadway stage in the plays This One Man, Precedent, The Sellout and One More Honeymoon.
He lived in Summit, New Jersey, and later moved to nearby New Providence, where he spent his final years and even recorded an LP in 1954 at the age of 75 entitled, "Charles Harrison Sings Again." Charles Harrison recorded mostly under his own name, but also used Billy Burton and other pseudonyms when recording for smaller labels.
1899
d. Dec., 8, 1950, Monroe, LA, USA. (heart attack)
As a civil servant, he worked his up to becoming the principle private secretary to the Rumanian Ministry of Agriculture. He would give up the financial security of such a government position, and, in 1926, emigrate to England, hoping to make a career in Musical Comedy. At just age 25, he made his first recording. It was the Romanian folk song "Mandrullita". he was accompanied by "Madame Adami". In 1927, "A Garden in the Rain" with composer Carroll Gibbons at the piano and the New Mayfair Orchestra was his next recording. In Nov. 1927, his next recorded was composer Victor Young's "Sweet Sue, Just You" (again with Gibbons and the orchestra). In Dec. 1927, Metaxa and Carroll Gibbons again released the beautiful song "I Kiss Your Hand, Madame".
In May of 1929, Metaxa got his first good stage part, in John Hastings Turner's revue "Wake Up and Dream. In April, he recorded the title song "Wake Up and Dream" with Carroll Gibbons at the piano and leading the New Mayfair Orchestra. When the show toured to New York CIty, Georges remained in London having been signed to another very prestigious venture, Noel Cowards "Bitter Sweet" at His Majesty's Theatre in July 1929. Georges, with Peggy Wood recorded "Ill See You Again", backed this time by Ray Noble and his orchestra.
In September of 1929, He and Ray Noble's orchestra recorded "Pagan Love Song". In Dec., '29, his "Who Cares?" was released and in Jan., '30, his "An Old Italian Love Song" was released, both with Ray Noble's New Mayfair Orchestra. February 1929 saw his release of the Rodgers and Hart tune "With A Song in My Heart". In August 1930, again with Ray Noble, his "Blue Pacific Moonlight" was released, with Len Fillis on the Hawaiian guitar (and again with Ray Noble's band.). Before the year closed, Georges recorded the beautiful "Oh Donna Clara!". In a March '30 sesssion, he recorded two songs, with Mario di Pietro on the mandolin, and Noble's band, "Lady, Play Your Mandolin", and "On a Little Balcony in Spain".
In March 1931, he made his very last recording in London, -"Goodnight Sweetheart" with Ray Noble and the New Mayfair Orchestra backing him. Noble also composed the tune, which became a worldwide hit. Apparently, demand for his portrayal of an exotic middle-European noblemen began to fade in London, and he went to New York City with the 'Bitter Sweet" tourning company. His luck was not much better in New York. He was cast in some roles that were really not suitable. Still, However, he did appear in the Broadway show "The Cat and The Fiddle", and in March 1932, recorded two tunes from the show, "Try To Forget", and New Love Is Old", both with the Leonard Joy orchestra. After this, he appeared in supporting roles in a few films , making his final screen appearance in 1945, five years before his early death.
George Metaxa was just 51 years old when he died in Monro, Louisiana, USA.
John A. "Peck" Morrison, bass.
b. Lancaster, PA, USA. d. 1988
by Scott Yanow
A fine accompanist whose occasional solos were fairly basic, Peck Morrison was a valuable player on countless sessions throughout his career. He was classically trained, played bass in a military band while overseas in Italy and then really began his professional career while in New York in the mid-1940s. Among his more notable associations were
Lucky Thompson
,
Tiny Bradshaw
,
King Pleasure
,
Zoot Sims
,
Eddie Jefferson
,
the J.J. Johnson-Kai Winding Quintet
(1954),
Duke Ellington
(for a short time in 1955 and in 1964),
Lou Donaldson
,
Gerry Mulligan
,
Johnny Smith
,
Mal Waldron
,
Randy Weston
,
Babs Gonzales
,
the Newport Rebels
(1960),
Shirley Scott
,
Red Garland
,
Charles McPherson
,
Sy Oliver
and
the Harlem Blues and Jazz Band
(1986). No matter where he was heard, Morrison was an important (if underrated) part of the ensemble. Unfortunately he never had an opportunity to lead his own record date.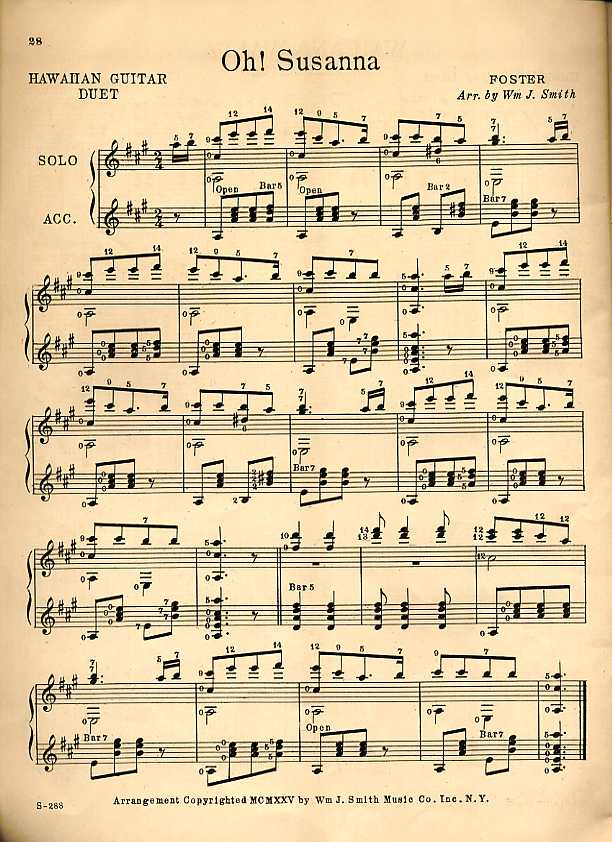 1847.
Stepen Foster's minstrel song, "Oh! Susanna" was heard for the first time
by an audience at the Eagle Saloon in Pittsburgh, Pennsylvania.
Stephen got a bottle of whiskey for his performance.
Casey Smith, guitar
1969.
Leon Payne, C&W guitar/songwriter
died in San Antonio, TX, USA.
1971.
Joe Jordan
Pryor's band
A Coon's Love Story -

(

tune: armand)

1913



Bagdad
La Rumba Gango
Where'd You Get That Girl

1917



Arthur collins-byron Harlan
If You Saw All I Saw in Araby - (tune: harris-ager)
The Virginians
Stavin' Change (The Meanest Man In New Orleans) - Special refrain by Vernon Dalhart
The Virginians - Struttin' Jim
- Vocal Refrain, Miss Patricola


1925



Castlewood Marimba Band

1926



Ipana Troubadours -
Mary Lou (voc. charles kaley) (
tune: lyman-waggoner-robinson)

Abe Lyman and his Orchestra - Just a bird's eye view of my old kentucky home
Benny Krueger's Orchestra -
Gone Again Gal

1928




Memphis Jug band -
On The Road again -
(tune: jones-shade)
Harry Reser and his Orchestra
Chilly-Pom-Pom-Pee

- (Tom Stacks vocal)

C-O-N-S-T-A-N-T-I-N-O-P-L-E
I Don't Care
Bill Robinson and Mills Gang - Doin' the new Low down
Lee Morse and her Bluegrass Boys -
Love me
Omer Simeon - Beau-Koo Jack
Fats Waller
Goin' About
Sweetheart's Holiday
1930
Bert Lown and his Orchestra
Boswell Sisters -
Sophisticated Lady -
(
tune: Duke Ellington)
Paul Whiteman and his Orchestra -
Shanghai L
il


1934



Paul Whiteman and his Orchestra
Peter, Peter - Punkin Eater
Fletcher Henderson Orchestra - Big John's Special
1937




Ben Pollack and his Pick-A-Rib Boys - Alice Blue Gown
Light Crust Doughboys - I'll Keep On Loving You
Gene Autry -
South of the Border
(
tune: Kennedy; carr)

*1940



Ray Noble and his Orchestra

1945




Cab Calloway and his Orchestra -
If this Isn't love
(
tune: E. Y. Harburg-Burton Lane)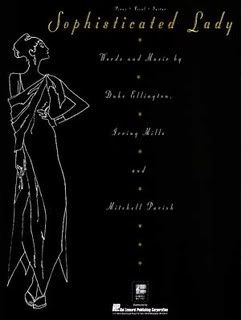 They say into your early life romance came
And in this heart of yours burned a flame
A flame that flickered one day and died away
Then, with disillusion deep in your eyes
You learned that fools in love soon grow wise
The years have changed you, somehow
Smoking, drinking, never thinking of tomorrow, nonchalant
Diamonds shining, dancing, dining with some man in a restaurant
Is that all you really want?
I know, you miss the love you lost long ago
And when nobody is nigh you cry