HAPPY BIRTHDAY
ADELE ASTAIRE!
BIRTHDAYS
d.1981. née: Adele Austerlitz.
They worked mostly as a team in many London Stage shows. Later, when Adele married and retired from the stage, Fred carried on alone in Hollywood. Adele's father left Austria for the USA in 1895. He married a young woman ten years younger than he named Ann Gelius whose parents were from Alsace. Frederic and Ann Austerlitz's first child was Adele, who was born in 1897 and later her brother Fred on May 10, 1899.
The Astaire's were home schooled and their mother was manager, promoter and chaperone except for about a year or so when they had to take a year off because Adele had matured and Fred was to small for Adele to perform with. During this time they actually went to school in
Adele and Fred started dancing at an early age in Vaudeville around 1905 (She was eight) and would later tour as part of a successful dance team with her brother on the Orpheum Circuit. The family decided it would be wise to change their name to Astaire, rather than Austerlitz and took their Uncle's name of L' Astaire and would be billed as 'Fred and Adele Astaire' making their vaudeville debut in Keyport, N.J. in 1905 with Adele being the star of the team for many years.
By 1916 they made their professional Broadway debut in the musical comedy 'Over The Top' and would become stars of the Vaudeville and Broadway Stages. Life magazine (8/25/1941) reported that Adele became difficult to work with as she became more interested in her male
Adele learned many of her routines from her routines from Fred but when Ziegfeld partnered her brother up with Marilyn Miller in the Broadway show 'Smiles', she went to Buddy Bradley for her solo routine in the show. Adele would continue learning different dances from Bradley untill Bradley left for England and was replaced by Herbie Harper, she would learn the steps from Harper and later show them to Fred.
Adele sang and danced with her brother Fred up till the time Fred started to gain more attention than herself, she then announced her retirement in 1932 and married one of her many suitors 'Lord Charles
Francis Cavendish' which lasted till his death in 1942, later marrying Kingman Douglass.
Fred and Adele's career lasted 28 years. Fred continued on his own and went on to become a super star in Movies. Adele Astaire died of a stroke in Tucson, Arizona in 1981 and interned at Oakwood Memorial Park in Chatsworth, CA.
Lou Handman is a composer born in New York City on September 10, 1894 and died in Flushing, New York on December 9, 1956. In his early career toured in vaudeville shows in Australia and New York. Handman worked closely with Roy Turk. They went on to make such chart-topping hits as:
"It's All the Same to Me"

"My Sweetie Went Away"

"One Night of Love"

"Two Ton Tessie"

"You've Got Those Wanna Go Back Again Blues"

"Me and the Moon"
Other hits were:
"Give Me a Smile and a Kiss"

"What Good Would it Do?"

"Is My Baby Blue Tonight?"

"No Nothing"

"Was it Rain?"

"Don't Ever Change"

"Baby Me"

"Puddin' Head Jones"

"Blue (And Broken Hearted)"
Handman was inducted into the Songwriters Hall of Fame in 1975.
References
Songwriters Hall of Fame
1897
Hilde Hildebrand
German actress, singer and dancer Hilde Hildebrand (10 September 1897 ~ 27 May 1976) She started her career in 1914 as a comedy actress in various Operetta-stages in Berlin, also performing in silent-movies, e.g. "Die Scheidungs-Ehe", "Es bleibt in der Familie", "Der Trödler von Amsterdam" or "Rasputins Liebesabenteuer". She became better known, however, when the sound-movie production started in the turn of the 1920/30s.
Hilde Hildebrand
1917
Ken "Snake Hips" Johnson, Dancer/Leader
b. Georgetown, Guyana. d. March 8, 1941.
né: Kendrick Reginald Huymans.
Originally from British Guiana, Johnson's parents sent him to Britain at the age of 15, where he attended Sir William Borlase's Grammar School before studying medicine at Edinburgh University. Having gained an interest in dance, he sought lessons from American choreographer, Buddy Bradley. It was in dance work that he earned his nickname, 'Snakehips', from his "fluid and flexible style"
.
Johnson was invited to lead Leslie Thompson's band, before going on to start his own, called Ken Johnson and his Rhythm Swingers (later renamed The West Indian Orchestra), which played jazz and swing music. The band had a residency at the London nightclub Café de Paris . It was here on

March 8

, 1941
, during the blitz, that two 50K landmines came through the Rialto roof straight onto the Café dance floor soon after the start of a performance. Eighty people died, including Johnson and most of his band. After pondering for some time as to where to bury him, it was decided that his remains should be placed at his old school, Sir William Borlase's Grammar School. They reside in the school chapel, where a panel is dedicated to him. Legend has it that at a certain time of day and a certain time of year sunlight will shine through a slit in his panel revealing the urn in which his ashes reside.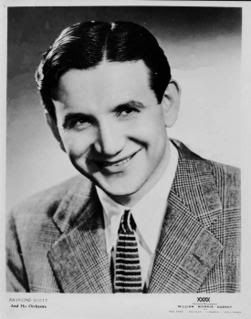 Save
Save