HAPPY BIRTHDAY
LOUIS JORDAN !!
BIRTHDAYS
1908
Louis Jordan,
Alto Sax/Vocal
b. Brinkley, AK, USA.
d. Feb. 4, 1975.
né: Louis Thomas Jordan.
Louis Jordan (
July 8
, 1908
–
February 4
, 1975
) was a pioneering American jazz, blues and rhythm & blues musician, songwriter and bandleader who enjoyed his greatest popularity from the late 1930s to the early 1950s.
~by Bill Dahl
Effervescent sa
xophonist Louis Jordan was one of the chief architects and prime progenitors of the R&B idiom. His pioneering use of jumping shuffle rhythms in a small combo context was copied far and wide during the 1940s.
Jordan's sensational hit-laden run with Decca Records contained a raft of seminal performances, featuring inevitably infectious backing by his band, the Tympany Five, and Jordan's own searing alto sax and street corner jive-loaded sense of humor. Jordan was one of the first black entertainers to sell appreciably in the pop sector; his Decca duet mates included Bing Crosby, Louis Armstrong, and Ella Fitzgerald.
The son of a musician, Jordan spent time as a youth with the Rabbit Foot Minstrels and majored in music later on at Arkansas Baptist College. After moving with his family to Philadelphia in 1932, Jordan hooked up with pianist Clarence Williams. He joined the orchestra of drummer Chick Webb in 1936 and remained there until 1938. Having polished up his singing abilities with Webb's outfit, Jordan was ready to strike out on his own.
The saxist's first 78 for Decca in 1938, "Honey in the Bee Ball," billed his combo as the Elks Rendezvous Band (after the Harlem nightspot that he frequently played at). From 1939 on, though, Jordan frontedthe Tympany Five, a sturdy little aggregation often expanding over quintet status that featured some well-known musicians over the years: pianists Wild Bill Davis and Bill Doggett, guitarists Carl Hoganand Bill Jennings, bassist Dallas Bartley, and drummer Chris Columbus all passed through the ranks.
From 1942 to 1951, Jordan scored an astonishing 57 R&B chart hits (all on Decca), beginning with the humorous blues "I'm Gonna Leave You on the Outskirts of Town" and finishing with "Weak Minded Blues." In between, he drew up what amounted to an easily followed blueprint for the development of R&B (and for that matter, rock & roll -- the accessibly swinging shuffles of Bill Haley & the Cometswere directly descended from Jordan; Haley often pointed to his Decca labelmate as profoundly influencing his approach).
"G.I. Jive," "Caldonia," "Buzz Me," "Choo Choo Ch' Boogie," "Ain't That Just like a Woman," "Ain't Nobody Here but Us Chickens," "Boogie Woogie Blue Plate," "Beans and Cornbread," "Saturday Night Fish Fry," and "Blue Light Boogie" -- every one of those classics topped the R&B lists, and there were plenty more that did precisely the same thing. Black audiences coast-to-coast were breathlessly jitterbugging to Jordan's jumping jive (and one suspects, more than a few whites kicked up their heels to those same platters as well).
The saxist was particularly popular during World War II. He recorded prolifically for the Armed Forces Radio Service and the V-Disc program. Jordan's massive popularity also translated on to the silver screen -- he filmed a series of wonderful short musicals during the late '40s that were decidedly short on plot but long on visual versions of his hits (
Caldonia
,
Reet Petite & Gone
,
Look Out Sister
, and
Beware
, along with countless soundies) that give us an enlightening peek at just what made him such a beloved entertainer. Jordan also cameoed in a big-budget Hollywood wartime musical,
Follow the Boys
.
A brief attempt at fronting a big band in 1951 proved an ill-fated venture, but it didn't dim his ebullience. In 1952, tongue firmly planted in cheek, he offered himself as a candidate for the highest office in the land on the amusing Decca outing "Jordan for President." Even though his singles were still eminently solid, they weren't selling like they used to by 1954. So after an incredible run of more than a decade-and-a-half, Jordan moved over to Eddie Mesner's Los Angeles-based Aladdin logo at the start of the year. Alas, time had passed the great pioneer by -- "Dad Gum Ya Hide Boy," "Messy Bessy," "If I Had Any Sense," and the rest of his Aladdin output sounds great in retrospect, but it wasn't what young R&B fans were searching for at the time. In 1955, he switched to RCA's short-lived "X" imprint, where he tried to remain up-to-date by issuing "Rock 'N' Roll Call."
A blistering Quincy Jones-arranged date for Mercury in 1956 deftly updated Jordan 's classics for the rock & roll crowd, with hellfire renditions of "Let the Good Times Roll," "Salt Pork, West Virginia," and "Beware" benefiting from the blasting lead guitar of Mickey Baker and Sam "The Man" Taylor's muscular tenor sax. There was even time to indulge in a little torrid jazz at Mercury; "The JAMF," from a 1957 LP called
Man, We're Wailin'
, was a sizzling indication of what a fine saxist Jordan was.
Ray Charles had long cited Jordan as a primary influence (he lovingly covered Jordan's "Don't Let the Sun Catch You Crying" and "Early in the Morning"), and paid him back by signing Jordan to the Genius' Tangerine label. Once again, the fickle public largely ignored his worthwhile 1962-64 offerings.
Lounge gigs still offered the saxman a steady income, though, and he adjusted his on-stage play list accordingly. A 1973 album for the French Black & Blue logo found Jordan covering Mac Davis' "I Believe in Music" (can't get much loungier than that!). A heart attack silenced this visionary in 1975, but not before he acted as the bridge between the big band era and the rise of R&B.
His profile continues to rise posthumously, in large part due to the recent acclaimed Broadway musical Five Guys Named Moe, based on Jordan's bubbly, romping repertoire and charismatic persona.
Known as "The King of the Jukebox", Jordan was highly popular with both black and white audiences in the later years of the swing era. In 2004, Rolling Stone Magazine ranked him #59 on their list of the 100 Greatest Artists of All Time.
Louis Jordan
1900
George Antheil
George Antheil (/ˈæntaɪl/; July 8, 1900 – February 12, 1959) was an American avant-garde composer, pianist, author and inventor whose modernist musical compositions explored the modern sounds – musical, industrial, mechanical – of the early 20th century.
Spending much of the 1920s in Europe, Antheil returned to the US in the 1930s, and thereafter spent much of his time composing music for films and, eventually, television. As a result of this work, his style became more tonal. A man of diverse interests and talents, Antheil was constantly reinventing himself. He wrote magazine articles (one accurately predicted the development and outcome of World War II), an autobiography, a mystery novel, newspaper and music columns. In 1941 he co-patented a "Secret Communications System" with actress Hedy Lamarr that used a code (stored on a punched paper tape) to synchronise random frequencies, referred to as frequency hopping, with a receiver and transmitter. This technique, which is now known as spread spectrum, is now widely used in telecommunications.
MORE: George Antheil
George Antheil
1904
Bill Challis
~Biography by Scott Yanow
As staff arranger for Jean Goldkette (1926) and Paul Whiteman (1927-1930), Bill Challis was largely responsible for majority of the two big bands' most jazz-oriented charts, including "Sunday," "My Pretty Girl," "Changes," "Dardanella," and most notably "San." Challis also wrote for Frankie Trumbauer's small-group dates with Bix Beiderbecke, and assisted Beiderbecke in documenting piano pieces (including "In a Mist").
After leaving, he contributed arrangements to quite a few big bands, including Fletcher Henderson, the Dorsey Brothers, the Casa Loma Orchestra, Artie Shaw ("Blues in the Night"), many radio orchestras, and pop sessions. Challis was active into the 1960s, and in 1986 many of his best arrangements were recorded by Vince Giordano's Nighthawks and Tom Pletcher (The Goldkette Project).
1914
né: William Clarence Eckstein.
Often considered a ground breaker for black vocalists. He cut a swath through American before Nat "King" Cole came to the scene. He was one of the very first African American matinee idols, singing first with Earl "Fatha" Hines orchestra, then veering off with his own band. Sarah Vaughan was the "girl" singer with his own band, -two extraordinary talented singers. He appeared in several musicals for MGM in the late 1940's and early 1950's.
~by John Bush
Billy Eckstine's smooth baritone and distinctive vibrato broke down barriers throughout the 1940s, first as leader of the original bop big-band, then as the first romantic black male in popular music. An influence looming large in the cultural development of soul and R&B singers from Sam Cooke to Prince, Eckstine was able to play it straight on his pop hits "Prisoner of Love," "My Foolish Heart" and "I Apologize." Born in Pittsburgh but raised in Washington, D.C., Eckstine began singing at the age of seven and entered many amateur talent shows. He had also planned on a football career, though after breaking his collar bone he made music his focus. After working his way west to Chicago during the late '30s, Eckstine was hired by Earl Hines to join his Grand Terrace Orchestra in 1939. Though white bands of the era featured males singing straightahead romantic ballads, black bands were forced to stick to novelty or blues vocal numbers until the advent of Eckstine and Herb Jeffries (fromDuke Ellington's Orchestra).
Though several of Eckstine's first hits with Hines were novelties like "Jelly, Jelly" and "The Jitney Man," he also recorded several straightahead songs, including the hit "Stormy Monday." By 1943, he gained a trio of stellar bandmates -- Dizzy Gillespie, Charlie Parker, and Sarah Vaughan. After forming his own big band that year, he hired all three and gradually recruited still more modernist figures and future stars: Wardell Gray, Dexter Gordon, Miles Davis, Kenny Dorham, Fats Navarro, and Art Blakey as well as arrangers Tadd Dameron and Gil Fuller. The Billy Eckstine Orchestra was the first bop big-band, and its leader reflected bop innovations by stretching his vocal harmonics into his normal ballads. Despite the group's modernist slant, Eckstine hit the charts often during the mid-'40s, with Top Ten entries including "A Cottage for Sale" and "Prisoner of Love." On the group's frequent European and American tours, Eckstine also played trumpet, valve trombone and guitar.
Though he was forced to give up the band in 1947 (Gillespie formed his own bop big-band that same year), Eckstine made the transition to string-filled balladry with ease. He recorded more than a dozen hits during the late '40s, including "My Foolish Heart" and "I Apologize." He was also quite popular in Britain, hitting the Top Ten there twice during the '50s -- "No One But You" and "Gigi" -- as well as several duet entries with Sarah Vaughan. Eckstine returned to his jazz roots occasionally as well, recording with Vaughan, Count Basie, and Quincy Jones for separate LPs, and the 1960 live LP
No Cover, No Minimum
featured him taking a few trumpet solos as well. He recorded several albums for Mercury and Roulette during the early '60s (his son Ed was the president of Mercury), and he appeared on Motown for a few standards albums during the mid-'60s. After recording very sparingly during the '70s, Eckstine made his last recording (
Billy Eckstine Sings with Benny Carter
) in 1986. He died of a heart attack in 1993.
Billy Eckstine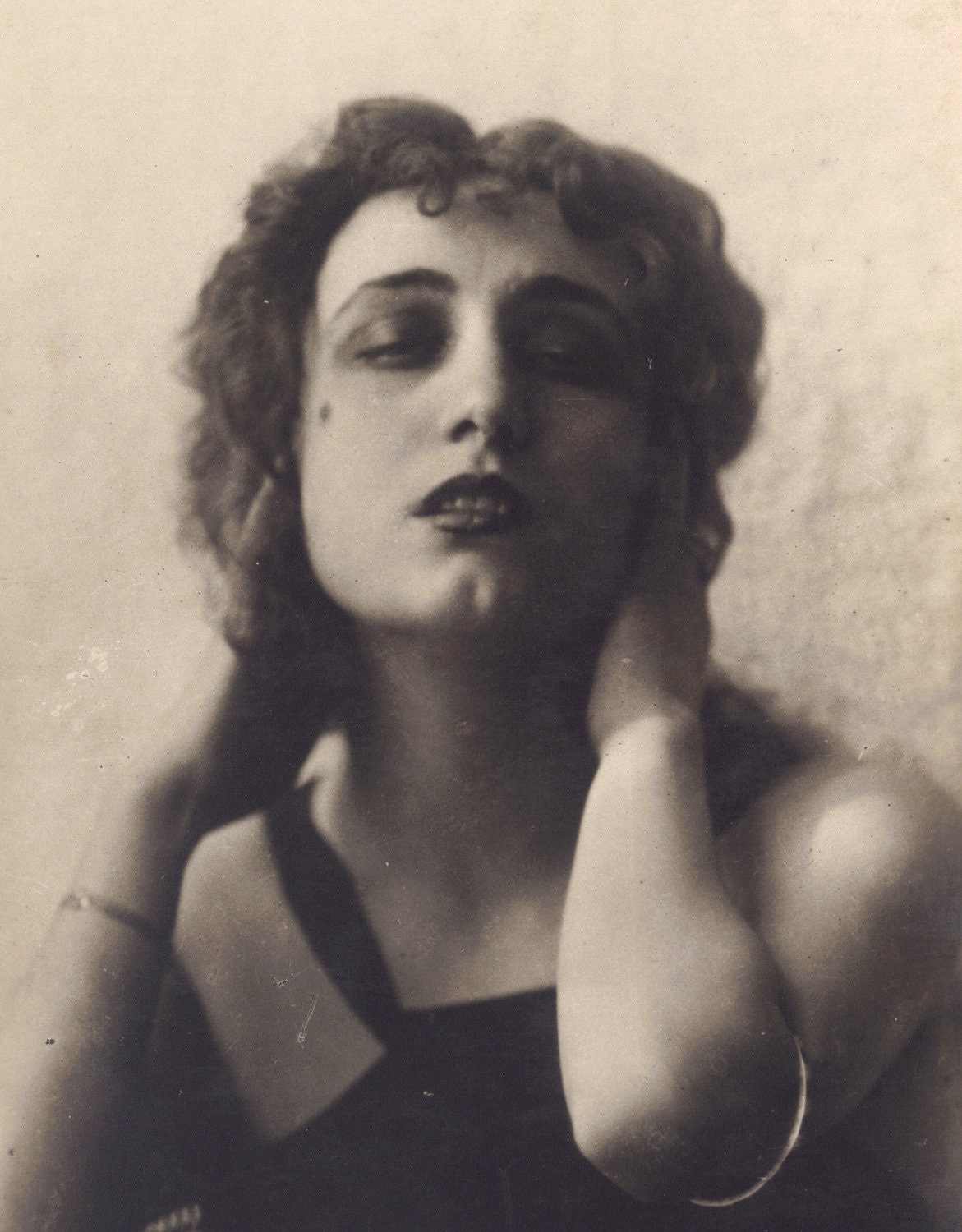 1894
Anna Fougez
Italian Actress, writer and singer
Maria Annina Laganà Pappacena, best known as Anna Fougez (9 July 1894 – 11 September 1966) was an Italian actress and singer.
Born in Taranto, at 6 years old Pappacena became orphan of both her parents, and was adopted by her aunt. She was a child prodigy, debuting as a café-chantant singer aged eight, and at 9 years old she was already a star, performing as a canzone napoletana singer in Milan, Paris and Naples. She adopted her stage name as a tribute to French singer Eugénie Fougère.
While at that time the success of variety artists was in general short and ephemeral, Fougez was a real diva for several decades, and was the most paid Italian artist of her time. Reasons for her ensuring success include her ability in choosing her repertoire and adapting it to her figure, her peculiar beauty, more elegant and very different from the other actresses of her time, her ability to readily interact with the audience, and her particular costumes, which she mostly drew by herself, and which influenced the Italian fashion of the time. She was also in good relations with Fascism, and shortly before the March on Rome composed and performed in front of Benito Mussolini the song "Fox-trot di Mussolini".
Between the second half of the 1910s and the early 1920s Fougez starred in a number of silent films of good success. In 1928, together with her second husband, the French dancer René Thano, she started her own revue company, "Grande rivista italiana". In 1931, she wrote her memoirs, Il mondo parla ed io passo (i.e. "The world speaks and I pass"). In 1940, still famous, she eventually retired from showbusiness.
Anna Fougez
1911
Gertrude Niessen, vocalist
b. New York, NY, USA. USA
d. March 27, 1975.
aka: Gertrude Niessen, Neesen, Nielsen.
American motion picture actress and singer of the 1930s and 40s. She was in the 1936 edition of Ziegfeld Follies. What a show, the original Cast Included: Fanny Brice (her final Broadway appearance), Bob Hope, Gertrude Niesen, Josephine Baker, Hugh O'Connell, Harriet Hector, Eve Arden, Judy Canova, Cherry & June Preisser, Nicholas Brothers, John Hoysradt & Stan Kavanaugh. It was choreographer George Balanchine's Broadway debut. (Music by Vernon Duke with Ira Gershwin lyrics. Wow! What more could one ask for?) Niessen appeared in the 1937 film 'Top of the Town', starring George Murphy, Hugh Herbert, Gregory Ratoff, and Ella Logan.
She was in the Broadway show 'Start Cheering' (1938) with Jimmy Durante, The Three Stooges, Broderick Crawford, Joan Perry, Walter Connolly. In Oct. 1938, she recorded the song "La Conga" with Ernesto Lecuona's Cuban Boys in London, England. Niessen was in 'Rookies On Parade (Republic Pictures 1941), with Bob Crosby. Niessen also appeared in the 1943 show 'This Is The Army'.
She appeared in the Broadway musical "Follow The Girls", where she sang what became one of her biggest hits "I Want To Get Married" (1944 music by Phillip Charig with lyric by Dan Shapiro and Milton Pascal). In 1946, she appeared on the Philco Radio program starring Bing Crosby. She also appeared on other radio shows including 'Duffy's Tavern'. ("Hello, Duffy's Tavern, Archie the manager speaking, Duffy ain't here.") Among her hit recordings were "Where Are You", and "Legalize My Name", music Harold Arlen, lyric Johnny Mercer. Gertrude is buried in Forest Lawn, Glendale, CA. USA.
Johnny Mince, Clarinet
b. Chicago Heights, IL, USA.
d. Dec. 23, 1994.
né: John Henry Muenzenberger
1892
Joseph Russel Robinson
Piano/Composer
b. Indianapolis, IN
d. Sept. 30, 1963. Palm Desert, CA USA.
Yes. One "l" in Russel. From 1917 to 1925, he made player piano rolls for the Imperial Player Rolls Company. He was called "The White Boy with the Colored Fingers."
Joseph Russel Robinson was a United States ragtime and dixieland jazz pianist and a composer of jazz, blues, and popular tunes.
Robinson, whose name appeared as "J. Russel Robinson", was born in Indianapolis, Indiana. He started publishing ragtime compositions in his teens; his early hits included "Sapho Rag" and "Eccentric". With his drummer brother he toured theSouthern United States in the early 1910s including an extended stay in New Orleans. He also turned out hundreds of piano roll recordings for the US Music Company in Chicago and later the QRS Company in New York. He was known for his heavily blues and jazz influenced playing style. His style has been described as having a swinging, shimmying style with many right hand only blues breaks.
Robinson joined the Original Dixieland Jazz Band when pianist Henry Ragas died in the Spanish Flu Pandemic in 1919. He then went to work with W. C. Handy's publishing company, supplying new arrangements and lyrics for popular editions of tunes like "The Memphis Blues" in the 1920s. In 1919, Robinson co-wrote the song "Though We're Miles and Miles Apart" with W.C. Handy and Charles H. Hillman. He also played piano with various popular and blues singers in phonograph recording sessions, accompanying singers such as Annette Hanshaw, Lucille Hegamin, Marion Harris, and Lizzie Miles. On some of his accompaniments to African American singers the accompaniment was listed on the record labels as being by Spencer Williams (with Williams' permission).
Robinson composed the jazz standard "Eccentric" ("That Eccentric Rag"), the classic "Margie", "Singin' the Blues", "What Are Little Girls Made Of?" in 1933, "Yeah Man!", "Pan Yan (And His Chinese Jazz Band)", "Hopeless Blues", "Mary Lou", "How Many Times?", "Aggravatin' Papa (Don't Try to Two-Time Me)", "Reefer Man" for Cab Calloway in 1932, "Dynamite Rag", "Cornfield Rag", "Minstrel Man Rag", "Meet Me at No Special Place", "Alhambra Syncopated Waltzes", "Te-na-na", and "Palesteena". In 1916, he co-wrote the song "Ole Miss Rag" with W.C. Handy.
Robinson's compositions for the ODJB in 1920, "Margie", "Singin' the Blues", and "Palesteena", released as a 78, were among the most popular and best-selling hits of 1920. "Aggravatin' Papa" was composed with Roy Turk and Addie Britt and was recorded by Alberta Hunter in 1923 with Fletcher Henderson's Dance Orchestra and also by Bessie Smith and Pearl Bailey. Robinson was a member of the ODJB until it broke up in 1923 and rejoined the band when it reformed in 1936.
Other popular compositions included the jazz standard "Eccentric" ("That Eccentric Rag" from 1912), "Jazzola" (1919), "I Got a New Deal in Love", "Swing, Mr. Charlie", "Sapho Rag", "Two Time Dan", "Mary Jane" with Andy Razaf, "Beale Street Mama", "I'll Be in My Dixie Home Again Tomorrow", "Aggravatin' Papa", recorded in 1923 by Bessie Smith and Alberta Hunter with the Fletcher Henderson Orchestra, Florence Mills, Pearl Bailey, and Sophie Tucker, "Palesteena", the classic "Margie", "Mary Lou", "Singin' the Blues", "Meet Me in No Special Place (And I'll Be There at No Particular Time)", recorded by Nat King Cole, and the title song for the movie
Portrait of Jennie
(1948). He also composed the blues classic "St. Louis Gal", which was recorded by Bessie Smith. Movies were also released based on his two compositions "Margie" ("My little Margie") and "Mary Lou". The Margie television series which ran from 1961 to 1962 used his music as the theme.
The classic "Margie", written when Robinson was in the ODJB, has been recorded by Louis Armstrong, Ray Charles, Benny Goodman, Jim Reeves, Al Jolson,Cab Calloway, Gene Krupa, and Fats Domino, among others. According to Lewis Porter in
John Coltrane: His Life and Music
(1999), "Margie" was also a "specialty" of John Coltrane.
In 1957, while living in Palmdale, California, Robinson teamed with a young librettist/lyricist, Leo McElroy, to create the score for a musical entitled
Mermaid Tavern
which enjoyed a brief flirtation off-Broadway and continues to be considered and produced in regional theatres.
Robinson died of cancer in Palmdale, California in 1963 after a brief illness, during which he completed two new songs for
Mermaid Tavern
.
In 1977, Robinson's composition "Singin' the Blues" was inducted into the Grammy Hall of Fame in a 1927 recording by Frankie Trumbauer and His Orchestra featuring Bix Beiderbecke on cornet as Okeh 40772-B.
Harry Von Tilzer, composer
b. Detroit, MI,
d. Jan. 10, 1946, New York, NY
Von Tilzer was born in Detroit, Michigan under the name Aaron Gumbinsky which he shortened to Harry Gumm. He ran away and joined a traveling circus at age 14, where he took his new name by adding 'Von' to his mother's maiden name 'Tilzer'. Harry soon proved successful playing piano and calliope and writing new tunes and incidental music for the shows. He continued doing this in Burlesque and Vaudeville shows for some years, writing many tunes which were not published or which he sold to entertainers for 1 or 2 dollars. In 1898 he sold his song "My Old New Hampshire Home" to a publisher for $15, and watched it become a national hit, selling over 2 million copies of the sheet music. This prompted him to become a professional songwriter.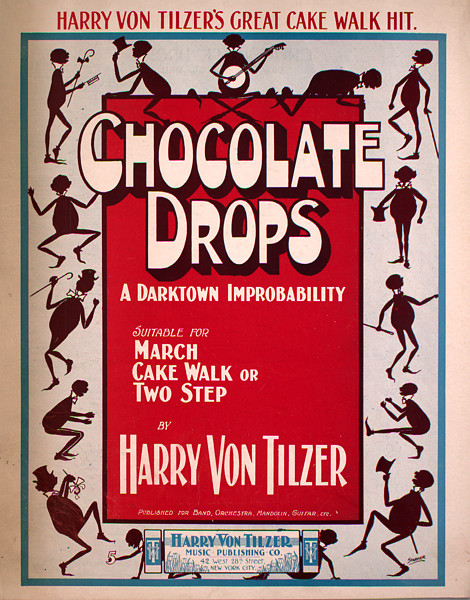 He was made a partner of the Shapiro Bernstein Publishing Company. His 1900 number "A Bird In A Gilded Cage" became one of the biggest hits of the age. Von Tilzer became one of the best known Tin Pan Alleysongwriters. In 1902 Von Tilzer formed his own publishing company, where he was soon joined by his younger brother Albert Von Tilzer.
Harry Von Tilzer's hits included "Only a Bird in a Gilded Cage", "Cubanola Glide", "Wait 'Til The Sun Shines Nellie", "Old King Tut", "All Alone", "Mariutch", "I Love My Wife, But Oh You Kid!", "They Always Pick On Me", "I Want A Girl Just Like The Girl Who Married Dear Old Dad",
And The Green Grass Grew All Around
and many others.
He died in New York City on
January 10
, 1946
.
Walter Barnes and his Royal Creolians
1905
Walter Barnes, Leader
b. Natchez, MS, USA.
d. 1940.
[ Walter Barnes and his Royal Creolians ]
Walter Barnes was born in Mississippi in 1907 and from a very early age had his mind set on adding educational phrases, tones and harmonics to his style, a rare occurrence among black performers in Mississippi in the early 1920's. He was educated in music while attending high school in Chicago and played the clarinet in small groups in the early 1920's. He also attended the Chicago Musical College and the American Conservatory of Music.
Walter Barnes and His Royal Creolians where formed in late 1924 in Detroit. The band was among the first from the Midwest to make annual tours of the South. The band had a two year engagement at the Cotton Club in Cicero Illinois. The Cotton Club aired the band nightly and made them a popular attraction in New York and later the Southern States. Barnes felt he had assembled his greatest band when he toured Kentucky in 1938 with a 16 piece orchestra. The group toured the Midwest before landing at the Savoy Ballroom in Chicago in 1939.
The band commenced touring in the Spring of 1940 with a stop in Natchez, Mississippi. While playing at the Rhythm Club a fire broke out quickly engulfing the entire building. Only a few were able to escape the blaze through the clubs only exit, the front door. Walter Barnes 34 years old, eight of the bands musicians and vocalist Juanita Avery were among those who died on that tragic evening.
The trumpet player on that date was Indianapolis native Paul Stott, who had just joined the band for that tour after playing with the Hagenbeck-Wallace circus. The Indianapolis Recorder newspaper article about the fire led with a headline reading something like "Local Boy Plays Last Note as Roof Caves In". In an effort to calm down the dancers, Barnes tried to keep his men playing (the tune was "Marie") and many people reported that the last instrument they heard playing was a trumpet (Stott was the only trumpet player with the band at that time). Stott's body was returned to Indianapolis for the funeral, which was also covered extensively by the Recorder. Another Hoosier at that fateful date was a trombone player from Gary, Indiana named Calvin (sometimes spelled Calhoun) Roberts.
Florenz Ziegfeld's very first 'Ziegfeld Follies' staged at the roof garden of the NY Theatre.
1915



Six Brown Brothers: Tom Brown seated in front; left to right standing
are Fred Brown,
Billy Markwith?, Alec Brown, Harry Fink, Vern Brown.
Six Brown Brothers

1925



Ted Weems and his Orchestra - If I Ever Cry (You'll Never Know)

1926



Roger Wolfe Kahn and his Orchestra

1927



The Little Ramblers -
Play It, Red
1928
Joe Venuti and his New Yorkers

1929




Jimmie Noone's Apex Club Orchestra
Jelly Roll Morton - Frances
Ethel Waters - Georgia Blues

1931



Lee Morse and her Bluegrass Boys
Lee Morse and her Bluegrass Boys -
I'm An Unemployed Sweetheart (Waiting For Someone To Love)
Lee Morse and her Bluegrass Boys
-
It's The Girl!
Adorable
When I try to tell my feelings for you
Love's a word that somehow will not do
Rather I should say that I adore you
For like a thing divine, I worship you
You have always seemed so far above me
That I have despaired of winning you
When you told me that you really loved me
I scarcely could believe that it was true
Adorable is all that I can call you
For that is all you can be
Adorable, how can I help adore you?
For more and more you are dear to me
Two eyes with light divine that always shine so radiantly
And lips to kiss as full of bliss as heaven can be
Oh, you are sweeter far than all the world to m
As adorable as anyone can be
and all those who have provided content,
images and sound files for this site.