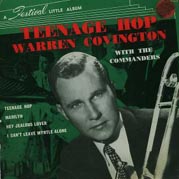 1921
Warren Covington, Trombone/Leader
b. Philadelphia, PA, USA.
In 1939, He first worked with the Isham Jones band, then with Mitchell Ayres and with Horace Heidt until '43. During WW2, he saw service with the U.S. Coast Guard and, while in service, appeared in the show Tars and Spars. After his discharge, he was with the Les Brown band for about 6 months, and then with Gene Krupa. '46'-7 led The Commanders - his own group. '46-56 on CBS (NYC) Radio staff. When Tommy Dorsey died in Feb. 1958, Warren took over as leader, and, happily, is still active with the band.
Frank "Floorshow" Culley, tenor sax
Biography ~ Eugene Chadbourne
For the wieners who love wieners and the weirdos who love weird song titles, all Frank Culley had to do was fry up some "Flying Sausages" for RCA in the early '50s to earn a state of eternal grace. For the more discerning, tenor saxophonist Culley can be credited with helping to create the entire sound of the R&B saxophone, leading to a dependable spot for the horn in many a combo. He grew up in in Norfolk, VA, learning tenor sax when he was only ten years old. Professionally his first major engagement was with the exuberant Johnson's Happy Pals; by the '40s he was leading his own groups, before long presented with opportunities to record for labels such as Lenox and Continental. Even while leading he still made time to blow energetic solos on other people's records, his sound also becoming an essential part of some vintage Wynonie Harris material.
The then tiny Atlantic outfit signed him in 1948, Culley commandeering a house band that accompanied quite a few of the R&B singers who recorded during this period. As well, dozens of tracks of his own were cut, of which "Coleslaw" is well worth mentioning as a perfect side to the previously mentioned sausages. Van Walls came up with terrific piano parts on these records, some of which skirted the edges of jazz such as a Lionel Hampton cover. The RCA Victor contract followed, as did sides for labels such as Parrot, Chess, and Baton. Success eluded Culley however -- he was, no doubt, eating sausages and coleslaw on the road as well as playing music about them. This must have been something of a frustration considering how much effort he put into crazy performance antics that led to the nickname "Floorshow." In the mid-'70s he called it quits and retired to Newark, NJ.
Dave Kapp, label owner (Kapp Records)
Lucky Roberts (Left)
1887
Charles Luckeyeth "Luckey" Roberts, Piano
b. Philadelphia, PA, USA.
d. Feb. 5, 1968, New York, NY, USA.
Shortly after his birth, the family settled in New York City, and Luckey appeared on the New York stage at just age 3, acting in play 'Uncle Tom's Cabin'. Between 1913 to 1923, this early Ragtime soloist also composed some Rags, perhaps the most famous of which are "Junk Man Rag", and "Pork and Beans Rag". It is little recalled now, but before and after WW1, Luckey wrote music for 14 musical comedies on the New York stage. All during the 1920s, Luckey led a band that was extremely popular with the millionaires of 'high society' and that played in such places as Newport, RI, Palm Beach, FL and New York. He then became an owner of a Harlem Bar named The Rendezvous (on St. Nicholas Ave) while still remaining quite musically active.
In 1939, he appeared in a Carnegie Hall concert, and in a 1941 Town Hall Concert.. All during the '40s, he did some composing and two of his best known tunes were "Massachusetts" and Glenn Miller's 1941 hit release "Moonlight Cocktail" (which Luckey originally called "Ripples of The Nile"). As a pianist, he had considerable influence on the techniques of such other men as James P. Johnson and Duke Ellington. He even helped the Duke of Windsor choose his 'Jazz' record collection. But, regretfully, Luckey left very few recordings of his own for posterity.
Harlem Bio
Freddie Slack, Piano/Leader
Aug. 7, 1910, b. La Crosse, WI.
d. Aug. 10, 1965, Hollywood, CA, USA.
Biography ~ Scott Yanow
Freddie Slack was a part of two hit records during the swing era, making his mark on jazz history. Originally a drummer, he switched to piano soon after moving to Chicago in 1927. Slack worked early on with Johnny Tobin. After moving to Los Angeles in 1931, he appeared with bands led by Henry Halsted, Earl Burtnett, Archie Rosate and Lennie Hayton. Slack gained some recognition for his playing with Ben Pollack (1934-36) and Jimmy Dorsey (1936-39). As a key piano soloist with Will Bradley's Orchestra during 1939-41, Slack was well showcased on the famous recording of "Beat Me Daddy, Eight To The Bar" which helped launch the boogie-woogie fad.
Ella Mae Morse, with Freddie Slack and His Orchestra
Slack was a key voice on many other Bradley recordings in the same vein; he also played quite effectively on some Big Joe Turner records. In 1942 Slack formed his own orchestra which soon scored with the very successful "Cow Cow Boogie" and "Strange Cargo." Freddie Slack's Orchestra initially featured singer Ella Mae Morse and for a short time it was one of the more popular swing big bands, appearing in several films and recording for Capitol during 1942-47. Freddie Slack was based in California in the 1950's and 60's but he faded from the spotlight with the end of the 1940's, recording a final small-group album for EmArcy in 1955.
ldrees Dawud Sulieman, Trumpet
b. St. Petersburg, FL, USA.
d. July 25, 2002 St. Petersburg, FL, USA.
née: Leonard Graham. During his long career, he worked with The Carolina Cotton Pickers, Earl "Fatha" Hines, Mercer Ellington, Cab Calloway, Coleman "Juicy Fruit" Hawkins, Dizzy Gillespie, Benny Carter, Sabby Lewis, Mary Lou Williams, Eric Dolphy, Erskine Hawkins and Max Roach. One of the first trumpeters to master "circular breathing".
1913
Mose Vinson, Boogie and blues pianist
b. Holly Springs, MS, USA. Biography ~ Bill Dahl & Stephen Thomas Erlewine
A Memphis piano institution for more than half a century, Mose Vinson recorded a handful of unreleased sides for Sun in 1953 (recently liberated by Bear Family) and did scattered session work for Sam Phillips as well.
Vinson began playing piano as a child in the Mississippi Delta, initially playing in his local church. By his teens, he had begun playing jazz and blues. In 1932, he moved to Memphis, TN, where he played local juke joints and parties throughout the '30s and '40s. In the early '50s, Sam Phillips had Vinson accompany a number of Sun Records blues artists, most notably James Cotton in 1954. During that time, Phillips also had Vinson cut some tracks, but they remained unreleased until the '80s. For the next three decades, Vinson continued to perform at local Memphis clubs. However, he didn't play as frequently as he did in the previous two decades. In the early '80s, the Center for Southern Folklore hired Vinson to perform at special cultural festivals, as well as local schools. For the next two decades, he played concerts and educational and cultural festivals associated with the Center for Southern Folklore. Mose Vinson died in Memphis from diabetes on November 30, 2002.
Notable Events Occurring
On This Date Include: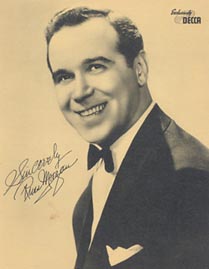 1969.
Famed bandleader Russ Morgan died
Songs Recorded/Released
On This
Date Include:
Tain't No Tellin' What The Blues Will Make You Do
Walking And Talking Blues
Fletcher Henderson Orchestra
Any Way The Wind Blows

Morning Won't You Ever Come 'Round?
Alone At Last

I Miss My Swiss
Happy Children Blues

The Morning After Blues
Coon Sanders Nighthawks Orchestra
Everything Is Hotsy Totsy Now

-

Vocal refrain by J.L. Sanders

Hong Kong Dream Girl

That's All There Is

-

Vocal refrain by C.A. Coon

Who Wouldn't Love You?
Billie Holiday vocal release
I MISS MY SWISS
(MY SWISS MISS MISSES ME)
He was a mountain climber,
And oh! how the boy could ski!
In cold July, he'd ski so high,
He'd almost touch the sky,
And here's the reason why:
She was a farmer's daughter,
Who lived on the highest peak,
Where she'd chase him and he'd chase her,
And they'd play hide and seek
One day he lost his sweetheart.
He looks for her in vain,
And now he's washing windows
And singing this refrain:
"I miss my Swiss. My Swiss miss misses me.
I miss the bliss that Swiss miss gives to me.
She was a working girl, down on her knees,
In her yard, working hard,
Punching holes in cheese.
Her dear papa makes watches that are Swiss.
That's why he watches me like this.
I lost her in the mountains.
In the mountains she must be.
I miss my Swiss. My Swiss miss misses me.
"Gloomy Sunday", - Billie Holiday
- Billie Holiday vocal release
- Carter / s. lewis / r. seress
Sunday is gloomy,
My hours are slumberless
Dearest the shadows
I live with are numberless
Little white flowers
Will never awaken you
Not where the black coaches
Sorrow has taken you
Angels have no thoughts
Of ever returning you
Wouldn't they be angry
If I thought of joining you?
Gloomy sunday
Gloomy is sunday,
With shadows I spend it all
My heart and i
Have decided to end it all
Soon there'll be candles
And prayers that are said I know
But let them not weep
Let them know that I'm glad to go
Death is no dream
For in death I'm caressin' you
With the last breath of my soul
I'll be blessin' you
Gloomy sunday
Dreaming, I was only dreaming
I wake and I find you asleep
In the deep of my heart here
Darling I hope
That my dream never haunted you
My heart is tellin' you
How much I wanted you
Gloomy sunday
and all those who have provided content,
images and sound files for this site.