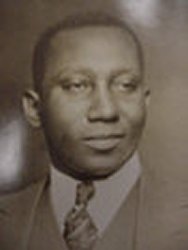 1898
Jules Bledsoe, (gospel) vocals
Jules Bledsoe thought he wanted to become a doctor at first. At the outset of the roaring '20s he was a medical student at Columbia University, having received his undergraduate degree from Dallas' Bishop College in his home state of Texas. Sometime during the medical school days the performing bug bit, and judging from Bledsoe's subsequent success as a concert singer, actor, and composer, it must have been a pretty hard chomp. He studied music in the United States and abroad, taking voice lessons with Claude Warford, Luigi Parisotti, and Lazar Samoiloff.
By 1924 he was ready to make his singing debut at New York's Aeolian Hall in a program of Handel, Bach, Purcell, and Brahms sponsored by noted impresario Sol Hurok. The performance was received with rave reviews, and within two years Bledsoe had garnered a choice role in the 1926 opera Deep River. His operatic career continued in both Europe and in the United States, Bledsoe's rich baritone heard with the Boston Symphony and the Municipal Opera Company of Cleveland, among others. He became known for his mastery of several languages as well as his broad dramatic range.
The following year he created the role of Joe in Showboat, the part he would inevitably be most lauded for, although ironically much of the public associates Paul Robeson with this character. Bledsoe's interpretation of "Ol' Man River" was a stunner, turning the song into a standard of Americana. Showboat premiered at the Ziegfield Theater, and in 1929 Bledsoe recreated the role in the first of three motion picture versions of the show. By 1932 Robeson had taken over the Joe and "Ol' Man River franchise, his interpretation of the role pretty much a Xerox of his predecessor's work. Meanwhile, Bledsoe was hardly sitting around griping. He triumphed in a 1931 Carnegie Hall recital and in 1934 took on the title role in the Louis Gruenberg opera Emperor Jones. The latter show began its run of performances at the Hippodrome in New York, continuing with both domestic and European tours. Bledsoe sang with the BBC Symphony in London in 1936, and the next year with the Concertgebouw Orchestra of Amsterdam. He also performed for vaudeville and radio.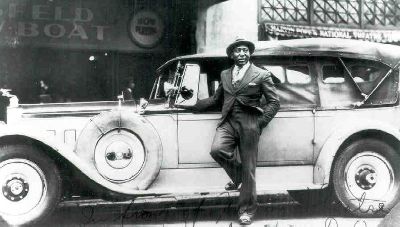 In the early '40s, he seems to have tried to launch a Hollywood career, beginning with the corny part of Kalu in Drums of the Congo. This was followed by a series of uncredited bits in films such as Safari, Western Union, and Santa Fe Trail. Clearly, the Hollywood film moguls had no idea what to do with him.
Bledsoe's activities as a composer include his "African Suite" for voice and orchestra as well as
a selection of patriotic, spiritual, and folk songs. These include "Does Ah Luv You?," "Pagan Prayer," "Good Old British Blue," and "Ode to America." One of his most epic projects was Bondage, a 1939 opera based on Harriet Beecher Stowe's book Uncle Tom's Cabin. The word "under" can be easily prefixed to any discussion of performances or recordings of Bledsoe's original music. Vocalist Esther Hinds created the first recordings of five Bledsoe arias on her solo CD in the '90s, about which the producer commented that he had learned "never to have a fight with a 300-pound soprano." Bledsoe died of a cerebral hemorrhage while still based in Hollywood. He was buried in Waco.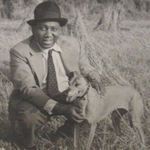 "Cutty" Cutshall, trombone
b. Huntington County, PA, USA.
né: Robert Dewees Cutshall
The nickname of this trombonist, spun off of his surname, makes him sound like someone about to run amuck with a pair of scissors. Cutty Cutshall was armed with a trombone, however, and the main cutting he did was either besting other bonemen in jam sessions or simply making records. He evolved into one of the grand old men of the swing revival of the '60s and is on the list of journeymen musicians who passed away alone in their hotel rooms while on tour. Cutshall came out of the Pittsburgh music scene and was pulled away from that town in 1934 to tour with Charley Dornberger. The trombonist worked for two years with Jan Savitt beginning in 1938, then was in and out of the Benny Goodman band through the first half of the '40s, at one point pressed into service by the American military.
In the late '40s he was a regular collaborator with Billy Butterfield but also skimmed the New York City freelance cream, filling up several pitchers with discographical entries. By 1949 he had begun a long term relationship with Eddie Condon, whose work in the name of swing included not only bandleading but running a club in which he ruled the bandstand. Cutshall toured England with Condon in 1957; he was also with Condon in the thick of a stint at Toronto's Colonial Tavern at the time of his death. The trombonist also performed and recorded with clarinetist Peanuts Hucko, singers Bob Crosby and Ella Fitzgerald and the great Louis Armstrong during a contract with the Decca label.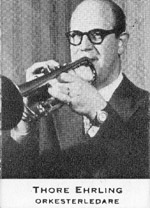 1912
b. Stockholm, Sweden
[ Thore Ehrling Orch. ]
Trumpet/Arranger/Composer.
Thore, the most successful of all the Swedish Dance Bands leaders, led various orchestras from 1938 well into the 1960's. Besides the big bands, he sometimes led small Dixieland-type groups. On a 1939 recording session, two of Thore's sidemen were Nat and Bruts Gonella.
Thore Ehrling - Wikipedia
Drums/Percussion/Vibes/Vocals
b. Aberdeen, Aberdeenshire, Scotland. UK.
1900
Willie Humphrey Jr., Clarinet
d. June 7, 1994, age 93. 1918.
Professional debut playing with one of best known New Orleans bands - Excelsior Brass Band. Subsequently he played with New Orleans Jazzmen including Lee Collins; Lawrence Duhe; King Oliver; and Dewey Jackson. During the 1930's he played with a W.P.A. (U.S.Gov't sponsored band working during the 'Great Depression'. and also with a Paul Barbarin combo. Willie was a grandson of Cornetist/Teacher Prof. Jim Humphrey. Some of Prof. Humphrey's children and grandchildren became known jazz stars.
Biography
~by Scott Yanow

Since he was the grandson of trumpeter and music teacher Jim Humphrey , the son of clarinetist Willie Humphrey, Sr. , and the brother of both trumpeter Percy and trombonist Earl Humphrey , it is not surprising that Willie Humphrey, Jr. became a musician. After some violin lessons, he switched to clarinet when he was 14 and started working locally. Humphrey spent part of 1919-1920 in Chicago, where he played with King Oliver and Freddie Keppard , but then returned home, missing his chance to be recorded early in his career. Humphrey spent 1925-1932 in St. Louis, playing with Fate Marable and Dewey Jackson , and toured with Lucky Millinder (1935-1936), but otherwise lived in New Orleans the remainder of his life.
He worked as a music teacher and in a Navy band during World War II, and in the 1950s, he spent a period working with Paul Barbarin . Willie Humphrey and his brother Percy came to fame performing with the Preservation Hall Jazz Band starting in the 1960s, touring and spreading the joy of New Orleans jazz around the world. Although far from a virtuoso, Willie Humphrey played his simple ensemble-oriented style with spirit; he recorded as a leader for Smoky Mary and late in his career for GHB.
Clyde "Sugar Blues" McCoy
d. June, 1, 1990, Memphis, TN, USA.
Clyde McCoy was a bandleader and trumpet player whose signature tune during the 1930s was "Sugar Blues" -- but his career extended well beyond that decade. He came from a family that was among the best known in the country, possibly in the world, but not for music -- he was a direct descendant of the McCoys of Kentucky, renowned for their long-running (and, indeed, legendary) feud with the Hatfields. His family left its home state when he was nine and moved to Portsmouth, OH, and it was while living there that he first took up the trumpet, as well as the trombone. It was on the latter instrument that he played with the Loyal Temperance Legion Band, at age nine. Before his teens he had switched to the trumpet and was playing at school and church events, and at 14 he found work playing on the riverboats, which still plied the rural Midwest, Southern, and border states in those days. By 1920, at age 16, he'd assembled his first band for a two-week engagement at a popular Knoxville resort. Miraculously, though they'd never performed together before their first gig, they proved quite popular, and their contract was extended to two months.
McCoy felt ready for the big time even though he was still in his teens and decided to make for New York City, but the next few years were frustrating as they never quite caught on in the right way, at the right moment to make the next step, whatever it might be, easy. Finally, in 1924, McCoy decided to try for a fresh start by moving the band to California, where they spent a few years working the area around Los Angeles. They started touring, and it was during this period that McCoy started using a mute on this trumpet, creating the "wah-wah" effect that became his signature on the instrument. In 1930, lightning finally struck when he was appearing with the band at the Drake Hotel in Chicago and performed "Sugar Blues." The audience responded well and soon it was getting carried over the radio, and a recording contract with Columbia Records followed in late 1930 -- the resulting 78 rpm single ended up selling millions of copies early the next year, no small feat in the depths of the Great Depression, which had generally started tearing up record sales. He also enjoyed more modest but still substantial hits with "In the Cool of the Night," "The Goona Goo," and "Wah Wah Blues," and made a successful single release of "Smoke Rings," which was best known as Glen Gray's theme.
McCoy made Chicago his base until the middle of the decade, appearing regularly at the Drake and also doing vaudeville engagements. They had developed a special brand of Dixieland-flavored swing music that found a ready audience in the midst of the big-band era, and the group also occasionally arranged musical face-offs with other, rival bands that proved extremely popular with patrons. They switched from Columbia to the Decca label in 1935 and continued to sell large numbers of records (including a new version of "Sugar Blues" that reportedly moved a million copies) for the remainder of the decade. He was also one of those responsible for co-founding Downbeat magazine. McCoy could have remained on the sidelines during World War II, but instead he and his band all enlisted in the United States Navy, where they were allowed to continue performing together, entertaining sailors and other troops, as well as patients at naval hospitals, for the duration of the war.
He returned to civilian life in 1945 and tried to restart the band, and they still had an audience at the time. He put together a big band that did well for a time, and even cut some important records, including a superb rendition of "Basin Street Blues," expanding considerably on the version he'd cut for Columbia in the early '30s; but gradually their audience declined with the shifting in public taste, and in 1955, the year that rock & roll took over the charts, he disbanded the group. McCoy and his wife, Maxine Means -- who'd been part of the Bennett Sisters, the vocalists for his band in the late '30s -- opened a club in Denver, where they were frequently featured on the entertainment bill, but it failed to pay its way, and McCoy was forced to resume performing to make a living, fronting a septet. He finally retired to Memphis in the late '70s, and started teaching music, with occasional performances thrown in whenever he could arrange them. He could be seen performing with Dixieland groups around Memphis until his health began to fail in the 1980s.
SOLID! BIO
BB LIBRARY BIO
MORE
d. Jul 21, 1981, New York (Harlem), NY, USA.
Studied Cutair Sch. of Music in Cincinnati, OH, USA. 1925-'31 with Alphonso Trent Orch. '34-'36 with Claude Hopkins orch. '36-7 with Louis Armstrong, and in '37 six months with Fats Waller. In 1938 formed own band and was called 'The Man With The Funny Horn' (he did a novelty tune on the Slide Sax). In 1945 he toured the South Pacific for the USO. In 1952, he toured England, France and Germany.
Notable Events Occurring
died in New York, NY, USA.
Paul Whiteman, the "King of Jazz"
died in Doylestown, Pennsylvania at age 77.
HE was arguably the most popular bandleader of the pre-swing era, whose orchestra had, from 1920 to 1934, more than 30 number-one hits including "Whispering," "Hot Lips," "Three O'Clock in the Morning"and "Ol' Man River." At various times, the Whiteman orchestra included such sidemen as cornetist Bix Beiderbecke, trombonists Jack Teagarden and Tommy Dorsey and trumpeters Henry Busse and Red Nichols. In 1926, singer Bing Crosby made his professional debut with Whiteman.

died in New York, NY, USA.
On This Date Include:
1924
Paul Whiteman and his Orchestra
Duke Ellington and his Kentucky Club Orchestra
Duke Ellington and his Cotton Club Orchestra
1928
Clarence "Pine Top" Smith
Alabamy Bound

~ Words by B.G. DeSylva and Bud Green, Music by Ray Henderson

Verse 1: Goodbye blues. Birdies are singing every old thing in tune.
Goodbye blues. Nothing but laughter morning and afternoon.
Saw a rose bud in a store, now I'm going where there's more.
Goodbye blues. Troubles are over, I'll be in clover soon.

Chorus 1: I'm Alabamy bound. There'll be no heebie jeebies hanging round.
Just gave the meanest ticket man on earth all I'm worth.
To put my tootsies in an upper berth.
Just hear that choo-choo sound. I know that soon we're gonna cover ground.
And then I'll holler so the world will know, "Here I go!" I'm Alabamy bound.

Patter: I can hear that choo choo whistle blow;
Watch that engine when we start to go.
Now we're in Baltimore, Knockin' at Dixie's door.
What's that Bill, Louisville, We passed that before.
Fields o'cotton tell me where I am,
Hear that feller yellin' "Alabam!"
Mam-my, Mam-my, Get your kisses ready for yo' honey lamb.

Verse 2: Hello joy. Never knew I would, never knew I could smile.
Hello joy. Though I've been tearful, I see each cheerful mile.
I've been dreaming dreams each day, of that sunshine far away.
Hello joy. No ones been sadder, now I'll be glad awhile.

Chorus 2: I'm Alabamy bound. There'll be no heebie jeebies hanging round.
Just gave the meanest ticket man on earth all I'm worth.
To put my tootsies in an upper berth.
I'm just a lucky hound to have someone to put my arms around.
That's why I'm shouting so the world will know, "Here I go!" I'm Alabamy bound.

Just hear that choo-choo sound. I know that soon we're gonna cover ground.
And then I'll holler so the world will know, "Here I go!" I'm Alabamy, I'm Alabamy, I'm Alabamy bound.
Fascinatin' Rhythm
~George Gershwin


Got a little rhythm, a rhythm, a rhythm
That pitter-patters through my brain
So darn persistent, the day isn't distant
When it'll drive me insane
Comes in the morning, without any warning
And hangs around me all day
I'll have to sneak up to it, someday and speak up to it
I hope it listens when I say


Fascinatin' rhythm, you've got me on the go
Fascinatin' rhythm, I'm all a-quiver
What a mess you're making, the neighbors want to know
Why I'm always shaking, just like a flivver
Each morning I get up with the sun
Start a-hopping, never stopping
To find, that night, no work has been done
I know that
Once it didn't matter, but now you're doing wrong
When you start to patter, I'm so unhappy
Won't you take a day off, decide to run along
Somewhere far away off, and make it snappy
Oh, how I long to be the gal I used to me
Fascinatin' rhythm, oh, won't you stop picking on me?
brought to you by...
~confetta