HAPPY BIRTHDAY MAX HANSEN !!!!
BIRTHDAYS
1897
Max Hansen
vocals/actor
b. Mannheim, Germany
d. Nov. 13, 1961, Copenhagen, Denmark.
The Danish Actress, Eva Haller, was his mother, and his father's name was von Waldheim. Hansen had sung at the Opera House, earning him the nickname "The Little Caruso" ("Der kleine Caruso"). He went on to formally study Music and Voice, and then got a job at Munich's 'Simplizissimus Cabaret'. From 1914 he played Operettas in Vienna and became a friend many composers, including Franz Leh√°r. Leaving Vienna, he relocated to Berlin, where he starred in various operettas, revues, cabaret and radio. From 1926 to '28, he appeared in five silent films In 1930, he appeared in a "talkie" "Wien, du Stadt der Lieder", followed by "Vienna, City of Song" (1930).
In 1932, he played opposite Gitta Alpar in "Die - oder keine" ("She, or Nobody"). In 1933, Hansen left Germany, -touring to Vienna, Switzerland, Amsterdam (Holland), Oslo (Norway) and Helsinki (Finland). In 1936, Swedish singer Zarah Leaner then working in Copenhagen, received a telephone call from Max Hansen asking if she spoke German. When Zarah replied that she did, Hansen then asked if she would take the female lead in "Axel an der Himmels Tür" ("Axel at the Gate of Heaven",- an Operetta with music by Ralph Benatzky).
Hansen, collaborating with Hans Weigel and Paul Morgan, was producing the Operetta in 'Theater an der Wien'. Zarah Leander was so excited that she accepted the part without even asking how much money they were offering her. In 1949, after World War II had ended, Max Hansen visited Hamburg, and in 1951, played in Berlin and Scandinavia. Please see our Zarah Leander, calendar entry for Zarah.
1913
Dudley Alonzo Brooks, piano

arranger, b. Los Angeles, CA, USA.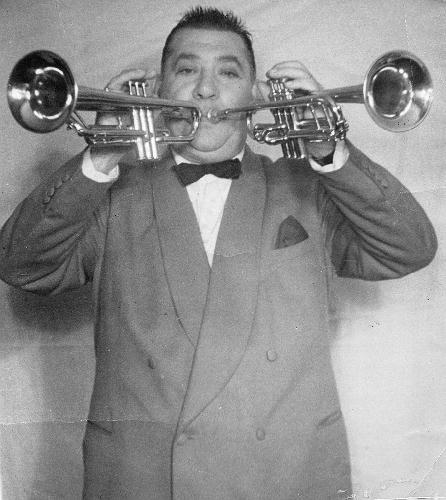 1905
Art Christmas
Alto Sax/multi-instrumentalist
b: Kingston, ONT, Canada
d: Sept. 24, 1961, Blind River, ONT, Canada.
This Canadian was one of Great Britain's (and Europe's) best known and sought after instrumentalist during the 1930s and 1940s. In 1924, Art left Canada went to England as a young featured musician with the Captain Plunkett's Dumbells Orchestra, (ca. 1921) and remained in England for 30 years. While in England he was featured with The Toronto Band From Canada-1926, The Roy Fox Orchestra-1933-1938, and The Jack Payne Orchestra -1940-1945 (approx.), and many others in between. He, and his wife Maisie (showgirl/dancer) were a big part of the late 1940s touring show "For The Fun Of It". Art was just 55 years old when he died.
1919
Lillian "Lil" Green
Blues Vocals
b. Clarksdale, MS, USA.
d. April 14, 1954, Chicago, IL, USA.
Lil Green
From Wikipedia, the free encyclopedia
Lillian Green was an American blues singer and songwriter.

She was born in Mississippi but after the early deaths of her parents she went to Chicago, where she began performing in her teens and where she would make all of her recordings.
Lil Green was noted for superb timing and a distinctively sinuous voice. In the 1930s she and Big Bill Broonzy had a night club act together. Her two biggest hits were her own composition "Romance in the Dark" (1940), later covered by Billie Holiday, and her version of Joe McCoy's "Why Don't You Do Right?" (1941) which was later covered by Peggy Lee. As well as performing in Chicago clubs, she toured with Tiny Bradshaw and other bands, but never really broke away from the black theatre circuit.

Although she signed with Atlantic Records in 1951, she was already in poor health.
She died in Chicago of pneumonia, and is buried in Oak Hill Cemetery in Gary, Indiana.
1880
"Aunt" Molly Jackson

C&W singer/songwriter
b. Clay County, KY, USA.
née: Mary Magdalene Garland
MORE
Aunt Molly Jackson
1910
Reunald Jones, Trumpet

b. Indianapolis, IN, USA.
d. Feb 26, 1989, Los Angeles, CA, USA.
Best recalled for his time with the Count Basie band.
which time he took some of his few recorded solos), Sam Wooding, Claude Hopkins, Willie Bryant, Teddy Hill, Don Redman (1936-38), Erskine Hawkins, Duke Ellington (two months in 1946), Jimmie Lunceford, Lucky Millinder and Sy Oliver. He was the lead trumpeter with Count Basie during 1952-57 which gave him some fame but Jones was never really featured. In addition to extensive studio work, Jones toured with Woody Herman (1959), played with a short-lived George Shearing big band and was in the orchestra that accompanied Nat King Cole (1961-64). Jones became less active in the 1970's. His wide range and fine tone kept him working but also resulted in Reunald Jones (who never led his own record date) mostly being confined to background work despite him possessing a fine swing-based solo style.
- by Scott Yanow
1901
Danny Polo
Clarinet/alto-tenor-baritone sax
b. Toluca, IL, USA.
d. July 11, 1949, Chicago, IL, USA.
A versatile clarinetist, Danny Polo was one of the finer (if unheralded) swing soloists of the big band era. He picked up the clarinet while quite young (his father was a clarinetist too), playing with a marching band when he was eight. He had a duo as a teenager with pianist Claude Thornhill. Polo worked with Elmer Schoebel in 1923, visited New Orleans with Merritt Brunies' Band and had stints with Arnold Johnson, Ben Bernie and Jean Goldkette (for three months filling in for Don Murray in 1926). After working with Paul Ash, Polo (along with drummer Dave Tough) went to Europe in the summer of 1927. He worked with George Carhart, Arthur Briggs, Lud Gluskin and other bands on the Continent. Polo stayed overseas for quite awhile, playing with Ambrose in London on and off during 1930-35. Although he returned to the U.S. in Dec. 1935, Polo came back to Britain three years later, rejoining Ambrose and working in Paris with Ray Ventura's Orchestra.
He permanently relocated to the U.S. in Oct. 1939. Polo worked with Joe Sullivan (doubling on tenor), Jack Teagarden (1940-42 including prominently in the soundtrack of the Bing Crosby film "Birth Of The Blues") and Claude Thornhill's Orchestra. When the pianist was drafted, Polo led his own bands in the Midwest, rejoining Thornhill in 1947 in time for some of his finest recordings. Polo was still with Thornhill when he unexpectedly became ill and died in 1949 at the age of 48. In addition to appearing as a sideman on recording sessions with many European bands and with Thornhill (where his cool-toned clarinet worked quite well on the more adventurous Gil Evans charts), Danny Polo led two recording sessions of his own in London and one in Paris during 1937-39.
Considered among the premier gospel harmonica masters of his era, Elder Roma Wilson was for decades a mystery to folklorists -- unaware his music had ever even been recorded, he did not learn of his international renown until he was well into his seventies, at which time he finally began to pursue a professional performing career to wide acclaim.
Born December 22, 1910 in Hickory Flat, Mississippi, Wilson began playing harmonica at the age of 13, honing his skills on old mouth harps discarded by his brothers; in order to get the worn-out instruments to play properly, he was forced to develop a kind of sucking or "choking" style, which over time resulted in a seemingly endless wind supply. Upon becoming an ordained minister in the Pentecostal Church in 1929, he began traveling the northern Mississippi region alongside another musical minister, the Reverend Leon Pinson; together they garnered a strong following on the church circuit, earning renown for their renditions of "This Train," "Lily of the Valley" and "Better Get Ready."
Wilson relocated to Michigan during the early 1940s, working in a steel mill in the Muskegon area before settling in Detroit in 1942. There he resumed his musical career, performing on street corners with his children for spare change; while playing harmonica in a local record shop in 1948, he was secretly recorded by the store's owner, who without Wilson's knowledge or consent licensed the tracks for release around the world. For years after, folklorists attempted to seek him out, but he remained beyond their reach; after the death of his wife, he moved back to Mississippi during the early 1970s, where he again began playing with Pinson.
In the years that followed, Wilson slowly began to realize that he was renowned among roots music scholars, finally hearing his decades-old recordings for the first time; he and Pinson were enormously well-received on the festival circuit, winning accolades for their performances at the Chicago Blues Festival and the New Orleans Jazz & Heritage Festival, among others. In 1993, Wilson was one of eleven folk artists to win a $100,000 National Heritage Fellowship from the NEA. A year later, he issued the LP This Train, which included his first new recordings in decades.
1939.
Blues singer Gertrude ("Ma") Rainey
died in Columbus, Georgia.

At the peak of her career, she travelled in her own railway car, and was the biggest-selling artist for Paramount Records. (A "race" label targeting recordings to a 'Black' audience.)
1984.

Viola Gertrude Wells (Miss Rhapsody), vocals
died in Belleville, NJ, USA.
Age: 82


1989.
Boston Smith, piano
died in Dallas, TX, USA.
Age: 82


Paul Whiteman and his Orchestra
Abe Lyman's California Ambassador Hotel Orchestra
Paul Whiteman and his Orchestra
Muggsy Spanier and his Ragtime Band
Mandy! Make Up Your Mind!
Mandy! Mandy!
Make up your mind!
Preacher man is handy,
Mandy, easy to find.
Marching down the aisle with you,
we'll make them all stare.
With a little Black-Eyed Susan
stuck in your hair.
Mandy, Mandy,
won't you decide ?
Everything is dandy,
Mandy, once you are my bride.
In a year or two
there may be three of a kind!
Listen to me, Mandy,
make up your mind!
brought to you by...
~confetta