Sunny Side Up, Music by Ray Henderson
BIRTHDAYS
1896
Ray Henderson, Composer

b. Buffalo, NY, USA.
d. Dec. 31, 1970, Greenwich, CT, USA.
Pop and show tunes composing pianist Ray Henderson is best known for his years in the Henderson-DeSylva-Brown team, who were without equal as songwriters of the Roaring Twenties. Born in Buffalo, NY, on December 1, 1896, Henderson later studied at the Chicago Conservatory and performed in vaudeville and dance bands while he was there. He eventually worked as an arranger and song plugger for New York publishing houses, in addition to collaborating with many lyricists, including Lew Brown, starting in 1922. The duo's early hits included "Alabamy Bound," "Bye Bye Blackbird," and "I'm Sitting on Top of the World."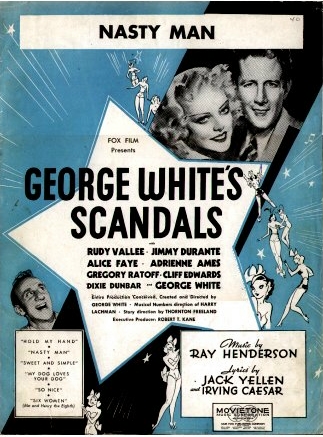 In 1925,
lyricist Buddy DeSylva joined them and the
trio
successfully
established itself with a second
Broadway
score, George White's Scandals of 1926.
They then scored the 1927 stage productions Good News and Manhattan Mary, followed the next year by Hold Everything, more George White's Scandals in the late '20s, and Flying High in 1930. Off the stage, the songwriting trio had several hit songs, in addition to movie credits for songs in early Al Jolson films (including Sonny Boy and It All Depends on You) and the popular 1929 film Sunny Side Up, which the trio went to Hollywood
to work on.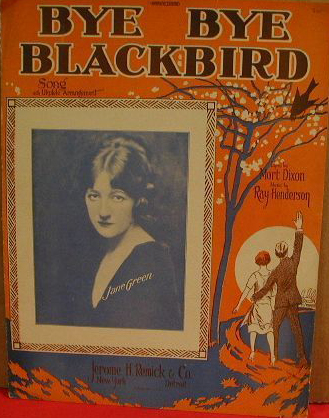 A movie based on Henderson-DeSylva-Brown, entitled Best Things in Life Are Free, came out in 1956. After DeSylva left in 1931, Brown and Henderson continued scoring Broadway shows, including Hot-Cha (1932) and Strike Me Pink (1933). Some of the other lyricists Henderson worked with over the years include Mort Dixon, Sam M. Lewis, Joe Young, Jack Yellen, Ted Koehler, Billy Rose, and Irving Caesar. Toward the end of his career, Henderson co-wrote for films, scored a 1936 Ruth Etting show in London, and enjoyed the success of another hit song ("Don't Cry, Cherie") in 1941. Henderson's final stage show was The Ziegfeld Follies of 1943, after which he faded away from the public eye, re-emerging only once to conduct on TV around 1950. Ray Henderson died on New Year's Eve 1970.
Woody Allen

Actor/Producer/Clarinetist
b. New York (Brooklyn), NY, USA.
né: Allan Stewart Konigsberg.
Woody is a talented musician who loves the music of the 1920s, '30s and '40s. He is often found playing his clarinet around New York City venues.
Johnny Johnston, vocalist

b. St. Louis, MO, USA.
d. Jan. 6, 1996, Cape Coral, FL. USA.
Johnny began his career singing in local cafes, but soon joined Art Kassel and His Castle's In the Air Orch. In the late 1930s, he was heard on several radio shows. Johnny was also seen in some of the Hollywood musicals of the 1940s. In 1942, he was one of the first singers signed to Johnny Mercer's then new Capitol Records label. His recording of Laura for that label was a million-seller. His versions of 'I Don't Want To Walk Without You' and 'That Old Black Magic' were also good sellers.
Original Memphis Five, Lytell on clarinet
Jimmy Lytell, Clarinet

b. New York, NY, USA.
One of the most underrated clarinetists in jazz history, Jimmy Lytell was one of the first clarinetists to really swing, but he never really achieved much fame. He began playing professionally at age 12. A member of the Original Indiana Five in 1921, Lytell was a member of the Original Memphis Five, with whom he recorded extensively from 1922-25. He also spent part of 1922-24 as a member of the declining Original Dixieland Jazz Band.
After the late 1920s, Lytell was found more often in the studios and orchestras (including being on NBC's staff) for radio programs than in jazz settings, although he managed to combine the two by being the musical director for "The Chamber Music Society of Lower Basin Street" in the early 1940s. Starting in 1949 and continuing off and on for a decade, he often gigged with the new Original Memphis Five. He recorded with Connee Boswell in the late 1950s and performed in public as late as 1971. As a leader, Lytell recorded 18 songs from 1926-28 and six others for the London label in 1950.
Mary Virginia Martin (December 1, 1913 – November 3, 1990) was an American actress and singer. She originated many roles over her career including Nellie Forbush in South Pacific and Maria in The Sound of Music. She was named a Kennedy Center Honoree in 1989.
1896
Ethel Shutta, vocalist

d.Feb. 5, 1976.
Classic female vocalist and dancer Ethel Shutta began her professional career as a stage actress in the late '20s, acquiring a large following and a solid reputation. Around the same time she was one of two singers featured in the popular big band of George Olsen, which made many hit recordings and appeared on radio programs such as the very first Jack Benny Show. She made her recording debut with this group in 1928, a version of "A Precious Little Thing Called Love" which was released on Victor. The male Fran Frey was the other vocalist in this group but it was no secret which singer the bandleader liked better, since he went on to marry Ethel Shutta.
The two were wed around the time of their involvement in the Broadway show Whoopee and stayed together until the late '30s when they divorced and she married sports writer George Kirksey. She also appeared in the film version of Whoopee in the '30s in which she played Eddie Cantor's nurse (a job that kept her even busier than singing and dancing did since his character was a hypochondriac). It is believed to be the only film of her from this period. One of her most famous numbers from this show was the lilting song "My Baby Just Cares for Me," later recorded again with great success by Nina Simone.
Shutta continued working as a singer and managed to make an impressive series of career comebacks on the Broadway stage, including shows in 1943, 1963, and again in 1971, only a few years before her death. Her teaming up with fellow Broadway veteran and cabaret performer Fifi D'Orsay was one of the highlights of a Stephan Sondheim tribute show which was mounted in the early '70s. Shutta also appeared on television in the '50s in character roles, allowing one, for example, to see how well this classy performer blends into the Western atmosphere of a Wagon Train episode.
WIKI Bio
Notable Events Occurring
On This Date Include:
1954.

Country music publisher Fred Rose
('Acuff-Rose Music Publ'g Corp.")
died in Nashville, TN, USA.
Age: 57 (heart attack)
Songwriters Hall of Fame - Fred Rose Exhibit Home
1997.
Famed Jazz violinist Stephane Grappelli
died in Paris, France at the age of 89.
Stéphane Grappelli: Information from Answers.com
Original Dixieland Jass Band
Plantation Orchestra
Thomas Waller with Morris' Hot Babies
'Besame Mucho', Abe Lyman Orch.
hostgator coupon
brought to you by...
~confetta