BIRTHDAYS
HAPPY BIRTHDAY FRED ELIZALDE!
1907
Fred Elizalde
Piano/Leader
b. Manila, Philippines
d. Jan. 16, 1979.
(some sources say d. 1972)

Connections between the Philippines and the jazz scene are slight -- but here is one for sure, half of a pair of brothers born into one of that island nation's wealthiest families. Both Fred Elizalde and Manuel Elizalde led dance bands in London, England, beginning in the second half of the '20s; they were sent there to attend posh Cambridge, naturally. The Elizalde brothers eventually dipped into the pool of brilliant New York City recording session players to bolster the staff of their band, certainly one reason that an ensuing Savoy Hotel stint was such a smash.
Fred Elizalde laid the groundwork for his later in-depth studies with the brilliant composer Maurice Ravel by himself scribbling out a minuet at the ripe age of four. Both brothers were shipped around to only the best schools -- besides the aforementioned Cambridge there was Stanford University in California where, at only 16, Elizalde assumed leadership of the Stanford University Band for a Biltmore Hotel gig in Los Angeles. Moving from there to England only furthered his career as a bandleader and arranger: but his parents had meant otherwise, apparently horrified at their sons' interest in performing popular music.

An ensemble bravely called the Quinquaginta Ramblers was the first group Fred Elizalde took over upon arrival in England. The noted bandleader Bert Ambrose, often credited under just his surname, took a liking to the Filipino lad's piano playing as well as his ideas for compositions, and was an early employer.
Near the end of the '20s, Elizalde disbanded his British-American ensemble and moved elsewhere in Europe, studying classical music in Spain and working privately with Ravel in France. In the early '30s there were some further Elizalde recordings done in England, but in later years he would return there only for classical concerts, basically settling back in the Philippines where he ran his own radio station.
Tyree Glenn,
Eddie Barefiel
d
,
Milton Hinton
1909
Emmanuel Edward "Eddie" Barefie
ld

Clarinet/soprano-alto-tenor-baritone sax
b. Scandia, IA, d. Jan 4, 1991.
A fine journeyman saxophonist and arranger, Eddie Barefield never gained much fame but he had a productive 60-year career. Barefield came to musical maturity in the 1930s, playing with Bernie Young (1930) in Chicago and then with Bennie Moten (1932), Zack Whyte (1933), the McKinney's Cotton Pickers (1933), Cab Calloway (1933-1936), Les Hite (1937), Fletcher Henderson (1938), and Don Redman (1938). Barefield recorded with several orchestras, most notably those of Moten, Calloway, and Henderson.
VIDEO: Cab Callow featuring Eddie Barefield on clarinet...
He supplied arrangements during the swing era to several top big bands (including Calloway, Glenn Miller, Benny Goodman, and Jimmy Dorsey), was a staff musician for ABC in the 1940s, and also was briefly with Benny Carter (1941), Ella Fitzgerald (1942), and Duke Ellington (1947). After playing with Fletcher Henderson's final band in 1950, Barefield mostly worked in the studios during the '50s and on Broadway, in addition to returning now and then to Cab Calloway. He also played with Sammy Price (1958), Wilbur DeParis, and the Saints and Sinners before joining the circus band of Ringling Brothers (1971-1982). Barefield freelanced in many situations during his last two decades and recorded a fine 1977 album as a leader for Famous Door.
1915
Everette "Leonard" Edstron

bandleader/music publisher
b. Worthington, Minnesota, USA
d. March 19, 2000, Palm Desert, Riverside, California, USA.
aka: Hal Leonard
1896
Jay Gorney, Composer
b. Bialystok, Russia
d. June 14, 1990.
né: Daniel Jason Gorney.
In 1932, Gorney scored musical 'Americana', the big hit from the show was "Brother, Can You Spare a Dime" (lyric by E. Y. "Yip" Harburg). This song, played throughout the Great Depression years, is still used as a symbol of hard economic times.
Brother, Can You Spare A Dime? with Al Jolson on vocals.

1914
Laurence "88" Keyes, piano
b. Kansas City, KS, USA
1907
Allen Massey

C&W guitar and banjo
b. Texas, USA.
d. 1983, Texas, USA.
Age: 75.
Member: "Louise Massey & the Westerners" The Westerners consisted of Milt Mabie, bass fiddle (1934), Larry Wellington, accordion (1934), Dott Massey, violin and trumpet (1934), Louise Massey Mabie, singer and pianist (1934), and Allen Massey, guitar and banjo specialist ( Louise, Dott and Allen are sister and brothers. Milt was "adopted" by Louise several years prior to 1934.) They grew up on a ranch near Roswell, New Mexico but took up music instead of 'cow-punching'. Their music has been described variously as both "...the rollicking songs of the West..." , and also '...like the soft breeze that whispers across the desert at sunset...' They were also quite adept at playing modern Pop.

1915
Frank Sinatra
Born: Dec 12, 1915 in Hoboken, New Jersey
Died: May 14, 1998
Whether he was called "The Voice," "Ol' Blue Eyes," or "The Chairman of the Board," Frank Sinatra's nicknames all conveyed the adulation and respect reserved for a man who was commonly thought of as the best American popular singer of the 20th century.

Sinatra's voice, whether manifested in song or spoken word, caressed the ears of many a listener for more than five decades. Sinatra's legacy -- countless songs and more than 70 films -- continue to ensure him the kind of popularity that has reached beyond the grave to elevate him past the status of mere icon to that of cultural institution.


Born Francis Albert Sinatra on December 12, 1915, Sinatra grew up poor in Hoboken, NJ. After working for a newspaper, he organized the Hoboken Four, a singing group. He got his first break when he won first prize on radio's "Major Bowes Amateur Hour," and went on to perform in nightclubs and on radio. Sinatra then landed the job of vocalist with the Harry James band, and later switched to Tommy Dorsey Orchestra. It was during his tenure with Dorsey's group that Sinatra made his first two films in uncredited roles as a singer in the bands in Las Vegas Nights (1941) and Ship Ahoy (1942).



In 1942, Sinatra's attempt to become a solo artist met with great success, especially in the hearts, minds, and ears of many American women and girls, who flocked to his performances with a fervor that would be replicated two decades later with the arrival of the Beatles. Soon, Sinatra was the "dream-date" idol of millions of American girls and, for several years, was enormously popular on-stage in addition to other venues, including radio, records, and nightclubs.

To complement his popularity as a singer, Sinatra began acting, playing in a number of light musical films throughout the '40s. His first real acting role came in Higher and Higher (1943); other notable movies from this period in his career included Take Me out to the Ballgame (1949), co-starring Gene Kelly and Esther Williams, and On the Town, also made in 1949 and co-starring Kelly, who co-directed the picture with Stanley Donen.
Sinatra suffered a career setback in 1952 when his vocal cords hemorrhaged and he was dropped by MCA, the monolithic talent agency. Having established a shaky screen career, he fought back and landed the role of Angelo Maggio in From Here to Eternity (1953) after begging Columbia for the part and then agreeing to take it for a mere 8,000 dollars. His performance won him the 1954 Best Supporting Actor Oscar and a Golden Globe, and, in the process, resuscitated his faltering career. Sinatra appeared in several more movies in the '50s, receiving a 1956 Best Actor Oscar nomination and a British Academy Award (BAFTA) for his portrayal of a drug addict in The Man with the Golden Arm (1955). In addition, he took home a Golden Globe for his performance in Pal Joey (1957). Soon Sinatra was back on top as a performer, earning the nickname "The Chairman of the Board."



Sinatra continued to do frequent film work, making a screen appearance with his Rat Pack colleagues Dean Martin, Sammy Davis Jr., Peter Lawford, and Joey Bishop in Ocean's Eleven (1960). Most notably, Sinatra gave a subtle, troubled portrayal of the haunted Captain Bennett Marco in John Frankenheimer's Cold War classic The Manchurian Candidate. His last role was as an aging detective in The First Deadly Sin (1980). Sinatra also appeared on various television shows during the '80s and went on to have hit records as late as the early '90s. His four wives included actresses Ava Gardner and Mia Farrow, and he fathered actor/singers Frank Sinatra Jr. and Nancy Sinatra, as well as another daughter, Tina. Sinatra died of a heart attack on May 14, 1998, in Los Angeles. He is buried in Palm Springs, CA.
~ Rovi

SINATRA.COM | The Official Frank Sinatra Website
Frank Sinatra - Wikipedia, the free encyclopedia
Frank Sinatra - IMDb
1913
Don Stovall, Alto Sax

b. St. Louis, MO, USA, d. 1970
One of the great alto-saxophonists of the 1940's, Don Stovall's decision to retire completely from music while still in his prime has led to him being quite obscure in jazz history books. Stovall started out playing violin before switching to alto. In St. Louis early on he worked with Dewey Jackson, Fate Marable (on riverboats) and Eddie Johnson's Crackerjacks (1932-33).
Stovall moved to Buffalo for a few years where he mostly led his own groups and had a short stint with Lil Armstrong. After relocating to New York City in 1939, Stovall worked with Sammy Price, Snub Mosely, Eddie Durham's Big Band and the Cootie Williams Orchestra (1941). His most famous association was with Red Allen's Sextet, a rambunctious group that mixed together Dixieland with early R&B and jump/jazz. The altoist was featured on many records with Allen. Don Stovall decided in 1950 to retire from music and he spent the rest of his life working for the phone company! Unfortunately he never led his own record date but he did record with Allen, Lil Armstrong, Pete Johnson, Sammy Price and Snub Mosley among others.
1918
Joe Williams, Vocals

b. Cordele, GA, USA
d. March 29, 1999, Age 80.
né: Joseph Goreed.
Vocals first w/Benny Moten Orch (Kansas City, MO), and then with Count Basie Orch.
U.S. singer and actor. Williams worked with Coleman Hawkins and Lionel Hampton before joining Count Basie's band in 1954. The success of "Every Day I Have the Blues" established Williams as a sophisticated blues singer with a powerful bass-baritone voice. After leaving the Basie band in 1961, Williams led small ensembles singing popular songs, ballads, and blues. He was a frequent performer on television, both as a singer and as an actor. His album Nothin' but the Blues won a Grammy Award in 1984.
WIKI BIO
Notable Events Occurring
On This Date Include: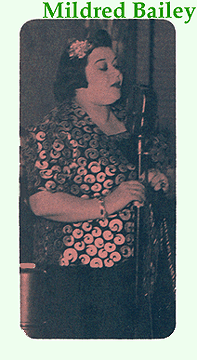 1951.
Mildred Bailey, vocals

died in Poughkeepsie, NY, USA.
Age: 44
Mildred Bailey: Biography from Answers.com
1974.

John Lomax Jr., folklorist
died in Houston, TX, USA.
Age: 67
1988.

Jim Bulliet
label founder
(Bullet Records)
died in Nashville, TN, USA.
Age: 79
Brother, Can You Spare a Dime
They used to tell me I was building a dream, and so I followed the mob,
When there was earth to plow, or guns to bear, I was always there right on the job.
They used to tell me I was building a dream, with peace and glory ahead,
Why should I be standing in line, just waiting for bread?
Once I built a railroad, I made it run, made it race against time.
Once I built a railroad; now it's done. Brother, can you spare a dime?
Once I built a tower, up to the sun, brick, and rivet, and lime;
Once I built a tower, now it's done. Brother, can you spare a dime?
Once in khaki suits, gee we looked swell,
Full of that Yankee Doodly Dum,
Half a million boots went slogging through Hell,
And I was the kid with the drum!
Say, don't you remember, they called me Al; it was Al all the time.
Why don't you remember, I'm your pal? Buddy, can you spare a dime?
Once in khaki suits, gee we looked swell,
Full of that Yankee Doodly Dum,
Half a million boots went slogging through Hell,
And I was the kid with the drum!
Say, don't you remember, they called me Al; it was Al all the time.
Say, don't you remember, I'm your pal? Buddy, can you spare a dime?
brought to you by...
~confetta