BIRTHDAYS 1905
Robert Peter "Pete" Beilmann, trombone
b. Lancaster, PA, USA. 3-1/2 yrs Bernie Cummins orch.; 7-1/2 yrs w/Ted Weems orch; settled in Los Angeles, CA; working in Pit Bands, Shows w/John Scott Trotter orch. Rec'd with Wingy Manone. W/Red Nichols in 1958
1913
"Gatemouth" Moore, vocals
b. Topeka, KS, USA.
Blues shouter, and later gospel preacher, Gatemouth Moore got his start in Kansas City while still a teenager, singing for the bands of Bennie Moten and Walter Barnes. Graced with a smooth but powerful voice similar to Charles Brown, Moore spent the 1940's penning and recording songs, most notably "Have You Ever Loved a Woman," which would later be covered by B.B. King and the previously mentioned Charles Brown. Others would revisit Moore's songs too with Rufus Thomas covering Gatemouth's "Somebody's Got to Go" and Jimmy Witherspoon adopted "Christmas Blues".
In 1949 Moore gave up secular singing for the gospel trail. He still sang and recorded, but almost exclusively gospel material and spent most of the ensuing decades working in churches and promoting gospel music through radio programs that he hosted. In 2003, Moore appeared in director Richard Pearce's film Road to Memphis singing a latter day song he wrote titled "Beale Street Ain't Beale Street No More." The following year, the singer dubbed Gatemouth because of his massive voice passed away from natural causes at the age of 90.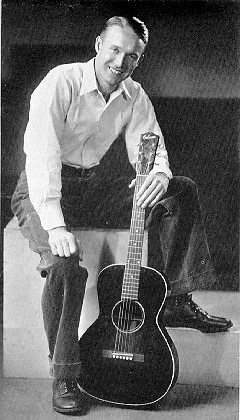 1909
Skyland "Scotty" Wiseman
singer-songwriter/guitar b. Ingalls, NC, USA. Member: "Lulu Belle & Scotty (Wiseman - her husband)". Among the tunes Wiseman composed are "Have I Told You Lately That I Love You" (now a Country 'standard'), and "Remember Me" (Lulu was born Myrtle Eleanor Cooper in Boone, NC, USA) In 1958, The couple left the 'National Barn Dance Show'. Scotty returned to college, got his Master's degree, and in time became a teacher, a farmer, and a bank director. Lulu Belle became active in community activities. She eventually was elected to serve two terms in the North Carolina legislature as the Democratic representative for three counties.
Hillbilly-Music.com - Scotty (Skyland Scotty) Wiseman
1939.
On this date, Frank Sinatra had his last
recording session with the Harry James Band.
(recorded "Every Day of My Life" and "Ciribiribin".)
1967.
Keg Johnson, trombone
died in Chicago, IL, USA. Age: 58.
1967.
Otto Gray, C&W bandleader/MC, died. Age: 83 (b. March 2, 1884, Stillwater, OK, USA)
MARION HARRIS
brought to you by...
~confetta