HAPPY BIRTHDAY VINCENT LOPEZ
Sheet Music, Lyrics By Lew Brown
Lew Brown, Lyricist
b. Odessa, Russia d. Feb. 5, 1958, New York, NY, USA. né: Louis Brownstein - Team of De Sylva, Brown and Henderson.
Pop and show tunes lyricist Lew Brown is best known for his work in the songwriting team Henderson-De Sylva-Brown, who captured the Roaring '20s spirit and were without equal from 1926 through 1930. Born on December 10, 1893, in Russia, Brown came to the U.S. with his parents when he was five years old. He started writing lyrics and song parodies while in his teens, and his first hit came in 1912 with "I'm the Lonesomest Gal in Town," a song written with veteran composer Albert Von Tilzer. Brown had other hits that year, including "Kentucky Sue," but no standout songs for a few years, until 1916's "If You Were the Only Girl." Brown continued to collaborate with Tilzer, among others, and had several more hits such as "Dapper Dan" (1921), before teaming up with composer and pianist Ray Henderson in 1922.
Three years later, lyricist Buddy De Sylva joined them and the trio successfully established themselves with their second Broadway score, George White's Scandals of 1926. They then scored the 1927 stage productions Good News and Manhattan Mary, followed the next year by Hold Everything, more George White's Scandals in the late '20s, and Flying High in 1930. Off the stage, the songwriting trio had several hit songs, in addition to their movie credits for songs in early Al Jolson films (including Sonny Boy and It All Depends on You) and the popular 1929 filmSunny Side Up, which they went to Hollywood to score. After De Sylva left in 1931, Lew Brown and Ray Henderson continued scoring Broadway shows, and Brown worked with other composers, too, including Sammy Fain. A movie based on Henderson-De Sylva-Brown entitled Best Things in Life Are Free came out in 1956.
~ Joslyn Layne
1914 Archie Craig, trumpets
b. Glasgow, Lanarkshire, Scotland, UK d. Oct. 1988.
1912 Irving Fazola, Clarinet
b. New Orleans, LA, USA, d. 1949
by Ron Wynn
A great clarinetist, particularly skilled at counterpoint and playing the blues. Irving Fazola began to study C-melody sax and clarinet at 13, and performed in New Orleans with Candy Candido, Louis Prima, Sharkey Bonano, and Armand Hug before joining Ben Pollack in 1935. He went north with Pollack's orchestra in 1936. During the late '30s and '40s, Fazola returned periodically to New Orleans, while playing with a number of big bands. These included Augie Schellang, Gus Arnheim, Glenn Miller, Pollack, Bob Crosby, Jimmy McPartland, Tony Almerico, Claude Thornhill, Muggsy Spanier, Teddy Powell, and Horace Heidt. He resettled in New Orleans after 1943 due to poor health, ad played with various small groups as well as reuniting with Almerico and both Leon and Louis Prima.
1913 Morton Gould, Composer
b. Richmond Hill, NY, USA. d. Feb. 21,1996

An American pianist and composer in various forms, including musicals, whose style includes elements of folk and jazz music.
1914 Dorothy Lamour
Actress/vocals d. Sept. 22, 1996 b. New Orleans, LA, USA. née: Mary Leta Dorothy Slaton. Matriculated Brooklyn College, NY, USA. Mostly an actress and a strickly "Pops" singer - no Jazz - but she looked great in a sarong crooning "Tahaitian" music written by a composer who sat in his room in Brooklyn, NY, and gazed wistfully out his window at the Brooklyn Bridge. In 1931, she was named 'Miss New Orleans' Dorothy first worked as a Chicago elevator operator, She then became the band vocalist for bandleader Herbie Kaye, her first husband.
In 1936 she made her screen debut in Paramount's "The Jungle Princess", wearing what was to become her "trademark" Sarong. During the 1940s, she was a 'staple' in the Bob Hope/Bing Crosby "Road To..." pictures. Of those films, she once said "I was the happiest and highest-paid straight woman in the business."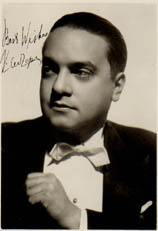 1894 Vincent Lopez, Piano/Leader
b. Brooklyn, NY d.Sept., 20, 1975, Miami, FL, USA.
Vincent Lopez was born of Portuguese immigrant parents in Brooklyn, New York[1] and was leading his own dance band in New York City by 1917. On November 27, 1921 his band began broadcasting on the new medium of entertainment radio; the band's weekly 90-minute show on Newark, NJ station WJZ boosted the popularity of both himself and of radio.[2][3][4] He became one of America's most popular bandleaders, and would retain that status through the 1940s.
He began his radio programs by announcing "Lopez speaking!".His theme song was "Nola," Felix Arndt's novelty ragtime piece of 1915, and Lopez became so identified with it that he occasionally satirized it. (His 1939 movie short for Vitaphone, Vincent Lopez and his Orchestra, features the entire band singing "Down with Nola.") Lopez worked occasionally in feature films, notably The Big Broadcast (1932). He was also one of the very first bandleaders to work in Soundies movie musicals, in 1940. He made additional Soundies in 1944.
Noted musicians who played in his band included Artie Shaw, Xavier Cugat, Jimmy Dorsey, Tommy Dorsey, Mike Mosiello and Glenn Miller. He also featured singers Keller Sisters and Lynch, Betty Hutton and Marion Hutton. Lopez's longtime drummer was the irreverent Mike Riley, who popularized the novelty hit "The Music Goes Round and Round."
Lopez's flamboyant style of piano playing influenced such later musicians as Eddy Duchin and Liberace.
In 1941 Lopez's Orchestra began a residency at the Taft Hotel in Manhattan that would last 20 years.
In the early 1950s, Lopez along with Gloria Parker hosted a radio program broadcast from the Taft Hotel called Shake the Maracas in which audience members competed for small prizes by playing maracas with the orchestra.
Vincent Lopez died in Miami Beach, Florida.
1909 Stuart MacKay, woodwinds
b. Montreal, Canada
1919 Eddie Miller, C&W songwriter
b. Camargo, OK, USA.
Notable Events occurring on this date include:
1959.
Avery Parrish, piano