Geraldo, Leader
b. No. London, UK, d. May 4, 1974. nee Geraldo Bright Bio:
nfo.net/brit/bg.htmlGeraldo
A piano prodigy who trained at the Royal Academy of Music. His was one of the dominant orchestras of the period, occupying the same place in British music that Glenn Miller did in American music. He formed some bands in the very early 1920's but came to the public's attention with his St. Anne's-on-the-Sea Hotel Majestic Orchestra. He stayed at the Majestic for 5 years and then in August 1930, the Savoy Hotel booked the 'Geraldo Gaucho Tango Band'. As the 'Tango King of England', he had a Royal Command Performance in 1933.
By 1937, the "Gauchos" had disappeared into the mists of antiquity, and Geraldo was back leading a regular Swing and dance orchestra. In late 1938, Geraldo started the Sunday Night Swing Club Concerts at the St. Martin theater. (The concerts didn't last too long, but the Heralds of Swing were there on April 2, 1939.) Listen now to Geraldo and His Orchestra, with Cyril Grantham singing "What A Difference A Day Makes" (529 kb). He toured extensively throughout the war years, with a very fine orchestra. He added "Jiver" Hutchinson, the West-Indian trumpeter who came up with the Ken Johnson band, and later had his own orchestra. In June of 1942, Beryl Davis, daughter of bandleader Harry Davis, left the Oscar Rabin band and joined Geraldo as vocalist. Famed trumpeter Ron Simmonds has recalled some of the personnel at this time. In retrospect, Geraldo had a great band, and maybe 'swung' more than the Heath band. One of the arrangers was the 2nd alto player, Wally Stott, who used to conduct the 'Goon Shows'. (Wally now lives in Scottsdale, AZ, USA, and is the chief ghost writer to John Williams (Schindler's List, etc.). The other arranger for Geraldo was George Evans, who later on had a band with ten saxophones, five trumpets and four rhythm. Terrific sound! In the post war years, Geraldo became involved with band management, supplying bands for the Cunard Liners. He managed the pit orchestra for a theater circuit and also was the musical director for Scottish Television.
Texas country bluesman Alfred "Snuff" Johnson played guitar since the 1920s, but didn't perform "professionally" for another 60 years, and wasn't recorded until 1994. Johnson was born in Cedar Creek, Texas to parents Frank and Pearl Lee Johnson, who were sharecroppers. His father often played the fiddle with his uncle, Will Johnson, a guitarist. Both had an effect on the young Johnson, who watched and listened intently. Eventually, he was allowed to pick up his uncle's guitar. It was also around this time -- around the age of 12 -- that he began using snuff and earned his nickname. His uncle threw country balls regularly, which featured slow dancing, folk blues and country tunes. The music heard at these influenced Snuff's repertoire, as did seeing Mance Lipscomb perform a few times.Snuff's relaxed style includes a steady thumb-strummed bass line that reflects Lipscomb's influence. Johnson began playing his "black cowboy blues" at house parties and balls, but also played guitar in church. He settled in Austin after being discharged from the army in 1945 and remained there, working in construction, at a service station and, finally, as a piano mover. He played out (although not for pay) during the '50s and '60s, and in the mid-70s met an auto mechanic who happened to be working on a Gibson guitar. Snuff picked it up and played it a bit, starting a friendship with the man. The mechanic was a music fan, Charles Devitalis, who went on to serve as informal advisor to Snuff, who couldn't read or write. After retiring in 1976, Snuff focused on his family (he has 13 children from 3 marriages) and the church. His material includes recompositions of old blues standards such as "Good Morning Blues" and "post-gospel, camp meeting era" religious songs, including hymns like "Going Back to Jesus" and "Old Time Religion." Johnson's performed first professional shows in the late '80s, when he was invited to perform at Austin's
Continental Club
, and
Antone
's. He turned down an Austin producer's recording offer in the early 1990s, and shortly after was invited by Alan Govenar to play at
the Dallas Museum of Art
. The following year, Govenar brought Snuff back to Dallas to record, resulting in the 1994
Documentary Arts
release, Black Cowboy Blues and Church Songs.
Bill Johnson, Bass
b. Talledega, AL, USA
Bill Johnson and one of the first band leaders to take the New Orleans style of Jazz outside of the city. In 1909 he was the leader of a band in California. In 1912 he sent for Freddie Keppard and several other New Orleans musicians and toured the country until 1918 on the Orpheum circuit under the name of the Original Creole Orchestra. The band was very popular and no doubt introduced their Northern audiences to Jazz for the first time. Johnson was actually the one who got the gig at the Royal Garden in Chicago, but hired King Oliver to front the band, hence the Original Creole Orchestra eventually became King Oliver's Creole Jazz Band, and Johnson continued to play bass in the band until the group broke up in 1923.
He led his own band in Chicago for many years after that and also played in some of Johnny Dodds' bands. He continued to live and play in Chicago until the 1950's when he retired from music and moved to Mexico. Bill Johnson's sister was Anita Johnson Gonzales whom Jelly Roll Morton had a long history with as her lover and business partner. Morton claimed that they were married but no legal documents have ever been found to substantiate this claim. Bill Johnson (jazz musician)
- Wikipedia
Louise Massey, singer-songwriter
Member: "Louise Massey & the Westerners"
MABIE, LOUISE MASSEY (1902-1983)
. Louise Massey Mabie, known as Louise Massey, country and western singer, was born in Midland, Texas, in 1902. Labeled the "original rhinestone cowgirl" by later generations, she was known for her spectacular costumes and ladylike style on stage. Her career, which spanned the period from 1918 to 1950, marked a time when women first became prominent in country music. She formed a band in 1918 with her father, husband, and two brothers.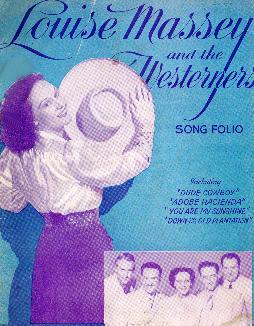 The band, based in Roswell, New Mexico, was first called the Massey Family Band, and then Louise Massey and the Westerners. After playing local venues and touring the Texas area, the band auditioned for a music show, "The Red Path Chautauqua." The success of the audition led to a two-year tour of the United States and Canada. In 1930 the Westerners signed a five-year contract with CBS radio in Kansas City, Missouri.
In 1934 their song "When the White Azaleas Start Blooming" was released; it sold three million copies. Other hit songs included "South of the Border (Down Mexico Way)" and "My Adobe Hacienda." The latter, cowritten by Massey and Lee Penny, had the distinction of being listed on both the hillbilly and the pop charts simultaneously, causing some to classify it as the first-ever "crossover" hit.
In 1938 Louise Massey began recording and singing for NBC programs in New York. She retired in 1950 to the Hondo valley in New Mexico. She and her husband, Milt Mabie, had one daughter, Joy. Louise Massey was inducted into the National Cowgirl Hall of Fameqv in 1982. She was known for both her English and her Spanish recordings. She died in San Angelo, Texas, on June 20, 1983.
Dan "Slamfoot" Minor, Trombone
b. Dallas, TX, USA d. 1982, USA
MINOR, DAN [SLAMFOOT]
(1909–1982). Dan "Slamfoot" Minor, jazz
qv
trombonist, was born in Dallas on August 10, 1909. He took part in the formative period of the Kansas City jazz era of the late 1920s and early 1930s. Thereafter, in the later 1930s and early 1940s, he played with many significant musicians, including Count Basie, Cab Calloway, and Mercer Ellington.
Minor began his musical career in 1926 playing for a local church orchestra; later he joined the Blue Moon Chasers, a band that was active in and around Dallas. His first major professional work came with Walter Page's Blue Devils, with whom he stayed from 1927 to 1929. He then joined a Texas band called the Blues Syncopaters, led by Ben Smith. In 1930–31 he worked with Earl Dykes, Gene Coy'sqv Black Aces (from Amarillo), Lloyd Hunter's Serenaders, and the Dallas orchestra of Alphonse Trent.qv In 1931 Minor joined the Bennie Moten band.
When Count Basie formed his own band after Moten's death in 1934, Minor became a member of that first Basie unit. He remained with the Count from 1936 to 1941. While with Basie, he was included in the recordings of Gone with What Wind? (1940) and You Can't Run Around (1940), among many others. From 1941 to 1944 he was with the Buddy Johnson band. He also played with Cab Calloway during 1942. In 1945 Minor worked with Mercer Ellington, and at different times he also played and recorded with Lucky Millinder and Willie Bryant. After the 1940s he played freelance. He performed occasionally during the 1960s. Minor was not regarded primarily as a soloist, but rather as a vital section player who rarely took solos. He died in New York on April 11, 1982. ~Handbook of Texas Online
Claude Thornhill, Piano/Leader
Though his career as an orchestra leader was relatively limited, pianist Claude Thornhill left a huge legacy. He is often credited as the progenitor of cool jazz. His recordings, featuring innovative arrangements and unusual instrumentation, influenced and impressed many of the post-big band greats, especially Miles Davis. Thornhill's orchestra included arranger Gil Evans and musician Lee Konitz, who also became instrumental in Davis' sound.
Thornhill studied music at the Cincinnati Conservatory and the Curtis Institute in Philadelphia. His first professional job was with the Cleveland-based band led by Austin Wylie, where he joined clarinetist and close friend Artie Shaw. Both left Wylie for Irving Aaronson's Commanders in 1929 and, after touring the country, settled in New York, where they worked as studio musicians. Thornhill quickly earned a good reputation and began to work with big name bands, including those of Benny Goodman, Russ Morgan, Paul Whiteman, Meyer Davis, Hal Kemp, Freddie Martin and Andre Kostelanetz. In 1934 he was asked to join Ray Noble's new American orchestra, which was being organized by his friend, Glenn Miller. After two years with Noble he moved to the West Coast, where he served as the musical arranger for the Skinnay Ennis Orchestra on the Bob Hope radio show. During this period Thornhill also worked with singer Maxine Sullivan, making her famous with the tunes ''Loch Lomond'' and ''Gone with the Wind.'' In early 1940 Thornhill formed his own orchestra, which subbed for Miller's orchestra at the Pennsylvania Hotel and for Sammy Kaye's group at the Commodore before taking off on a disastrous tour. Ballroom fires and dishonest promoters took their toll on the group's morale. Things quickly turned around however when they were booked into the Glen Island Casino during March of 1941. Response to Thornhill's progressive jazz orchestra was tremendous from serious jazz fans. At times the group's six clarinets would all play in unison, the horns would sound long tones with almost no vibrato, and Thornhill's tinkling piano would alternate between beauty and humor. The group would play sweet and very soft, only to explode the next second into a burst of sound, much to the delight of radio engineers. Singers at that time were Bob Jenney, Betty Claire and Dick Harding. Though it was on the verge of commercial success, after the orchestra's two-month stay at the casino ended it went on a tour from which it hardly broadcast and virtually disappeared from the public eye, finally to re-emerge on the West Coast with some line-up changes. Gil Evans joined the group, as did drummer Davey Tough. Terry Allen became the new male singer.
The group was booked into the Glen Island Casino again for the summer of 1942. By then its lineup included seven clarinets, two french horns, a tuba and a vocal group, the Snowflakes (Buddy Stewart, Lillian Lane, and Martha Wayne). The band's second time at the casino was just as successful as its first, but as the year progressed the draft took its toll on the musicians. Thornhill himself finally received the call, and the group was disbanded in October.
Though he could have entered the Coast Guard as a musician with the rank of Chief Petty Officer, Thornhill instead opted for the Navy. Saying he wanted to stay away from music, he became an apprentice seaman, the lowest rank. The Navy, however, had musical plans for him anyway. He spent part of his three-year hitch playing in Artie Shaw's orchestra and the other part organizing groups on newly-occupied territories in the Pacific, where he worked closely with admirals Nimitz and Hulsey.
Discharged in 1946 Thornhill reorganized his civilian orchestra, with all but five of the original musicians returning. New vocalists were Fran Warren and Gene Williams. Though the new group was exciting it couldn't survive the downturn in the band business. It finally broke up in 1948. During the 1950s Thornhill occasionally put together new outfits but by the middle part of the decade had vanished from the public eye. He settled in New Jersey and spent the rest of his days leading small units. He was planning a comeback in 1965 when he suffered a double heart attack and passed away. ~SOLID!
Nat Towles, Bass/Leader
b. New Orleans, LA, USA
d. 1963
Biography
Although not one of the most famous bandleaders in jazz history, Nat Towles was extremely influential to many players. His bandstands were proving and training grounds for many players who went on to make names for themselves in jazz, including Jimmy Heath, Oliver Nelson, Buddy Tate, and Paul Quinichette, all superior saxophonists. He was considered an influence on the Chicago jazz scene and Kansas City jazz, and would be picked out as a main influence on the Omaha jazz scene if anyone thought there was one.
The son of New Orleans bassist Phil "Charlie" Towles, this artist at first balked at the kind of load his dad was lugging around. He tried out guitar and violin, then got wise and switched to string bass. His first steady gig was with Gus Metcalf's Melody Jazz Band, which led to engagements with Buddie Petit, Henry "Red" Allen, Jack Carey, and the Original Tuxedo Jazz Orchestra. By the time these experiences were over, he was more than ready to form his own band, which he called the Creole Harmony Kings. This band toured Oklahoma, Texas, and New Mexico from 1923 through 1927.
Halfway through this period, Towles also had a brief stint as bassist with Fate Marable. In 1929, Towles left New Orleans with the Seven Black Aces led by banjoist Thomas Benton. He then went back to fronting his own based in Jackson, MS, for the next three years. In 1934, he worked for pianist Ethel Mays and also led a band of his own out of Dallas. He began to teach in the mid-'30s, taking over the direction of the Wiley College students' band in Austin, TX. During this period, he influenced many younger musicians, some of whom joined his touring bands, such as pianist Duke Groner and trombonist Buddy McLewis. Towles continued to lead groups based a few hours north in Dallas and in 1936, his players took up residency at the Dreamland Ballroom in Omaha, NE. This lineup included Heath. Arranger and composer Neal Hefti, still a bit green around the ears at only 15 years old, contributed charts to Towles' band in the late '30s. Fellow Omaha player Harold Johnson recalled that some of Hefti's very first scores for Towles were the tunes "Swingin' on Lennox Avenue," "More Than You Know," and a very popular arrangement of "Anchors Aweigh." It might not have been Hefti's cup of tea, because he called the group a "Mickey Mouse band." Towles kept up regular touring with this group into the early '40s, including several residencies in and around New York in 1943.
One of the highlights of these Big Apple appearances was being booked at the Apollo Theater. Other players who were active in these groups included saxophonists such as Buster Bennett and Preston Love. Towleswas a bandleader through the late '50s, when a move to California seemed to signal a desire for a quieter way of life. Whether his decision to open his own bar in 1959 was the best way of achieving this is a subject for bar proprietors to discuss, and they should take into account the fact that Towles wound up dying of a fatal heart attack.
~ Eugene Chadbourne
Notable Events on this date include:
1948.
Lucille Bogan, vocals
(née: Lucille Anderson) b. Amory, Monroe County, MS died in Los Angeles, CA, USA.
Age: 51
died in Hollywood, CA, USA.
died in Philadelphia, PA, USA.
Member: 'Clara Ward Singers'
1991.
Worked with Lucky Millinder
Songs Recorded/Released this date include:
Mamie Smith's Jazz Hounds
Daisy Martin with the Tampa Blue Jazz Band
Jack Hylton's Kit-Cat Band
Rock my soul with the Milenberg Joys.
Rock my soul with the Milenberg Joys.
Play 'em daddy, don't refuse;
Separate your mama from the weary blues.
Sweet boy syncopate your mama
All night long with that Dixieland strain,
Play it down, then do it again.
Ev'rytime I hear that tune good luck says,
That's why I've got the Milenberg Joys.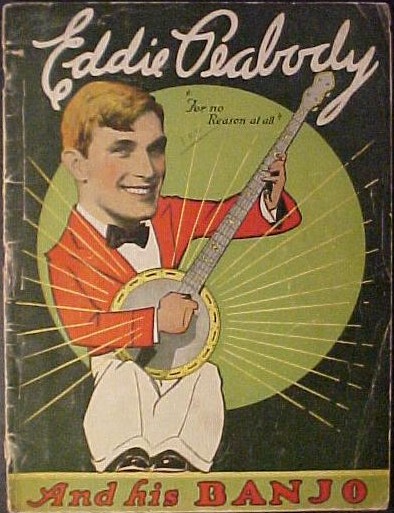 Frank Brunch and his Fuzzy Wuzzies
Johnny Hamp's Kentucky Serenaders
~confetta