1905
'Bud' Fisher, Leader
aka: "Scott Fisher and his Orch."
d. August 2, 1972, Flemington, NJ, USA.
b. June 16, 1905, New York, NY, USA.
d. August 2, 1972, Flemington, NJ, USA
Winfield Scott ("Bud") Fisher was born in the Bronx, New York on June 16, 1905. He moved to Bogota, Bergen County, New Jersey at age 13. He and younger brother William Hardy "Billy" Fisher, known in 1923 as "The Musical Fishers," made one of their earliest appearances at "The Sphinx Club" in New York's Waldorf Astoria Hotel on the same bill with the legendary Will Rogers. Scott was only 17, while Billy was just 9.

Using a foundation of himself on piano and kid brother Billy on sax and clarinet (and later handling orchestrations), Scott organized his first band as a teenager. Eventually, they became known in the New York/New Jersey area as "Bud Fisher & His Commodores."
Into the early 1930s, Scott's orchestra became known throughout New York and New Jersey, playing numerous dates on area radio stations like WABC, WEAF, WAAT, WJZ, and WADA. Scott, Billy, and company also performed at New Jersey's legendary "Rustic Cabin" for two years, among their numerous other club appearances. "Bud Fisher & His Commodores" were regulars on Cunard Line cruise ships, performing on runs to Cuba and Bermuda, and were winter mainstays at Bermuda's "Bermudiana Hotel." The band also recorded several commercial pressings, and performed at the famous Coconut Grove Room at New York's Park Central Hotel.
Around 1935, the band went on several two-month tours, only to return to the New York area without a gig. As a result, the orchestra split up. Had they been able to survive that period, the Fisher band may well have become one of the top names in the business as the movement of individual band members shortly after the breakup illustrates:
Harold Mooney, the piano player, went on to arrange for Hal Kemp; Gordon Griffin found a place for his horn with Benny Goodman; "Toots" Camarata became Jimmy Dorsey's arranger; the third trumpet player (name unknown) joined up with Casa Loma; while Billy Fisher became sax/clarinet man and arranger for Russ Morgan. (Billy later filled a similar role for Al Donahue, before becoming Ray Bloch's "right-hand man" for roughly 35 years, the bandleader for whom he arranged the music of "The Ed Sullivan Show" for all 24 seasons.)
Scott Fisher later became Head Copiest for Ray Bloch. He also worked in this capacity for numerous Broadway shows including "How to Succeed in Business Without Really Trying," "Golden Boy," "The Apple Tree," "My Fair Lady," and "The Music Man," mostly under the direction of Elliot Lawrence. He died on August 2, 1972 in Flemington, New Jersey at age 67. Billy Fisher died in Greenwich, Connecticut on April 24, 1972

.

~

American Big Bands Database Plus
1910
Ilona Massey
actress/singer
b. Budapest Hungary
Appeared in several Hollywood films, including one where she played the villianess. It is a shame that Hollywood never took advantage of her wonderful singing voice. (Try to hear her version of "At The Balalaika".) Ilona also had her own: Ilona Massey Show
Eli "Lucky" Thompson
Tenor/soprano sax
b. Detroit, MI.
Taught by Bobby Byrne's Father as well as with Francis Hellstein (Detroit Symphony) and with John Phelps (Harmony and Theory). Toured with the "Bama State Collegians" (college band) then led by the Trenier Twins. 1943 found him in New York City where he worked along side such other musicians as Lionel Hampton; Don Redman; Sid Catlett; and Ray Parker, as well as working in Billy Ekstine's orig (1944) band.
During 1944-'45, he worked with Erroll Garner, Lucky Millinder and bassist Slam Stewart. '44-5 found him in the Count Basie orch. In 1946-7, he lived in Los Angeles, CA, and was a prolific recording musician working with (among others) vocalist Dinah Washington, Dizzy "Gillespie, Buddy Baker, Boyd Raeburn, and Ike Carpenter. He also won the Esquire "New Star Award for 1947".
In 1948 back to New York City. In 1951, formed his own band which gigged fairly steadily at the famed Savoy Ballroom (in Harlem). He decided to write songs, and formed his own publishing company (Great Music). He was in Europe in 1956, and even subbed Baritone Sax in Stan Kenton's band. Back in the USA, he played Tenor on some Kenton Recordings. From 1957 on, Thompson has made France his home due to both finding enough work to keep him going, as well as for the greater acceptance of his work there as compared to the USA. In 2003, he was again living in Seattle, WA, USA.
Notable Events
Occurring
On
This Date Include:
1939.
"Chick" Webb, drums/leader
died in Baltimore, MD, USA.
died in Toronto, ON, Canada.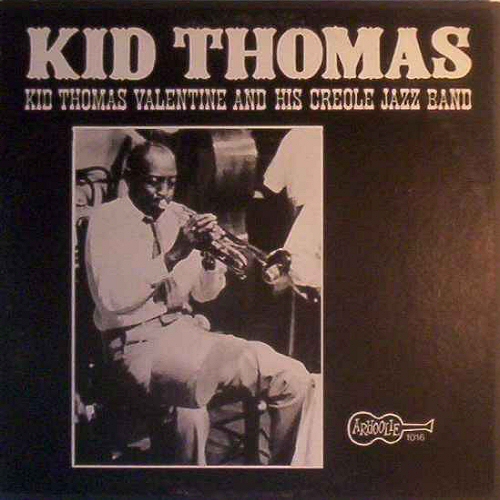 Trumpeter "Kid" Thomas Valentine
died in New Orleans, LA, USA.
died in Philadelphia, PA, USA.
died in Chicago, IL, USA.
Member: 'The Four Vagabonds'
Songs Recorded/Released
On This Date Include:
1913
Hilo Hawaiians

(Arthur Pryor band)
1916
1921
In a Boat
Sweetheart
You're The Sweetest Girl (introducing "What Could Be Sweeter?"
Bailey's Lucky Seven
Nobody Lied - Featuring Cliff Edwards (Ukulele Ike)
Sweet Indiana Home


Paul Whiteman and his Orchestra
Oriental (fox Trot) (acoustical) (Introducing "My Heart at Thy Sweet Voice")
Ellen Coleman accompanied by Lem Fowler's Orchestra
Daddy Ease It To Me

Satisfied Blues (A Barrel House Blues)
Louis Armstrong and his Hot Five
Dropin' Shucks

-

Vocal Chorus by

Louis Armstrong

I'm Gonna Gitcha

-

Vocal Chorus by

Louis Armstrong

Who' Sit
Senorita Mine

-

(Clarence Williams / Fats Waller)
Who Was The Lady ?

-

(Tom Stacks vocal)
1928
"When You Said Goodnight"
My Future Just Passed

-

(from "Safety In Numbers")
Ethel Waters
Without That Gal!

You Can't Stop Me From Loving You
Isham Jones and his Orchestra
Please Handle With Care

Strange As It Seems
~Russ Columbo Orch.
w/ Russ Columbo voc.
"Just Another Dream of You"
LYRICS:
JUST ANOTHER DREAM OF YOU
(Joe Burke / Benny Davis)
Just another dream of lovers in the moonlight
Just another dream of you
We would roam among the roses
For the roses love you too
Just another dream of teardrops when we parted
Leaving me alone and blue
Each night when shadows creep
For just another dream of you.
music by Richard A. Whiting (top l-r: Johnny Mercer, Richard Whiting)
lyric by George Marion, Jr.
There goes the girl I dreamed all through school about,
There goes the girl I'll now be a fool about,
Ring down the curtain I'm certain at present, my future just passed.
Don't even know if she has been spoken for,
If she is tied, the ties must be broken, for life can't be that way,
To wake me, then break me, my future just passed.
Stars in the blue, though you're at a distance, you can at least do this.
Sometimes a boy encounters resistance, help me to win this miss...
Here in my arms, may she find illusion there,
Look in my heart, there is no confusion there.
Now that I'm loving, I'm living at last, my future just passed...