Paul Specht (extreme right) with his orchestra in the early 1920s.


BIRTHDAYS
1895
Paul Specht
Paul Specht (March 24, 1895 – April 11, 1954) was an American dance bandleader popular in the 1920s.
Born in Sinking Spring, Pennsylvania, Specht was a violinist, having been taught by his father Charles G. Specht, a violinist, organist, and bandleader in his own right. He attended Combs Conservatory in Philadelphia, and led his first band in 1916, which toured the Western United States during World War I. He signed with Columbia Records in 1922, playing both with a larger dance ensemble and with a smaller, more jazz-oriented unit called The Georgians. One example of a Columbia recording is on Columbia # 27-D. Titled "Dear Old Lady", with the Hotel Alamac Orchestra and "Take, Oh Take Those Lips Away". This is on a Columbia record commonly known to record collectors as a "flag label".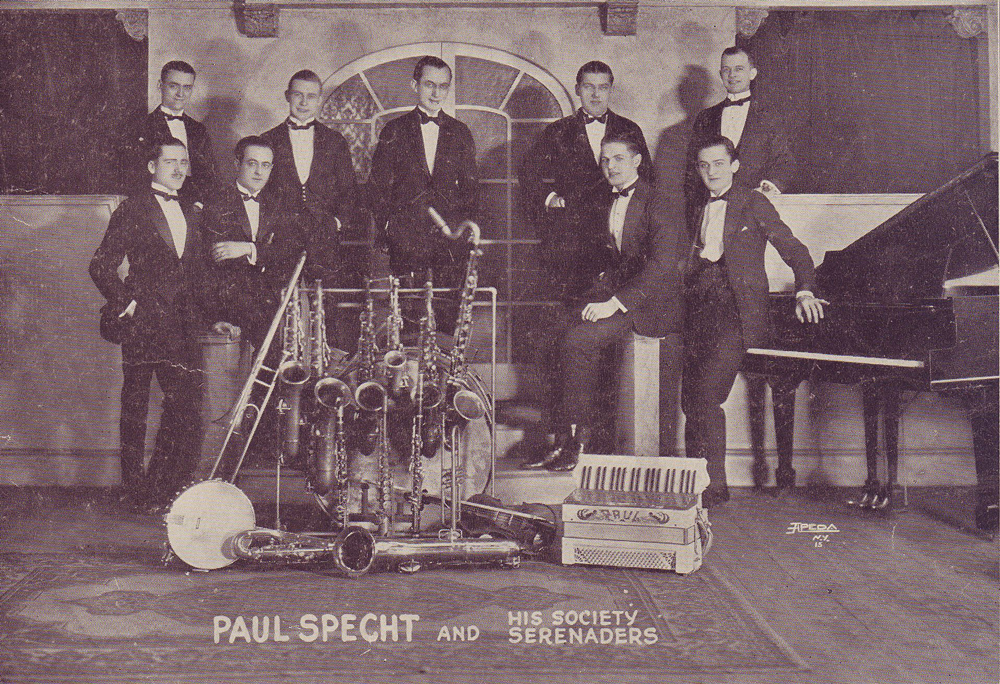 He toured England several times, beginning in 1922, and set up a "School for Jazz Musicians" there in 1924. Specht encountered some difficulty with his English performances due to political and union woes, which were documented regularly in the popular music press of the day. He did not return to England after 1926, having become thoroughly dissatisfied with the treatment he received.
Specht's ensemble was the first orchestra to broadcast for the RCA company, and was the first ensemble to film after the end of the silent era. In 1929, Specht's orchestra was asked to play at the inauguration of Herbert Hoover, chosen over Paul Whiteman. As a radio bandleader in 1932, his band and the Three X Sisters harmony trio collaborated on ABC radio airwaves for several different musical formats. He continued to be popular into the 1930s, and led bands into the 1940s, during which time he developed arthritis which hampered his musical abilities. He lived in Greenwich Village late in his life and did arranging work for radio and television. He died in 1954 at the age of 59 in New York City.
A number of noted jazz and popular musicians played in Specht's ensembles, including Hank D'Amico, Russ Morgan, Sylvester Ahola, Arthur Schutt, Charlie Spivak, Joe Tarto, Art Christmas, Chauncey Morehouse, Clarence Zylman, and Lou Calabrese (Lou Breese).
From Wikipedia
Find A Grave

1917
Bernabei first worked with the Ray Pearl orchestra, then with Jan Garber, before forming his own orchestra.
June Clark with Perry Bradford's Recording Orchestra, 1925.
From left to right: Gene Kennedy (alto and soprano saxes); Will Escoffery (banjo); Charlie Smith (piano); Perry Bradford; Jimmy Harrison (trombone) and June Clark (cornet).
né: Algeria Junius Clark.
This trumpeter was born Algeria Junius Clark and had he stuck to this name, perhaps he would have been mistaken for a country rather then thought to be a female. June Clark is indeed a name that shows up on lists of historic early female jazz players, a silly notion considering that this is the same guy who eventually became a road manager for boxer Sugar Ray Robinson, an even less popular type of occupation with women then playing jazz was in the '20s. That's not to say Clark had no female influence. His mother taught him piano, after all. From there he moved on to the bugle, baritone and finally the cornet.
Clark was a porter prior to becoming a professional musician in a group called S.H. Dudley's Black Sensations. He met the great pianist James P. Johnson in line-up of this group and the pair eventually decided to strike out on their own, choosing Toledo, Ohio for a base and collaborating regularly with Jimmy Harrison. This was still prior to 1920, making Clark a teenager at the time. He returned to Philadelphia in late 1920 and backed up the singer Josephine Stevens as well as touring theatres with pianist Willie "The Lion" Smith. A decision to go on the road with a show entitled Holiday in Dixie perhaps indicated a lack of judgement; the premise collapsed in Detroit and Clark had no choice but to go work in a car factory. Compadre Harrison came to the rescue with a nice gig in the Fess Williams Band.
Even before the mid '20s Clark had packed his cornet up to New York City, leading his own band at a variety of venues through the decade. In the '30s he was more likely to be a sideman than a leader, working for the banjoist Ferman Tapp as well as with Jimmy Reynolds from 1933 through 1935. He walked the plank musically at the Red Pirate Club in New York for two years after that and also could be found at the Quoque Inn in Long Island where he was part of the band of Vance Dixon. By the late '30s his health no longer permitted regular cornet blasting, but he was still fit to travel and went to work as a road manager for Louis Armstrong, most likely thinking that if he couldnt play a horn himself he might as well listen to someone who could every night.
Clark spent several years in the hospital suffering from tuberculosis beginning in the summer of 1939. Upon recovering he began working as a so-called "musical advisor" to groups and a musical assistant to Earl Hines until signing on with the boxing world in the mid '40s. He worked alongside Robinson as long as he was physically able and died only a short while after retiring from the ringside seat.
1906
Klavdiya Shulzhenko
b. March 24, 1906,
Kharkiv, Russia
d. June 17, 1984, Moscow, Russia
Klavdiya Ivanovna Shulzhenko (Russian: Кла́вдия Ива́новна Шульже́нко; March 24 [O.S. March 12] 1906, Kharkiv – June 17, 1984, Moscow) was a popular female singer from the Soviet Union.
Professional biography
Shulzhenko started singing with jazz and pop bands in the late 1920s. She rose to fame in the late 1930s with her version of Sebastian Yradier's La Paloma. In 1939, she was awarded at the first all-Soviet competition of pop singers.
During World War II, Shulzhenko performed about a thousand concerts for Soviet soldiers in besieged Leningrad and elsewhere. The lyrics of one of her prewar songs, The Blue Headscarf, were adapted so as to suit wartime realities. Another iconic song of the Eastern Front (World War II), Let's Smoke, was later used by Vladimir Menshov in his Oscar-winning movie Moscow Does Not Believe In Tears.
On April 10, 1976, Shulzhenko performed to enraptured audience in the Column Hall of the House of Unions in what would become her most famous concert.
*Awards
In 1945, Shulzhenko was awarded the Order of the Red Star.
She, as traditional pop singer, was named People's Artist of the USSR in 1971.
*External links
Klavdiya Shulzhenko
Klavdiya Shulzhenko on YouTube
Notable Events
Occurring
On This Date Include:
Composer/singer Carson Robison
died in Pleasant Valley, NY, USA
Often called "the granddaddy of the hillbillies".
1961.
died in New York (Bronx), NY, USA.
1977.
died in Anaheim, CA, USA.
died in Los Angeles, CA, USA.
1989.
died in Houston, TX, USA.
1994.
died in Mount Vernon, W. VA, USA.
Songs Recorded/Released
On This Date Include:
Wilbur Sweatman's Jazz Orchestra -
Kansas City Blues
Wilbur Sweatman's Jazz Orchestra
-
Slide, Kelly, Slide
Leona Williams and her Dixie Band - Achin' Hearted Blues
Viola McCoy - Michigan Water Blues
Anthony Parenti's Famous Melody Boys - Creole Blues

Clara Smith - My Good-For-Nuthin' Man
Don't Never Figure

You Don't Want Me Honey
Irving Aaronson and his Commanders - Poor Papa (He's Got Nothing At All)
Paul Whiteman and his Orchestra - Lulu Belle

I'm In Love With You, That's Why
Harry Reser and his Orchestra - Jig Walk (incidental vocal by Tom Stacks)
Waring's Pennsylvanians - I Wonder How I Look When I'm Asleep?
Sol Hoopii's Novelty Trio
Coon Sanders Nighthawks Orchestra
Alphonso Trent and his Orchestra -
I've Found A New Baby
Adrian Rollini and his Orchestra -
How Can It Be A Beautiful Day?
- Vocal Chorus by Joey Nash
A Thousand Goodnights

Butterfingers

- Vocal Chorus by Joey Nash

Little Did I Dream

- Vocal Chorus by Joey Nash
brought to you by...
~confetta