HAPPY BIRTHDAY
LIBBY HOLMAN!
d. June 18, 1971, Stamford, CT, USA.
(suicide - carbon monoxide poisoning).
née: Elizabeth Lloyd Holzman.
Libby Holman was an American torch singer
and stage actress who also achieved notoriety
for her complex and unconventional personal life.
Holman was born Elizabeth Lloyd Holzman to a Jewish lawyer and stockbroker, Alfred Holzman (August 20, 1867 - June 14, 1947), and his wife, Rachel Florence Workum Holzman (October 17, 1873 - April 22, 1966), in Cincinnati, Ohio. Their other children were daughter Marion H. Holzman (January 25, 1901 - December 13, 1963) and son Alfred Paul Holzman (March 9, 1909 - April 19, 1992). In 1904, the wealthy family grew destitute after Holman's uncle Ross Holzman embezzled nearly $1 million of their stock brokerage business. At some point, Alfred changed the family name from Holzman to Holman.
She graduated from Hughes High School on June 11, 1920, at the age of 16, then entered the University of Cincinnati, graduating on June 16, 1923, with a Bachelor of Arts degree. Libby Holman would later subtract two years from her age, insisting she was born in 1906, and providing that year of birth to the Social Security Administration as per the Social Security Death Index; SS# 073-14-3155, under the name Elizabeth Schanker.
In the summer of 1924, Holman left for New York City, where she initially took up residence at the Studio Club. Her first theater job in New York was in the road company of The Fool. Channing Pollock, the writer of The Fool, recognized Holman's talents immediately and advised her to pursue a theatrical career. She followed Pollock's advice and soon became a star. An early stage colleague who became a longtime close friend was future film star Clifton Webb, then a dancer. He bestowed upon her the nickname, "The Statue of Libby."
Her Broadway theatre debut was in the play The Sapphire Ring in 1925 at the Selwyn Theatre, she was billed as Elizabeth Holman, it closed after thirteen performances. Her big break came while she was appearing with Clifton Webb and Fred Allen in the 1929 Broadway revue, The Little Show, in which she first sang the blues number, "Moanin' Low" (written by Ralph Rainger), which earned her a dozen curtain calls on opening night, drew raves from the critics and became her signature song.
The following year, Holman introduced the Howard Dietz and Arthur Schwartz standard "Something to Remember You By" in the show Three's a Crowd (which also starred Allen and Webb).
Other Broadway appearances included The Garrick Gaieties (1925), Merry-Go-Round (1927), Rainbow (1928), Ned Wayburn's Gambols (1929), Revenge with Music (1934), You Never Know (1938, score by Cole Porter), and the self-produced one-woman revue Blues, Ballads and Sin-Songs (1954).
Holman enjoyed a variety of intimate relationships with both men and women throughout her lifetime. Her famous lesbian lovers included the DuPont heiress Louisa d'Andelot Carpenter, actress Jeanne Eagels and Jane Bowles. Carpenter was to play a significant part throughout Holman's lifetime. They raised their children and lived together and were openly accepted by their theater companions. She scandalized some by dating much younger men, such as fellow American actor Montgomery Clift, whom she mentored.
Holman took an interest in one particular fan, Zachary Smith Reynolds, the heir to R. J. Reynolds's tobacco company. He was smitten from the start, despite their seven-year age difference. They met in Baltimore, Maryland in April 1930 after Reynolds watched Holman's performance in a road company staging of the play The Little Show. Reynolds begged friend Dwight Deere Wiman, who was the show's producer, for an introduction to Holman. Reynolds pursued her all around the world in his plane. With the persuasion of her former lover, Louisa d'Andelot Carpenter, Holman and Reynolds, who went by his middle name, married on Sunday, November 29, 1931 in the parlor of Monroe, Michigan Justice of the Peace Fred M. Schoepfer.
Their marital bliss did not last long. Reynolds wanted Holman to abandon her acting career, she consented by taking a one-year leave of absence. During this time, however, his conservative family was unable to bear Holman and her group of theater friends, who at her invitation often visited Reynolda, the family estate near Winston-Salem, North Carolina. Accusations and arguments among them were common.
In 1932, during a 21st birthday party Reynolds gave at Reynolda for his friend and flying buddy Charles Gideon Hill, Jr., a first cousin to Reynolds's first wife Anne Ludlow Cannon Reynolds, Holman revealed to her husband that she was pregnant. A tense argument ensued. Moments later, a shot was heard; friends soon discovered Reynolds bleeding and unconscious with a gunshot wound to the head.
The authorities initially ruled the shooting a suicide, but a coroner's inquiry led them to rule it a murder. Holman and Albert Bailey "Ab" Walker, a friend of Reynolds's and a supposed lover of Holman's, were indicted for murder. Louisa Carpenter paid Holman's $25,000 bail in Wentworth, North Carolina, appearing in such mannish clothes bystanders and reporters thought she was a man.
The Reynolds family contacted the local authorities and had the charges dropped for fear of scandal. Holman gave birth to the couple's child, Christopher Smith "Topper" Reynolds, on January 10, 1933.
The following year, Broadway producer Vinton Freedley offered Holman the starring role in the Cole Porter musical Anything Goes, but she declined. Ethel Merman got the part of Reno Sweeney.
Holman married her second husband, film and stage actor Ralph (pronounced "Rafe") Holmes, in March 1939; he was twelve years her junior. She had previously dated his older brother, Phillips Holmes. In 1940, both brothers (who were half-Canadian) joined the Royal Canadian Air Force. Phillips was killed in a collision of two military planes in August 1942. When Ralph returned home shortly after V-J Day in August 1945, the marriage quickly soured and they soon separated. On November 15, 1945, Ralph Holmes was found in his Manhattan apartment, dead of a barbiturate overdose at age 29.
Holman adopted a son, Timmy (born October 18, 1945); and later adopted a second son, Tony (born May 19, 1947). Her natural son Christopher ("Topper") died on August 7, 1950 after falling while mountain climbing. Holman had given him permission to go mountain climbing with a friend on California's highest peak, Mount Whitney, not knowing that the boys were ill-prepared for the adventure. Both perished. Those close to Holman claim she never forgave herself. In 1952 she created the Christopher Reynolds Foundation in his memory.
In the 1950's, Holman worked with her accompanist, Gerold Cook, on researching and rearranging what they called earth music. It was primarily blues and spirituals that were linked to the African American community. Holman had always been involved in what later became known as the Civil rights movement. During WWII, she tried to book shows for the servicemen with her friend, Josh White, but they were turned down on the grounds that "we don't book mixed company."
In 1959, through the Christopher Reynolds Foundation, she underwrote a trip to India by Martin Luther King, Jr. and his wife, Coretta Scott King, both of whom became close friends with Holman and her husband, Louis Schanker. Holman also contributed to the defense of Dr. Benjamin Spock, the pediatrician and writer arrested for taking part in antiwar demonstrations.
Her third and last husband was well known artist/sculptor Louis Schanker, they married on December 27, 1960. Although Holman didn't have to work after her marriage to Reynolds, she never completely gave up her career, making records and giving recitals. One of her last performances was at the United Nations in New York in 1966. She sang her trademark song, "Moanin' Low."
On June 18, 1971, Holman was found nearly dead by her household staff, in the front seat of her Rolls Royce. She was taken to the hospital where she died hours later.
Holman's death was officially
ruled a suicide due to acute
carbon monoxide poisoning.
According to the Holman biography
Dreams That Money Can Buy
by Jon Bradshaw, few of Holman's friends believed the coroner's report that she had committed suicide. Some of the circumstances didn't add up, in particular the question of how the slight, aging Holman could even open and close the heavy, manually-operated garage door. The book was described by the New York Times reviewer as a "flat, unsympathetic narration of Miss Holman's life there are few insights to be had".
Abie "Boogaloo" Ames
, Blues pianist.
b. Cruger, MS, USA, d. 2001. (Age 83).
Ames was born in on the 'Big Egypt Plantation'. At just age 5, he began playing piano. While still a teen-ager, he moved to Detroit and formed his own band, In 1936, he toured Europe with Louis Armstrong. Sometime in the 1940s, the nickname "Boogaloo" became associated with him. Later, he was a well known figure in the "Motown Studios" (Detroit, MI), and was friendly with such other well known musicians as singer Nat "King" Cole, and pianist Erroll Garner.
In 1980, Ames relocated to Greenville, MS, and became a regular performer at the local clubs and festivals. In 2000, along with Eden Brent, his protege and 1990s musical partner, Ames performed at the Kennedy Center for Performing Arts in Washington, D.C. In 2001, He won the Artist's Achievement Award of the Governor's Awards for Excellence in the Arts in the state of Mississippi. In October 2001, Ames made his last public performance at the E.E. Bass Cultural Center in Greenville, MS, along with another of his former students, Mulgrew Miller. During his career, he also composed many tunes, one of which, "Darkness in the Delta", was composed for Cassandra Wilson's Blue Note CD tentatively titled "Belly of the Sun".
Beatrice "Wee Bea" Booze
, vocals
b. Baltimore. MD, USA.
Bea Booze (May 23, 1920 – 1975), often credited as Wee Bea Booze, was an American R&B and jazz singer most popular in the 1940s.
She was born Muriel Nicholls in Baltimore, and made her name as a singer in Harlem. She was signed by Decca Records to cover the songs and emulate the style of Lil Green,[1] and, under the guidance of Sammy Price, first recorded in 1942. Her version of "See See Rider Blues", first recorded by Ma Rainey, reached # 1 on the R&B chart, after which she was billed as 'The See See Rider Blues Girl'. As well as singing, she played guitar in performance and on many of her recordings.
Later in the 1940s, Booze recorded as a jazz vocalist with the Andy Kirk band,[1] which featured trumpeter Fats Navarro, and also with a jazz quartet that included saxophonist George Kelly and organist Larry Johnson. She retired from the music business in the early 1950s to settle first in Baltimore and later in Scottsville, New York, although she recorded with Sammy Price in 1962.
Johnny Bothwell
, Alto Sax
b. Gary, IN, USA, d. August 2, 1995.
Johnny Bothwell (born
May 23
, 1919
in Gary, Indiana – died
September 12
, 1995
in Lakeland, Florida) was an American jazz alto saxophonistand bandleader.
Bothwell played in Chicago in 1940 and then moved to New York City, playing with Woody Herman (1943) and Sonny Dunham (1944–46). He was a key member and featured soloist of Boyd Raeburn's groups in 1944–45, and played with Gene Krupa in 1945. He formed his own groups between 1945 and 1949, and held a residency at the Tin Pan Alley Club in Chicago as well as in New York and Boston.
Bothwell essentially gave up music after 1949, moving to Miami, Florida. He owned a number of bands but did not return to playing for the rest of his life.
The "Scatman" had an extensive Jazz and later R&B background, performing in many clubs and on radio shows in the 1920s,'30s, and '40s.
In 1948, he began a new career as a television actor, remaining an actor for the rest of his life. He had roles in such series as 'The Governor and J.J.', 'Kojak', 'Toma', and 'One of the Boys'. He was also a voice for such cartoon series as 'Hong Kong Phooey', and for 'The Harlem Globetrotters'.
b. Burkesville, GA , d. 1971
Fred Guy spent most of his playing career with the Duke Ellington Orchestra. He grew up in New York City. Guy worked with Joseph C. Smith's Orchestra and then led his own group. However after joining Duke Ellington's Washingtonians in the spring of 1925 (replacing the group's former leader Elmer Snowden who left after a money dispute), Guy was with Ellington for the next 24 years.
He played banjo up until the early 1930's and his rhythmic and percussive style was an asset to the early band. However after switching to guitar, Guy tended to be inaudible and (since he never soloed) an increasingly minor force in the music. When he departed fromEllington in 1949, there was no need to replace him. Fred Guy (who never led his own record date) was never again a fulltime musician, working as a manager of a ballroom in Chicago. He was long forgotten (except by jazz historians) by the time he passed away in 1971.
1930s featured John Williams (second from left),
The Andy Kirk
reed section around the mid
Dick Wilson (third from left), and
Johnny Harrington
(far right).
John Harrington
, Clarinet
While there are dozens of jazz saxophonists who might claim to be "a mile high," John Harrington and his fellow saxophone-honking brother, Seaton Harrington, actually came from Denver, nestled a mile high in the carpet of plains leading to the Rocky Mountains. Following professional careers which in John's case included a long stint with the wonderful Andy Kirk band, documented on dozens of recordings, the brothers came back to their native Denver and heartily gave back to the jazz scene in the form of their own nightspot devoted to live music.
While it might be assumed that Denver is more about cowboy hats and wealthy mining speculators than jazz, there has always been swinging music, often within sniffing distance of the city's horrid stockyards. John Harrington's first professional stint was in a band under the direction of the interesting violinist George Morrison, lasting about two years beginning in 1927. He was then briefly with Terence Holder, but by 1929 was snuggly seated in the reed section of the Andy Kirk band, enjoying the groovy rhythm section featuring pianist Mary Lou Williams and superb bassist Booker Collins. Getting to that spot had simply involved following Kirk's trail. Like Harrington, he had been in Morrison's band. It had been the professional beginning for Kirk as well, holding down the bass sax and tuba end of things, but it had taken place a generation before Harrington came along.
Andy Kirk and his Clouds of Joy
The saxophonist was only eight years old when Kirk was playing with Morrison, and just beginning to enjoy his puberty when Kirk put the Rockies to his back and headed to Dallas to join up with Holder, who was leading a Texas territorial band called the Dark Clouds of Joy. This was where Harrington would finally catch up with Kirk and it is more importantly where the latter player's enterprising talents as an organizer and leader began coming to the fore. Kirk, more interested in running the show then playing a lot of horn, took control of the band itself when Holder wanted out, glueing his name in front and both lightning the tone and the clouds to come up with Twelve Clouds of Joy. Later, the group's name was shortened to just plain Clouds of Joy, perhaps to make things more flexible if an additional musician was hired, or several left by the side of the road.
This band was pretty much where Harrington could be found for the next 15 years, excluding a period when he was out of the picture, having received some kind of a whomp on the jaw that prevented him from establishing a decent embouchure on his horns. (Or in layperson's terms, the way a player's mouth is trained to play a wind instrument.) Family members were told a sanitized story of some sort about the accident, but there was, of course, speculation. Emily Harrington, one of the matriarchs of the family and as prim and proper a lady as they come, didn't approve of the musicians in the family anyway. In reality, the Kirk band, despite its band names evoking flights of rapture above the Earth, was a disciplined and serious group.
Although hardly choir boys, or choir girls in the case of Williams, the band was known as a place to work hard on music and thus attracted some serious players such as violinist Claude Williams, tenor saxophonist Dick Wilson, the early electric guitarist Floyd Smith, tenor saxophone monsters Don Byas and Jimmy Forrest, superb trumpeters Howard McGhee and Fats Navarro, as well as Charlie Parker himself, although if a listener had gone to the toilet they might have missed his brief period with the band. It was certainly a band with a sense of humour and an appetite, judging from the nicknames of some of the participants.
At one time, Harrington was holding forth in the company of both trumpeter Edgar "Puddinghead" Battle and trombonist Ted "Muttonleg" Donnelly. Whatever it was they were chewing on, the group was coming up with important music. A recording such as "Moten Swing" not only came directly out of the Kansas City roots, but chooses to emphasize the modernistic aspects of these jazz traditions in the arrangement, such as not stating the theme until the final chorus. Harrington gets a nice clarinet solo on this number, with a tasty bite of Muttonleg Donnelly included as well. "Until the Real Thing Comes Along" was the first pop hit for the Kirk outfit, a big record indeed in 1936 and leading to many regular engagements in New York City.
After finally leaving Kirk in the mid-'40s, Harrington was heard alongside the tenor saxophonist Skippy Williams, and joined the band of classic Kansas City pianist Claude Hopkins in 1946. Psychologically, he was already working his way back West and indeed, he had returned to Denver, his brother, and the new club by the end of that year. An actor of the same name who appeared as a character actor in films of the '30s, such as Mutiny on the Bounty, is not the same person. The actor died in Philadelphia in the late '80s and this date is sometimes given as a date of death for the musician Harrington.
d. June 28, 1979, San Bernadino, CA, USA.
Pianist and bandleader Edgar Hayes is best remembered today for his 1938 version of Hoagy Carmichael's ''Stardust,'' the only hit song for Hayes. The recording features his light, tinkling piano style and is still today considered to be the definitive version of that number.
Hayes attended college at both Fisk University in Nashville and Wilberforce University in Wilberforce, Ohio, where he earned a bachelor's degree in music. After graduation he made his professional debut with Fess Williams and in 1924 formed his own group, the Blue Grass Buddies. In early 1925 he went to work with the Lois B. Deppe Orchestra and late in the year led his own orchestra at the Ritz Hotel in Cleveland. In 1926 he played with Madison's Commodore Orchestra in Buffalo and in the spring of 1927 led his own Eight Black Pirates for the touring show
Rarin' to Go
. From late 1927 to 1930 Hayes led a group called the Symphonic Harmonists.
In 1931 Hayes joined the Mills Blue Ribbon Band and stayed until 1937, when he left and formed a new orchestra of his own. The new group featured many ex-Mills Blue Ribbon Band members and included, at various times, Joe Garland on tenor sax, Kenny Clarke on drums, and Dizzy Gillespie on trumpet. The orchestra recorded on Decca. After its 1938 success with ''Stardust'' Hayes took the band on a tour of Sweden and Belgium, where they also recorded on the Swedish Odeon label.
Failing to achieve another hit record after ''Stardust,'' Hayes disbanded his orchestra in 1941 and moved to California. There he formed a quartet called the Stardusters which played regularly on the West Coast until the early 1950s. Hayes continued to perform, mainly as a solo lounge act through the 1950s and 1960s. Edgar Hayes passed away in 1979.
Solid! -- Edgar Hayes
Charles Wesley Hill
, vocals
PHOTO: The Walter Hanlon Archive
Also played with 'George Webb's Dixielanders'
Humphrey Richard Adeane Lyttelton (23 May 1921 – 25 April 2008), also known as Humph, was an English jazz musician and broadcaster, and chairman of the BBC radio comedy program I'm Sorry I Haven't a Clue. He was a cousin of the 10th Viscount Cobham and a great-nephew of the politician and sportsman Alfred Lyttelton, who was the first man to represent England at both football and cricket.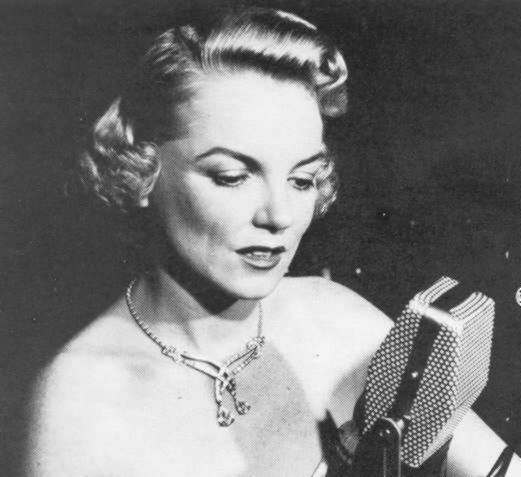 d. Sept. 9, 1993, San Diego, CA, (Cancer).
Died as wife of Frank DeVol Gained fame as a 1940's Big Bands vocalist with the Jimmy Dorsey Orchestra. Her duetting with singer Bob Eberly for the Dorsey band resulted in such million-selling hit records as "Green Eyes" and "Tangerine" as well as hit solo performances for (for Dorsey) like "Six Lessons from Madame LaZonga." A vivacious blonde, she also appeared with Jimmy Dorsey's orchestra in some early 1940's films. Later became a TV personality. Spouses included: 1943-1951 Clifford Smith Jr. divorced (2 daughters); 1957-1960 Tom Chamales till his death (2 daughters); 1965- 1965 Bob Paris annulled same year; and 1991-1993 Frank DeVol until her death in 1993.
Arthur Jacob Arshawsky, better known as Artie Shaw, was an American clarinetist, composer, and bandleader. He was also the author of both fiction and non-fiction writings. Widely regarded as "one of jazz's finest clarinetists", Shaw led one of America's most popular big bands of the late 1930s and early '40s. Their signature song, a 1938 version of Cole Porter's "Begin the Beguine", was a wildly successful single and one of the era's defining recordings. Musically restless, Shaw was also an early proponent of Third Stream, which blended classical and jazz, and recorded some small-group sessions that flirted with be-bop before retiring from music in 1954.
One of jazz's finest clarinetists, Artie Shaw never seemed fully satisfied with his musical life, constantly breaking up successful bands and running away from success. While Count Basie and Duke Ellington were satisfied to lead just one orchestra during the swing era, and Benny Goodman (due to illness) had two, Shaw led five, all of them distinctive and memorable.
After growing up in New Haven, CT, and playing clarinet and alto locally, Shaw spent part of 1925 with Johnny Cavallaro's dance band and then played off and on with Austin Wylie's band in Cleveland from 1927-1929 before joining Irving Aaronson's Commanders. After moving to New York, Shaw became a close associate of Willie "The Lion" Smith at jam sessions, and by 1931 was a busy studio musician. He retired from music for the first time in 1934 in hopes of writing a book, but when his money started running out, Shaw returned to New York. A major turning point occurred when he performed at an all-star big band concert at the Imperial Theatre in May 1936, surprising the audience by performing with a string quartet and a rhythm section. He used a similar concept in putting together his first orchestra, adding a Dixieland-type front line and a vocalist while retaining the strings. Despite some fine recordings, that particular band disbanded in early 1937 and then Shaw put together a more conventional big band.
The surprise success of his 1938 recording of "Begin the Beguine" made the clarinetist into a superstar and his orchestra (who featured the tenor of Georgie Auld, vocals by Helen Forrest and Tony Pastor, and, by 1939, Buddy Rich's drumming) into one of the most popular in the world. Billie Holiday was with the band for a few months, although only one recording ("Any Old Time") resulted. Shaw found the pressure of the band business difficult to deal with and in November 1939 suddenly left the bandstand and moved to Mexico for two months. When Shaw returned, his first session, utilizing a large string section, resulted in another major hit, "Frenesi"; it seemed that he could not escape success. Shaw's third regular orchestra, who had a string section and such star soloists as trumpeter Billy Butterfield and pianist Johnny Guarnieri, was one of his finest, waxing perhaps the greatest version of "Stardust" along with the memorable "Concerto for Clarinet." The Gramercy Five, a small group formed out of the band (using Guarnieri on harpsichord), also scored with the million-selling "Summit Ridge Drive."
Despite all this, Shaw broke up the orchestra in 1941, only to re-form an even larger one later in the year. The latter group featured Hot Lips Page along with Auld and Guarnieri. After Pearl Harbor, Shaw enlisted and led a Navy band (unfortunately unrecorded) before getting a medical discharge in February 1944. Later in the year, his new orchestra featured Roy Eldridge, Dodo Marmarosa, and Barney Kessel, and found Shaw's own style becoming quite modern, almost boppish. But, with the end of the swing era, Shaw again broke up his band in early 1946 and was semi-retired for several years, playing classical music as much as jazz.
His last attempt at a big band was a short-lived one, a boppish unit who lasted for a few months in 1949 and included Zoot Sims, Al Cohn, and Don Fagerquist; their modern music was a commercial flop. After a few years of limited musical activity, Shaw returned one last time, recording extensively with a version of the Gramercy Five that featured Tal Farlow or Joe Puma on guitar along with Hank Jones. Then, in 1955, Artie Shaw permanently gave up the clarinet to pursue his dreams of being a writer. Although he served as the frontman (with Dick Johnson playing the clarinet solos) for a reorganized Artie Shaw Orchestra in 1983, Shaw never played again. He received plenty of publicity for his eight marriages (including to actresses Lana Turner, Ava Gardner, and Evelyn Keyes) and for his odd autobiography, The Trouble With Cinderella (which barely touches on the music business or his wives), but the outspoken Artie Shaw deserves to be best remembered as one of the truly great clarinetists. His RCA recordings, which were reissued in complete fashion in a perfectly done Bluebird LP series, have only been made available in piecemeal fashion on CD.
Fugitives Bonnie (Parker) and Clyde (Barrow), caught in a police ambush near Sailes, Louisiana, were killed in a fusillade of 187 bullets. Photos showed their lifeless bodies still clutching a shotgun and a revolver, and there was also a saxophone in their car.
Tommy Dorsey Orchestra recorded "I'll Never Smile Again", with Frank Sinatra doing the vocal.
died in White Plains, NY, USA.
Earl Fuller's Rector Novelty Orchestra
One Kiss (Introducing "Idol Mine")
Leona Williams and her Dixie Band
Got To Cool My Doggies Now (Sweet N' Pretty Strut)

It Makes No Difference Now
Kicky-Koo

Those Longing For You Blues
Vincent Lopez and His
Hotel Pennsylvania Orchestra
Long-Lost Mama (Daddy Misses You)
Your Time Now (Twill Be Mine After A While)
You're Always Messin' Round With My Man
Barrel House Blues

Chicago Monkey Man Blues
Benson Orchestra of Chicago
Oh, How I Miss You Tonight

Riverboat Shuffle
Rock, Jenny Rock

It's Right Here For You
Consolation

Sa-Lu-Ta!

Under The Moon
Charley Straight's Orchestra
From Midnight Till Dawn

Last Night I Dreamed I Kiss

ed You

- (Vocal Chorus by Frank Sylvano)

Too Busy

- (Vocal Chorus by Frank Sylvano)
Clarence Williams' Washboard Five
Shake It Down

Red River Blues
Anything

Gettin' Hot

You Can't Cheat a Cheater
Ruben "River" Reeves and his Tributaries
Irving Mills' and his Modernist
s
Paul Whiteman's Original Rhythm Boys
There's a Wah-Wah Girl In Agua Caliente
(m. Milton Alger, w. Jack Yellen)
performed by the Brox Sisters & The Rhythm Boys
Romeo and JulietI'm quite sure didn'thave to pet upon ahardwood bench inthe park like this is.
and all those who have provided content, images and sound files for this site.