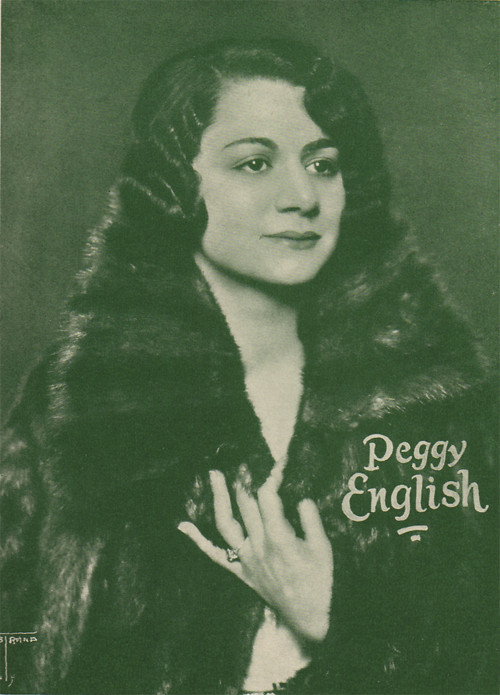 HAPPY BIRTHDAY PEGGY ENGLISH
BIRTHDAYS
Peggy English (Jane Gray) was born on December 9, 1893.
Aka: "The Pseudonym Girl"
Peggy English (Dec. 9, 1893 - Sept. 4, 1988) is a wonderful discovery amongst the female vocalists of the Jazz Age 1920s. Her vocal style might be characterized as a cross between two other Jazz Age performers, Jane Green and Marion Harris.
Marguerite Grace "Peggy" English was born on December 9, 1893 in Helena, Montana. Marguerite had two siblings - Lydia (1896-1990) and Charles Francis English (1902-1965). In the early 1900's the English family moved from Helena to Manhattan, New York. In the 1920 Federal Census both Peggy and Lydia are listed as "Actress" in the occupation category.
She recorded from 1925 to 1928, and then appears to try a comeback on a lone 1933 recording date as "Harlem Hannah" on the Bluebird record label. Her entire recording output consisted of 102 sides for the Vocalion, Banner, Cameo, Brunswick, Victor, Harmony, and Bluebird labels. Her piano accompanists included Rube Bloom and Bill Wirges.
Peggy English had yet another recording alter-identity. She recorded under the name of Jane Gray exclusively on the Harmony and Velvet Tone labels. The Jane Gray recording era ran from 1926 to 1928 where Jane and Peggy alternated record releases throughout that time period. Peggy English would record as Peggy in a New York studio one day and then as Jane Gray in the next day's session. Peggy's releases were usually on the Vocalion label while Jane's were all issued on Columbia Record's Harmony and Velvet Tone, Harmony's sister label.
During the period 1927-1928 Peggy English, now promoted as "The Brunswick Girl", toured on the Publix Theatre circuit. In November of 1927 Peggy appeared at the Tivoli Theatre in Chicago with Frankie Masters and His Band in "Jazz á la Carte". In March 1928, we find Peggy featured in the "Jazz Grab Bag" stage production with the Ray Teal Orchestra and appearing in such cities as San Antonio, Atlanta, and Washington, DC on the Publix tour.
In June 1930 Peggy English appears at the Palace Theatre in Washington, DC. By July 1931 Peggy's star billing has been diminished to second billing as she performs at a Utica, New York theatre. In October Peggy appears as a "blues singer" on WABC Radio with Max Smolen's Orchestra.
Peggy English returns to the recording studio one final time on April 6, 1933 for a one-day recording session as "Harlem Hannah ad Her Hot Boys" and "Hannah's Hot Shots". Out of that session came "Easy Rider" and "My Handy Man" which appeared on the Bluebird label.
No information can be found on Peggy's whereabouts until February 1934 when she could be seen with Johnny Johnson's Orchestra at the New Kenmore Rainbow Room in Albany, New York.
Peggy English passed away on September 4, 1988 at the grand old age of 94, she never married nor had any children.
Blind Roosevelt Graves, guitar
~Biography
Blind Roosevelt Graves was a Mississippi guitarist and singer who mixed secular and sacred material and cut some entertaining, celebratory party tunes as well as reverential spirituals in the '20s and '30s. He played with pianists Will Ezell and Cooney Vaughn, clarinetist Baby Jay. Graves was also a member of the Mississippi Jook Band, along with his brother -- singer and tambourine player Uaroy Graves -- and Vaughn.
Very few biographical details of Blind Roosevelt Graves' life are known. He and his brother Uaroy began playing juke joints in the Mississippi Delta in the early '20s. In 1929, the two brothers cut a number of sides for the Paramount and American Record Companies, which all appeared under Blind Roosevelt's name. They would continue to record until 1936. In the mid-'30s, the pair formed the Mississippi Jook Band with pianist Cooney Vaughn. The band recorded for the American Record Company in the mid- and late '30s. After leaving behind these handful of recordings, Graves disappeared in the early '40s. It is not known where he settled, nor is his death date known.
~ Ron Wynn & Stephen Thomas Erlewine
Matty Malneck, Fiddle/Composer/Leader
d. Feb 25, 1981, Los Angeles, CA. USA.
Led an octet that included Milton DeLugg on accordion and Manny Klein on trumpet. Among the songs he wrote are "I'll Never Be The Same" and "I'm Through With Love".
Biography
A fine clarinetist, Matty Matlock also gained a lot of work in the 1950s as an arranger for Dixieland-flavored sessions. He started playing clarinet when he was 12 and performed in a variety of little-known bands, including one led by Jimmy Joy. He was with Ben Pollack's group during 1929-1934 and when the orchestra became Bob Crosby's, Matlock stayed on.
He became busy as an arranger, but continued playing with Crosby off and on until 1942. At that point, he moved to Los Angeles and worked in the studios.
Matlock worked with Red Nichols and Pollack again and participated in the music for the film and the television series Pete Kelly's Blues. Matty Matlock led the Rampart Street Paraders in the 1950s, had many reunions with Bob Crosby and continued playing into the mid-'70s. Unfortunately, his recordings as a leader for the X, Columbia, Tops, and Warner Bros. labels during 1954-1960 are all long out of print.
Swing-era bandleader Freddy Martin was born in Cleveland, OH on December 6, 1909; a one-time drummer and C-melody saxophonist, his primary instrument was the tenor sax, and he formed his first band while attending high school. According to the Big Bands Database, after graduation Martin accepted a job with a musical instrument company, and when the Guy Lombardo Orchestra played Cleveland, he attempted to sell the group some saxophones; Lombardo declined the offer but he did hear Martin's band, and was so impressed he later recommended the fledgling orchestra for a date Lombardo himself could not make.
From 1931 onward the Freddy Martin Orchestra toured regularly, appearing at venues like New York's Roosevelt Grill, and also frequently guested on radio; throughout the majority of the decade Elmer Feldkampf was the featured vocalist, with the likes of Helen Ward, Stuart Wade, Buddy Clark and Eddie Stone singing with the group as well. The group's signature song was their arrangement of the first movement of Tchaikovsky's B-flat piano concerto; its success prompted Martin to adopt other classical themes as well, and with the addition of Bobby Worth's lyrics they later re-recorded the Tchaikovsky piece as "Tonight We Love," scoring a major hit.
The popularity of the Martin Orchestra ultimately led them to Hollywood, and during the early '40s they appeared in a series of films including 1943's Stage Door Canteen and What's Buzzin', Cousin? Passing through their ranks was a series of noted pianists, among them Jack Fina, Terry Shand and Barclay Allen; other notable alumni included Merv Griffin, who sang with the group during the 1950s. Martin continued performing on radio and television well into the 1960s, and even served as Elvis Presley's first music director in Las Vegas; during the following decade he enjoyed a long residency at Los Angeles' Ambassador Hotel, and led his orchestra until just prior to his death on September 30, 1983.
Bob Scobey,
Trumpet/Leader
d. June 12, 1963, Montreal, Canada.
Throughout his prime years, Bob Scobey was one of the more popular trumpeters in Dixieland. After many low-profile jobs in dance bands in the 1930s, in 1938 Scobey met trumpeter Lu Watters. As a member of Watter's Yerba Buena Jazz Band in San Francisco during 1940-1949 (with much of 1942-1946 spent in the military), Scobey participated in one of the most influential bands of the Dixieland revival movement.
In 1949 he left to form his own Frisco Jazz Band, recording frequently (most notably for Good Time Jazz), and often featuring Clancy Hayes or appearing with Lizzie Miles. In 1959 Scobey opened his Club Bourbon Street in Chicago but four years later he died at the age of 46 from cancer. Many of Bob Scobey's Good Time Jazz dates have been reissued on CD and they still contain stirring and joyful music.
17 year old Benny Goodman's first issued recording session this day.
He was the clarinetist with 'Ben Pollack and His Californians' on their recording of the tune "When I First Met Mary". Victor Records.
Pebbles (Introducing: "Beautiful Annabelle Lee") (Sheaarer / Meyer)
Raderman's Jazz Orchestra -
"Home Again Blues"
(Berlin / Akst)
F
rank Westphal and his Orchestra -
"Greenwich Witch"
(Zez Confrey)
Faye Barnes / Maggie Jones - "Poorhouse Blues" (Spencer Williams)
Louis Armstrong's Hot Seven -
"Struttin' With Some Barbecue"
Lee Morse and her Southern Serenaders
Lee Morse and her Southern Serenaders
-
Keep Sweeping Cobwebs Off The Moon"
(Levant / Lewis / Young)
Ray Miller's Orchestra - "In A Kitchenette" (Dubin / Burke)
"That's Where You Come In" (Kahal / Robinson)
1935
Tommy Dorsey's Clambake 7 -
"Music Goes Round and Round"
LYRICS:
STRUTTIN' WITH SOME BARBECUE
Strut-tin' with some bar-be-que,
Like the hap-py peo-ple do
Pick-in' on a jui-cy rib.
'Cause I'm Strut-tin with some bar-be-que,
pass an-oth-er help-in' please,
of that good ol' dix-ie land.
And mis-ter wait-er if you please
And I'll go strut, strut, strut-tin,
Strut-tin' with som
e bar-be-que
~confetta
A
nd all those who have provided
content, images and sound files for this site.