Louis Barbarin is one of four musical offspring of Isidore Barbarin, a New Orleans musical dynasty that from the ring of their surname would more appropriately work as hair trimmers. What a loss to the city's musical history, then, had the father not blasted his melliphonium through the city's streets in the late 19th century, with Louis Barbarin following shortly thereafter as drummer with the first edition of the Onward Brass Band, round about 1918. This meant the young drummer was subject to musical influences from outside his own family, mainly bandleader Manuel Perez.
Barbarin also drummed with players such as Jack Carey, Punch Miller and Sidney Desvigne at gigs which took place wherever people were willing to congregate, from indoor dances to the streets to the deck of a boat. From 1937 this drummer began to work almost exclusively with Papa Celestin's Band, in a sense a New Orleans gene pool in which the members of several different local musical klans were able to mingle in the mutually supportive cause of keeping traditions intact.
When the leader of this group died, the band itself carried on with for once a banjoist in charge--that was none other than Albert French, or "Albert Freedom" as he might have been nicknamed during the 2003 diplomatic squabble over invading Iraq. Barbarin approved of French, remaining in his company for a period that rivals the relationship history of any other banjoist and drummer. In 1963 the two cut one of their best albums live. Indeed Barbarin seemed more active in the touring department the older he got, particularly in the '70s-both the decade and his age. He was as active a musician until 1982, also fitting in some teaching. His musical brethren are Paul Barbarin, also a drummer;Lucien Barbarin, yet another drummer;William Barbarin, a cornet player.
Louis Barbarin - Wikipedia
'Cricket' led his own band Feb.to August 1928, then with Earl Burtnett and Horace Heidt Orchs.
Kitty Carlyle Hart & Moss Hart
Playwright/librettist/director.
d: April 19, 1985, Paris France.
Willie Mabon

1900
d. June 5, 1959, New Orleans, LA, USA Banjo player, grew up in a musical family. His brothers were Eddie (bass), John (banjo) and Simon (bass) while their father Billy was a bass player too. In 1919 he got his first regular job on banjo with Wooden Joe Nicholas band and from 1920 he joined on bass drum the Young Tuxedo Brass Band. In 1942 made the recordings with Bunk Johnson that started the New Orleans Jazz Revival and soon became a legend among the Jazz fans. He was featured on many recordings and was a regular member of the George Lewis band until ill health caused him to quit music in late 1955. He was not a kind of banjo virtuoso and very seldom took a solo, but his steady and swinging banjo was the keystone of any rhythm section he was part of.
James Theodore "Jimmie" Powell
Sonny Terry, Harmonica/Vocals
d: Mar 11, 1966, Mineola, NY, USA.
né: Saunders Terrell, -Blind from 1929.
Harmonica player Sonny Terry was one of the initial bluesmen who crossed over into areas not normally associated with the genre before he came along. Along with his partner, guitarist Brownie McGhee, Terry played on numerous folk recordings with the likes of Woody Guthrie, developed an acting career showcased on television and Broadway, and never compromised his unique high-pitched penetrating harmonica style called whoppin'.
Sonny Terry & Brownie McGhee
Sonny Terry was born Saunders Terrell on October 24, 1911, in Greensboro, NC. He lost his sight by the time he was 16 in two separate accidents. His father played harmonica in local functions around town and taught Terry at an early age. Realizing his eyesight would keep him from pursuing a profession in farming, Terry decided instead to be a blues singer. He began traveling to nearby Raleigh and Durham, performing on street corners for tips. In 1934, he befriended the popular guitarist Blind Boy Fuller. Fuller convinced Terry to move to Durham, where the two immediately gained a strong local following.
By 1937, they were offered an opportunity to go to New York and record for the Vocalion label. A year later, Terry would be back in New York taking part in John Hammond's legendary Spirituals to Swing concert, where he performed one of his memorable tunes, "Mountain Blues." Upon returning to Durham, Terry continued playing regularly with Fuller and also met his future partner, guitarist Brownie McGhee, who would accompany Terry off and on for the next two decades. McGhee was initially sent to look after Terry by Blind Boy's manager, J.B. Long. Long figured McGhee might get a chance to play some of the same shows as Terry. A friendship developed between the two men and following Fuller's death in 1941, Terry and McGhee moved to New York.
The change proved fruitful as they immediately found steady work, playing concerts both as a duo and solo. Terry became an in-demand session player who started showing up regularly on the records of folk luminaries including Leadbelly, Woody Guthrie, and Pete Seeger. An acting role was also initiated at this time, in the long-running Broadway production of Finian's Rainbow in 1946. By the mid-'50s, Terry and McGhee began broadening their collective horizons and traveled extensively outside of New York. They released a multitude of recordings for labels like Folkways, Savoy, and Fantasy that crossed the boundaries of race, becoming well-known in folk and blues circles performing for black and white audiences.
It was also in the mid-50s that Terry and McGhee accepted roles on Broadway, joining the cast of Cat on a Hot Tin Roof, exposing them to an even broader audience. In the early '60s, the duo performed at numerous folk and blues festivals around the world, while Terry found time to work with singer Harry Belafonte and in television commercials. Terry was constantly traveling throughout the '70s, stopping only long enough to write his instructional book, The Harp Styles of Sonny Terry. By the mid-'70s, the strain of being on the road developed into personal problems between McGhee and Terry. Unfortunately, they resigned their long partnership, divided by the bitterness of constant touring.
Terry was still being discovered by a younger blues generation via the Johnny Winter-produced album Whoppin' for the Alligator label, featuring Winter and Willie Dixon. Winter had produced a comeback album for Muddy Waters (Hard Again) that helped rejuvenate his career, and he was attempting the same with Terry. By the '80s, Terry's age was catching up with him. He quit recording and only accepted sporadic live appearances. Terry passed away in 1986, the year he was inducted into the Blues Foundations Hall of Fame.
~ Al Campbell
1889
A&R/producer (for Columbia)
b. Fly Summit, NY, USA.
~Biography
Frank Walker is the John Hammond of country music. Working for Columbia in the early '20s, he was responsible for bringing blues belter Bessie Smith to the label. In addition, he also signed the Skillet Lickers, writing and producing their famous "Corn Licker Still in Georgia" routine. Walker also helped arrange recording sessions for Charlie Poole and Vernon Dalhart, and his recordings of Cajun musician Louis Falcon are among the first recorded works of that style of music. Later Walker moved on to MCA where he landed his biggest fish of all, bringing Hank Williams Jr. to the label before retiring from the industry altogether.
~ Steve Kurutz
d. 1969.
Known principally for his work with early jazz clarinetist George Lewis (a fellow New Orleansian), Watkins also played with Kid Howard, Isaiah Morgan, Herb Morand, and Punch Miller. Watkins played piano as a youngster, switching to drums in his late teens. He began playing with Lewis in 1946, and continued to play and record with him into the '60s. As a member of Lewis's band, Watkins also backed the blues and vaudeville singer Lizzie Miles on live recordings made in the mid '50s. Poor health curtailed Watkins's musical activities after 1966.
~ Chris Kelsey
b. Summerville, SC, USA.
Williams played with many of the top big bands of the '20s, '30s, and '40s, yet beginning in 1940 he did some of his finest work as a member of Sidney Bechet-led small bands. Williams moved to Washington, D.C. as a small child. After the death of his parents he was sent to an industrial school in Delaware, where he played in the band. He returned to Washington after two years and studied trombone with Juan Tizol and James Miller, Jr. He played locally around Washington, including a residency in the pit band at the Lincoln Theater. He played with Claude Hopkins in New Jersey in 1927, just before moving to New York, where he stayed only briefly. He worked back in Washington for a time, then joined Horace Henderson's band in 1929. He played regularly with that band for the next three years while also working occasionally with Hopkins, Cliff Jackson, and Horace's brother Fletcher Henderson. He joined Fletcher's band full-time in 1932, staying for about a year before moving on to Chick Webb's orchestra.
Williams stayed with the Webb outfit after the drummer's death in 1939 when Ella Fitzgerald assumed the leadership. He left in early 1940. Over the next year he spent time with both the Benny Carter and Coleman Hawkins bands; he also worked with Sidney Bechet, recording with the clarinetist/soprano saxophonist for the first time in June, 1940. Williams had limited experience in small groups; his solos were typically fine, but it reportedly took him some time to get the hang of the ensemble work. Nevertheless, his fresh approach to the early jazz repertoire satisfied Bechet, who used him on sessions and gigs over the next few years.
In the early '40s Williams worked for other leaders, including Lucky Millinder, Cootie Williams, Mezz Mezzrow, Pete Brown, and Wild Bill Davison. In 1943 he spent time with Duke Ellington, temporarily replacing Lawrence Brown. Over the next several years he also worked with Oran "Hot Lips" Page, Don Redman, Rex Stewart, Claude Hopkins, and Roy Eldridge. On December 15, 1945 Williams played with Bechet's band at a Town Hall concert celebrating the Blue Note record label. Health problems caused him to eventually stop performing by the early '50s. He began gigging again occasionally in the late '50s, but from the '60s dental problems hindered his musical activity.
Sandy Williams - Wikipedia
1939.
Benny Goodman Band recorded "Let's Dance"
It became the band's "In-Theme"
("Goodbye" was their 'Out-Theme)
Kirk McGee, C&W Vocals/Guitar/Fiddle/Mandolin
died Franklin, TN, USA.
Age: 83.
Member team of 'Sam & Kirk McGee'.
(Sam Fleming McGee, Vocals/Guitar/Banjo/Tiple/Steel Guitar, b. May 1, 1894, Williamson County, TN, USA, and Kirk McGee, b. Nov. 4, 1899, Williamson County, TN, USA).
1984.
Gene Sullivan
C&W singer-songwriter, died.
Member: "Wiley & Gene", one of Country music's most successful duets of the late 1930's & 1940's. Gene co-composed "Live and Let Live" and "When My Blue Moon Turns to Gold Again". 1987. Joe Patek, sax, died in Shiner, TX, USA. Age: 80
1987.
died in New York, NY, USA.
Sara Martin - "I've Got To Go And Leave My Daddy Behind"
"Longing For Daddy Blues"
Phil Baxter and his Orchestra
"If I Had You And You Had Me"
Phil Baxter and his Orchestra -
"Something Tells Me"
Phil Baxter and his Orchestra
-
"Waiting"
The Jim-Dandies
"Charleston Geechie Dance"
The Jim-Dandies -
"Shake That Thing"
The Dixie Stompers -
"
Goose Pimples"
Halfway House Orchestra
Left to right: Charlie Cordella, Mickey Marcour, Leon Roppolo, Abbie Brunies, Bill Eastwood, Joe Loyacano, Leo Adde.
Halfway House Orchestra
-
"I Want Somebody To Love"
Halfway House Orchestra
-
"When I'm Blue"
Harry Reser and his Orchestra
"Go Home And Tell Your Mother (That I Love You)"

- (Tom Stacks vocal)
Harry Reser and his Orchestra -
"Here Comes The Show Boat"
Eddie And Sugar Lou's Hotel Tyler Orchestra
"Eddie And Sugar Lou Stomp"
"I Never Miss The Sunshine"
"K.W.K.H. Blues"
"Sweet Papa Will Be Gone"
"There'll Be Some Changes Made"
"Yo Yo Blues"
Sam Wooding and his Orchestra
"Downcast Blues"

"Hallelujah!"
J.C. Cobb And His Grains Of Corn
"Once Or Twice"
1930
Luis Russell and his Orchestra
Left to Right:
Red Allen, Greeley Walton, Paul Barbarin, Charlie Holmes, Luis Russell, Albert Nicholas, Will Johnson, Pops Foster, J.C. Higginbotham, Otis Johnson.
Ben Selvin and his Orchestra -
"My Man From Caroline"
1933
Cliff Edwards "Ukulele Ike" -
"Night Owl"
"Hush My Mouth (If I Ain't Goin' South)"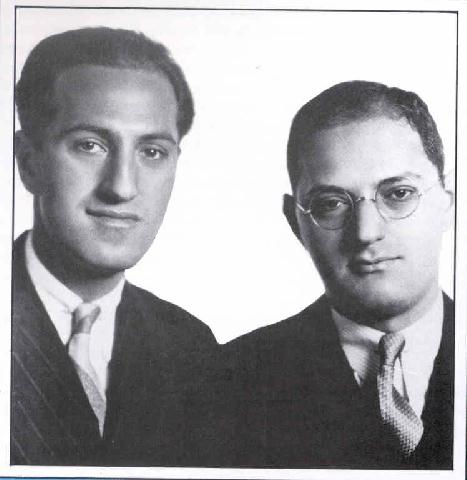 I Got Rhythm
~Music and Lyrics
by
George & Ira Gershwin
Days can be sunny,
With never a sigh ;
Don't need what money can buy.
Birds in the tree sing
Their dayful of song,
Why shouldn't we sing along ?
I'm chipper all the day,
Happy with my lot.
How do I get that way ?
Look at what I've got :
I got rhythm
I got music
I got my man/girl
Who could ask for anything more ?
I got daisies
In green pastures,
I got my man/girl
Who could ask for anything more ?
Ol'Man Trouble,
I don't mind him.
You won't find him
'Round my door.
I got starlight,
I got sweet dreams,
I got my man/girl,
Who could ask for anything more ?
Who could ask for anything more ?
and all those who have provided content,
images and sound files for this site.