BIRTHDAYS
Charlie Allen, Trumpet
b. Jackson, MS, USA.
d. Nov. 19, 1972
~Biography
Mostly associated with the Chicago classic jazz scene, Charlie Allen was a section trumpeter who worked in some of the top big bands, including stints with Earl Hines and Duke Ellington. He also was a man who liked to be involved in many aspects of the music business, not just performing. His custom trumpet mouthpieces were used by star performers such as Cat Anderson, and in his later years Allen was an administrator for the Chicago Musicians' Union.
Following his graduation from high school in the early to mid-'20s, Allen began playing with bandleaders such as the quick-thinking Hugh Swift and the gossipy Dave Peyton. In 1927, he was a member of Doc Cook's Doctors of Synchopation, an obscure outfit with a massive stage setup that also featured players such as the accommodating Billy Butler and the stormy Don Pasquall. For several years he was in and out of the Cook aggregation, also appearing with the regal Clifford "Klarinet" King and the extensive ensemble of Johnny Long. The latter group was slammed by one of the era's jazz critics as "a very mediocre band in spite of an interesting personnel."
In the early '30s, the trumpeter's artistic collaborations would climb to a higher level as the result of a three-year period with the wonderful Hines. Allen is featured on classic recordings such as "Cavernism," "Darkness," and "Mad House," which have turned into college big band curriculum pieces. In 1935, he was a part of a brilliantEllington trumpet section for about a year, than went to work with the orchestra of pianist Fletcher Butler before re-joining Hines in 1937. Up to and following the Second World War, Allen lingered in Chicago rather than going out with touring bands, playing in numerous local groups. He was also active as a music teacher and in the '60s joined the administrative staff of the musicians' union. He is sometimes confused with trumpeter Charlie "Scoop" Allen, best known for his work with the soul band the Bar Keys.
~Eugene Chadbourne
Charlie Allen (trumpeter) - Wikipedia
1899
Alex Bigard, Drums
b. New Orleans, LA, USA
d. June 27, 1978
Alexander Louis Bigard, Jr. was an American jazz drummer. He was the brother of Barney Bigard and a cousin of Natty Dominique and A.J. Piron, and was involved for decades with the New Orleans jazz scene.
Bigard studied drums under Louis Cottrell, Sr., and played in A.J. Piron's band in the 1910s. Wikipedia
Alex Bigard
Carlo Bohlander, Writer/Trumpet
b. Frankfurt Am Main, Germany
d. June 2, 2004, Frankfurt, Germany.
In private correspondence, a friend of Carlo Bohlander, Mr. George Anderson, has said: In his earlier days, he (Bohlander) operated a few Jazz clubs in the Frankfurt area. He became known as the "Godfather of Jazz" in Germany.
Garvin Bushell, Clarinet/alto sax
Garvin Bushell's career went back to the beginning of recorded jazz yet in the 1960's he appeared on records with John Coltrane (at the Village Vanguard in 1961) and Miles Davis (as part of Gil Evans' Orchestra). He started playing piano when he was six, switching to clarinet at age 13. Bushell, who was always a technically skilled player and in a more enlightened era would probably have become a classical musician, studied at Wilberforce University and played for shows and in vaudeville. He moved to New York in 1919, toured and recorded with Mamie Smith's Jazz Hounds and worked with Ethel Waters. He was with Sam Wooding's Orchestra, visiting Europe during 1925-27 and also worked with the Keep Shufflin' revue and Johnny Dunn.
Garvin Bushell (standing, third from right) with Sam Wooding and his Orchestra, 1925.
As part of the Louisiana Sugar Babies (a quartet with Jabbo Smith, Fats Waller and James P. Johnson), Bushell took some of the first recorded jazz solos on bassoon in 1928; he was also a fine oboeist and flutist. Later on he was with Otto Hardwick (1931), Fess Williams (1933), Fletcher Henderson (1935-36), Cab Calloway (1936-37) and Chick Webb.
In the 1940's Bushell worked with Eddie Mallory and Edgar Hayes, led his own bands and recorded with Bunk Johnson in 1947. He became a music teacher (one of his students was King Curtis), played bassoon with the Chicago Civic Orchestra, was part of the Fletcher Henderson Reunion Band in 1958 and worked with Wilbur DeParis' New New Orleans Jazz Band (as the replacement for the late Omer Simeon) during 1959-64.
In the 1960's he spent time living in Puerto Rico before permanently settling in Las Vegas, staying active as a teacher into the 1980's. Although he recorded in a wide variety of settings, Garvin Bushell only led one record date in his career which resulted in four titles in 1944.
~ Scott Yanow
Garvin Bushell
"Dad" Carter, vocal/guitar
Member: 'The Chuck Wagon Gang'
d. Dec. 11, 1968, New York, NY, USA.
1894
Jack Denny, bandleader
d. 1950
The man whose name resembles a comic genius with a single typo led a high society dance band in the '30s and '40s. Jack Denny had hit records during this period but was"Nevertheless" literally drummed out of business by changing musical styles. The lights were particularly low in Denny's den following a fiasco in which he and his band were upstaged by an opening act. That was Xavier Cugat, fronting a percussion-laden band that was so hot that the stars of the show seemed mere piddlers in contrast. Denny became so furious at all the attention Cugat was getting that he went to the management and threatened to quit if something wasn't done. He was told to go ahead and quit and was promptly replaced by Leo Reisman's band.
Things weren't always so bleak for the group known variously as the Jack Denny Orchestra, Jack Denny and His Orchestra and the Jack Denny Studio Orchestra. The group's sound was at times especially unique due to the lack of a brass section, an effect that was indeed intentional on Denny's part and not just the result of a mass, or rather brass walkout. Denny presented his own vocals and that of featured singers on a cushy bed of saxophones and strings. Close listening revealed extra clarinets and oboes in the reed section, an effect that may have gone over the heads or under the feet of dancers at venues such as Montreal's Mount Royal Hotel and the Waldorf-Astoria in New York City.
Denny continually experimented with his instrumentation, putting a total of three pianists onstage at once during one of his Montreal runs. His recordings with RCA Victor and Brunswick were made to sound much more in uniform with what every other group was doing, although the non-brass outfit does show up on 1932 RCA sides. Highlights of Denny's pile of 78s includes the confessional "I Can't Do Without You", a visionary rendition of "My Mother's Eyes" with Jack Parker singing and of course "Nevertheless". This standard had lyrics by Harry Ruby and music by Bert Kalmar and became popular following the Denny recording in 1931.
Rosalie Hill (seated) and Sidney Hemphill Carter
at the home of Fred McDowell, Como, Mississippi, September 1959
1905
Carl Hoff, bandleader/arranger
d. 1965.
né: Carol Hoffmayr
Theme Song: "I Could Use a Dream"
Carl had a cheerful personality and his good humor made him a hit wherever he appeared. In 1940, Carl was the orchestra leader for the Lucky Strike Hit Parade radio show. In 1941, he left to form his own band, and toured the hotel and ballroom circuit. Two of his singers were Louanne Hogan and Bob Haymes, Dick Haymes' younger brother. The following year, 1942, several other singers were with the band including Al Nobel; Betty Norton and the Murphy Sisters. Later, one of the sisters, now known as Betty Evans, became one of advertising's top jingle writers. Carl also found a fine pianist in Ray Barr.
Carl Hoff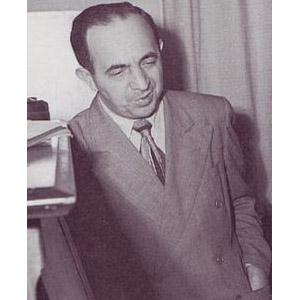 d. July 21, 1960, New York, NY, USA.
Composed "Heartaches", "Auf Wiedesehen", "Mairzy Doats", "Chi Baba Cbi Baba Chi Boom" and many others. Lalapaluza Lu (1942) Composed by: Milton Drake, Al Hoffman, Jerry Livingston Performed by: Sammy Kaye & Glee Club Label: Victor 27874-A (1942)
Al Hoffman - Wikipedia
1906
Jaroslav Jezek,
Piano/Composer/Arranger/Bandleader
b. Prague, Czechoslovakia, d. Jan. 1, 1942
Jaroslav Ježek (September 25, 1906 – January 1, 1942) was a Czech composer, pianist and conductor, author of jazz, classical, incidental and film music.
Jaroslav Ježek (composer) - Wikipedia
Louisiana Five -
Berger, Panelli, Lada with dog, Cawley, Nunez
Anton Lada
composer/drums
b. Chicago, IL, USA.
d. August 28, 1944, Santa Monica, CA, USA.
(worked with Louis Jordan)
Biography
~by Eugene Chadbourne
Drummer and bandleader Anton Lada's 1918 recordings with the Louisiana Five were among the very first commercial releases of music considered to be jazz. Lada had also drummed in an early version of the Original Dixieland Jass Band, nearly four years before it became the first combo in jazz recording history with an early 1917 side. Alcide "Yellow" Nunez, clarinetist and composer, was also involved in both groups as well as further music business history, this time involving a dispute over the songwriting credits for a blues. The two players formed the Louisiana Five with the addition of pianist Joe Cawley, trombonist Charlie Panelli, and banjoist Karl Berger, no relation to the German vibraphonist and pianist. Besides drumming, Lada toiled as manager of the band. The group recorded for labels including Emerson, Columbia, and Edison. Final sessions for the Louisiana Five took place in 1920, by which time titles such as "Weary Blues" may have indicated fatigue with the project.
Lada's Louisiana Orchestra began recording in 1922, again with the drummer in the management hot seat. Sometimes the state of Louisiana was dropped from the band's name, probably not a bad idea for a bandleader who was born in Chicago and died in Santa Monica. Subsequently, the Sunset label did not agree, promoting the ensemble as Anton Lada's Louisiana Lads. As many as 14 players may have been in this band, under whatever name, including interesting use of oboe, xylophone, and euphonium. A half dozen of these instrumentalists have never been identified, while some players such as banjoist and bassist Macy Drucker either didn't really exist or weren't in this particular group.
According to discographers, Lada's final recordings were made in the mid-'20s; h
owever, his popular groups continued performing live. In 1941 Lada relocated to Hollywood, scoring motion pictures and developing into a Raymond Scott type, a process unfortunately cut short by the grim reaper when Lada was only in his early fifties. This artist co-wrote jazz and ragtime numbers with pianist Spencer Williams, notably "Arkansas Blues" and "Barcelona."
Anton Lada
Louisiana Five - Wikipedia
Works by or about Louisiana Five
1902
Hanka Ordonówna
Hanka Ordonówna (born Maria Anna Pietruszyńska; September 25, 1902 in Warsaw – September 8, 1950 in Beirut) also known as 'Ordonka', was a Polish singer, dancer and actress. She began her career at the age of 16 in the Warsaw cabaret Sfinks and then the theater Wesoły Ul in Lublin under the stage name "Anna Ordon." singing hits still popular today: O mój rozmarynie, Rozkwitały pęki białych róż, and Ułani, ułani.
When this cabaret closed, Hanka Ordonówna moved to Warsaw and worked at the cabaret Miraż, where she was noticed by Fryderyk Jarosy, director of the famous Warsaw cabaret Qui Pro Quo; it was under his guidance that she became a star, recording the famous "Miłość ci wszystko wybaczy" (song by Henryk Wars and Julian Tuwim) in the 1933 movie Szpieg w masce (Spy With a Mask). Another hit was Marian Hemar's Jakieś małe nic (Some Little Nothing), 1934.
In 1931, she married Count Michał Tyszkiewicz, who wrote many of her songs. Though a countess, she continued to perform in cabaret and even ride a horse in a circus revue. She developed lung disease which plagued her for the rest of her life. She died in 1950 in Beirut.
Hanka Ordonówna
1913
Maria Tănase
Maria Tănase
(Romanian pronunciation: [maˈri.a təˈnase]; 25 September 1913 – 22 June 1963) was a celebrated Romanian singer and actress. Her music ranged from traditional Romanian music to romance, tango, chanson and operetta.
Maria Tănase has a similar importance in Romania to that of Édith Piaf in France or Amália Rodrigues in Portugal.
In her nearly three-decade-long career, she became widely regarded as Romania's national diva, being admired for her originality, voice, physical beauty and charisma. In Romania, she is still regarded as a major cultural icon of the 20th century.
Among her songs are Cine iubește și lasă (1937), Leliță cârciumăreasă (1939), Bun îi vinul ghiurghiuliu (1938), Doina din Maramureş (1956), Ciuleandra (1956) and Până când nu te iubeam.
Biography
Born in Bucharest suburb of Cărămidarii de Jos, or Cărămidari, Maria Tănase attended Primary School number 11 from Tăbăcari. Her father, Ion Coanda Tănase, was a master gardener and a florist, also owner of a big nursery on the outskirts of Bucharest, which employed female workers from different various regions of Romania. These women, in turn, would share traditional folk songs and tales which deeply enthralled little Maria, which was to leave a permanent mark on her.
She made her stage debut in Cărămidarii de Jos, at the "Ion Heliade Rădulescu" High School. In 1934, she joined the "Cărăbuş" Theatre of Constantin Tănase with the help and advice of newspaper writer Sandu Eliad, who, at that time was her partner. Her real debut took place on 2 June 1937 with the stage name Mary Atanasiu in the musical hall theatres, Alhambra and Gioconda. Shortly after, she started to develop a local and international following. She represented Romania at the International Exhibition in Paris in 1937, as well as at the 1939 New York World's Fair. On 20 February 1938 her voice was heard for the first time on the radio. In that year, she made her first recordings for the Romanian Radio Society, which contributed to her fame. Unfortunately, these early recordings are said to have been destroyed by the "authorities" during the first months of the National Legionary State, the time when Maria Tănase was also banned from performing in public.
During World War II, together with George Enescu, George Vraca and Constantin Tănase, she was making stage tours singing in front of soldiers injured on the battlefield. In December 1943, she sang at the Christmas festivities at the Royal Cavalry Regiment, where King Michael I of Romania, Ion Antonescu, Mihai Antonescu and all the members of the government were present as guests. In 1944 Maria Tănase took time to sing in Edmond Audran's operetta "Mascota" (The Mascot).
After World War II, she performed in Review Ensemble Theatre and "Constantin Tănase" Satirical and Musical Theatre. She had parts in the plays "The Living Corpse" by Leo Tolstoy in 1945, and "Horia" by Mihai Davidoglu in 1956. In 1946 she held the main part in the musical comedy "The Hollywood Sphinx", by Ralph Benatzky. She sang in the movie "Romania" in 1947, and in 1958 she performed in both "Ciulinii Bărăganului" (The Thistles of the Bărăgan), and the short-reel film "Amintiri din Bucureşti" (Memories from Bucharest). During these years Maria was also touring a lot, she had over forty trips only to New York City.
In 1952, Maria Tănase was offered a position at the Music School No. 1 in Bucharest, in the newly created traditional folk song department; 1962 found her guiding "Taraful Gorjului" (The Gorj Folk Music Band) in Târgu Jiu and the artists from "taraf", at her own request.
On 1 May 1963, after a concert in Hunedoara, she was forced to cancel her tour and any other performances due to sickness. On 22 June 1963, she died of cancer. She was buried at the Bellu cemetery in Bucharest, Romania.
In 1955, Maria Tănase received the State Prize and in 1957 she was honored with the medals "Ordinul Muncii" (The Order for Activity), "Premiul de Stat" (The State Award), and the title "Artistă Emerită" (Honoured Artist of the Republic) for her contributions to the arts.
However, within her lifetime, she had also been fondly remembered by many Romanians as their own Edith Piaf, the legendary French singer who, like Maria, had also achieved worldwide fame by way of her own extensive repertoire of French cabaret songs. Where Maria was born in September 1913, Edith Piaf's birth came a couple of years soon afterward, in December 1915. They both died in 1963: Maria died in June, three months short of her 50th birthday, whereas Edith Piaf died in October, two months away from her 48th. Throngs of people had filled the streets of Bucharest and Paris respectively, on the days of their deaths, to memorialize the two ladies who helped make the folk music of their own respective countries a worldwide phenomenon.
Maria Tănase
J. Mayo "Ink" Williams, producer/A&R
b. Monmouth, IL, USA. d. 1980, USA.
Jay Mayo "Ink" Williams was a pioneering African-American producer of recorded blues music. Ink Williams earned his nickname by his ability to get the signatures of talented African-American musicians on recording contracts.
Williams was born in Pine Bluff, Arkansas, the son of Daniel and Millie Williams. At the age of 7, Williams' father was murdered, and the family returned to his mother's hometown of Monmouth, Illinois, where he grew up.
Williams attended Brown University, where he was a track star and outstanding football player. He got the name 'Ink' because of the way he smeared the opposing teams and he rarely wore a helmet. He also served in the First World War. During the 1920s, he played professional football with the Hammond (Ind.) Pros, becoming one of three black athletes (along with Paul Robeson) to play in the fledgling National Football League during its first year. His playing career lasted until 1926. During that span he played for the Canton Bulldogs, Dayton Triangles, Hammond Pros and Cleveland Bulldogs. But his primary focus at this time was not the gridiron but the music industry.
After graduating in 1921, he moved to Chicago. Although he continued to play football until 1926, his first love was music and in 1924 he joined Paramount Records, which had recently begun to produce and market "race" records. Williams became a talent scout and supervisor of recording sessions in the Chicago area, becoming the most successful blues producer of his time. Two of his biggest discoveries as recording artists were singer Ma Rainey - already a popular live performer - and Papa Charlie Jackson, the first commercially successful self-accompanied blues singer. He also recorded Blind Lemon Jefferson, among others.
In 1927, he left Paramount and started The Chicago Record Company, releasing jazz, blues and gospel records on the "Black Patti" label. One of these releases was The Down Home Boys' "Original Stack O' Lee Blues", believed to be the first recorded version of the song better known as "Stagger Lee", and of which only one copy is now known to exist. Black Patti soon failed, and Williams moved to Brunswick Records and its subsidiary label Vocalion, where he recorded Clarence "Pine Top" Smith and Leroy Carr, among others. However, after the Wall Street Crash of 1929, record sales plummeted, and Williams found new work as a football coach at Morehouse College in Atlanta.
In 1934, Williams was hired as head of the "race records" department at Decca, where he recorded such musicians as Mahalia Jackson, Alberta Hunter, and Blind Boy Fuller, as well as pioneering the recording of the increasingly popular small group sound with such groups as The Harlem Hamfats.
Williams was accused by some black musicians of a "dicty" attitude - that is, acting as though he was a member of the white middle class. He acted as manager of many of the artists he recorded, and assumed at least some of the ownership of many of their songs. Songs on which he is credited as co-writer include "Corrine, Corrina", Nellie Lutcher's "Fine Brown Frame", Louis Jordan's "Mop Mop", and Stick McGhee's "Drinkin' Wine Spo-Dee-O-Dee".
Williams set up the Chicago Music Publishing Company (CMPC) as publisher for all the titles he recorded. The CMPC collected all royalties generated by the materials it held copyrights on, and was responsible for passing on some of the profits to the composer or performer. However, many successful artists that Williams recorded, including Blind Blake and Blind Lemon Jefferson, probably never received any royalties. Race record entrepreneurs knew that rural blues musicians were unfamiliar with copyright laws, and they further played upon the musicians' vulnerability by providing free liquor at recording sessions, hoping they would get drunk and sign their rights away.
After leaving Decca in 1945, Williams worked freelance and ran several small, independent labels. From 1945 through 1949, he ran the Harlem label (based in New York City), and the Chicago. Southern, and Ebony label (based in Chicago); one the artists he recorded was the young Muddy Waters. After a period of freelance producing, he reopened the Ebony label in 1952 and kept it going through the early 1970s. He died in 1980.
Williams was a member of the National Football Hall of Fame Association, and, in 2004, was posthumously inducted into the Blues Hall of Fame.
La Revue Negre
, the first American Black troupe to play in Paris, debuted on this date. A vivacious, sensual 18-year-old woman was featured in a supporting role: Josephine Baker.
While America shunned her, the Parisians, with their appetite for exotic personalities with dark skin, immediately fell in love with her.
Baker became an overnight sensation in Europe. She reveled in near nudity and was famous for her "banana dance", for which she wore little more than a belt of bananas, and it became the trademark of European revues. During World War II, she was a spy for the French Resistance.
Le Tumulte Noir
"Stuff" Smith, (Jazz) violin
Horace "Spoons" Williams,
"Bones" Player/Poet
died in Philadelphia, PA, USA.
Age: 74.
1919
Joseph Smith and his Orchestra -
Yellow Dog Blues
Carl Fenton and his
Orchestra
What Do You Do Sunday Mary
Virginians - Down South Blues
Castlewood Marimba Band -
Waikiki is Calling Me
I Tore Up Your Picture When You Said Goodbye
Ben Selvin and his Orchestra
It Goes Like This (That funny melody)

Out of The Tempest

Someday, Somewhere
Ben Selvin and his Orchestra
The Halfway House Dance Orchestra
Smith Ballew and his
Orchestra -
Time on My Hands
Don Bestor and his Orchestra
You've Gotta Be a Football Hero

Till Then (voc. Neil Buckley)
Jolly Coburn and his Orchestra - The continental

Henry Busse Orchestra - Hot Lips


Tom Coakley Palace Hotel Orchestra
Your Head on My Shoulder

Take a Number From One To Ten
Jolly Coburn and his Orchestra
College Rhythm

Stay As Sweet As You Are
Original Dixieland Jazz Band -
Who Loves You?
Ray Noble and his Orchestra -
Easy to love
Ray Noble and his Orchestra -
I've Got You Under My Skin
Jack Teagarden and his Orchestra
Louise Massey and The Westerners
A Gay Ranchero

South of the Border
Hal Kemp and his
Orchestra
I Didn't Know What Time it Was
LYRICS:
Time on My Hands
~Words by Harold Adamson and Mack Gordon
~music by Vincent Youmans
Time on my hands, you in my arms,
Nothing but love in view;
Then if you fall, once and for all,
I'll see my dreams come true.
Moments to spare for someone you care for,
One love affair for two, ooh,
With time on my hands and you in my arms,
And love in my heart all for you.
brought to you by...
~confetta
and all those who have provided content,
images and sound files for this site.
Save
Save